Welcome to my KashTree review.
A quick $500 per day would improve your life dramatically. You could buy the things you want, pay off the debts, and if it sticks, you could even quit your job and go full time.
And when you discover that all you have to do is refer others or watch some videos, you drop into an ecstatic state.
Then, you slowly start to wake up and realize that it might sound a bit too good to be true and alarm bells start to ring "it's a scam, it's a scam" louder and louder.
You start looking for a review and find out that most reviews out there say that KashTree is a scam and you get a sense of relief. It was a close shot.
Read the rest of my review to find out some shocking discoveries about KashTree that will confirm your doubts!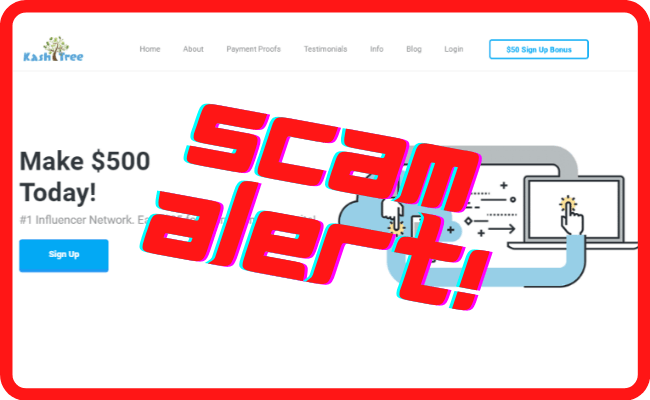 KashTree Review – Overview
According to the KashTree website, you can make $500 today through the #1influencer network in the world. They even give you tons of testimonials to confirm this claim.
But what if I told you that all those testimonials are fake? Would you believe me if I say it's a scam?
The truth is, if you ever join KashTree, you'll get a chance to earn some money. And if you follow through with the tasks they offer, you'll even make some money.
But you see, there is a 100% chance that you'll never see that money being lodged to your bank account.
This is not a fiction, my friend. I'm 100% sure that KashTree is a scam. To back up my claims, I'll show you a set of red flags through this review.
My advice is to stay away from sites that promise $500 today and call themselves #1 influencer network. You'll be surprised how many identical scams are out there.
However, if you want to make money online, you should discover the legitimate way to do so below!
CLICK HERE TO DISCOVER THE BEST WAY TO EARN AN INCOME ONLINE >>
What is KashTree?
In theory, KashTree is an online platform for making money online by referring people to the website. Also, they offer to earn money by completing tasks such as:
online surveys
downloading apps
watching ads
I'll explain the opportunity a bit later in the review. Before I do so, I want to show you a first of many evidence that KashTree is actually a scam.
Don't believe me yet? That's ok. I wasn't convinced too before I found about this critical mistake they've made.
Who Owns the Platform?
Before I tried those tasks, I did some snooping around to find out more about the platform. So I clicked on the about us page to see what's the story behind KashTree.
As you can see from the image below, they say the platform was created in 2015 to help regular social media users turn their usage into money.
The story sounds legitimate, and it makes sense at first. I mean, all you have to do is share the link on your social media, convince others to sign up, and you'll make cash.
But before I tried to do so, I ran the domain through WHOIS register to see if the founding date matches the story from the KasTree about us page.
And guess what? It does not!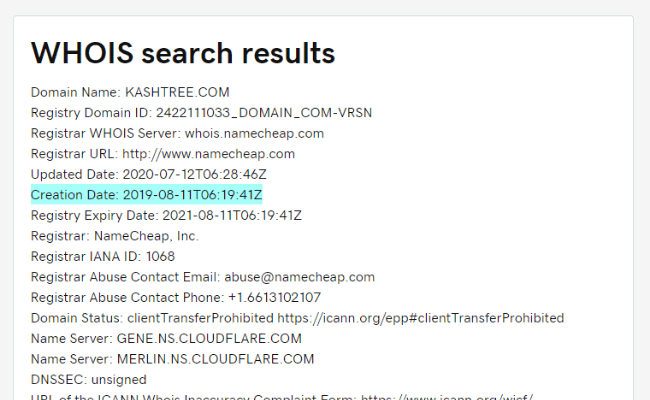 As you can see from the image above, KashTree scam is only a few months old domain, which means that the story from the about us page is fake.
And this is just one out of many scam signs that I'm about to disclose in this review.
Related: PlentyBread Review
How Does KashTree Work?
Let's give them the benefit of the doubt for the sake of this review and talk about how you can make money with KashTree. As you know already, there are two ways to earn an income with this website.
Share Your Affiliate Link
Watch Videos, Download Apps, etc.
And here's a few more details about each opportunity.
Share Your Affiliate Link
So once create a free account with KashTree, you get the unique affiliate link that connects you with the account you've created.
To earn an income, you have to share this link with your followers on social media. There are no restrictions when it comes to which social media platform.
The theory is simple; each time one of your social media followers clicks on your link and completes the signup process with KashTree, you earn a commission.
And the formula is also simple. The more people you get to signup, the more commissions you make.
What if you don't have a large social media following? No worries, there's another way to "make money" with KashTree.
Let me show you more.
Watch Videos, Download Apps, etc.
Inside the platform, you'll find a "Task Wall" where you can find a lost of tasks such as surveys, downloading apps, entering your phone number to shady sites, and more.
And for each task you complete successfully, KahsTree will reward your account with some cash.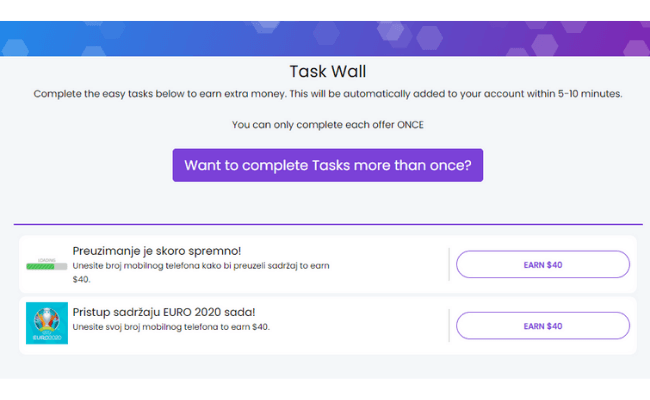 The formula is simple once again. The more tasks you complete, the more money you make.
But as you are about to see in the next sections of this KashTree review, no matter how much money you accumulate on your account, they will never pay you a dime!
This is one of the dirtiest scams I have ever encountered in my life. Let me show you what I mean.
Related: Use2Earn Review
KashTree Complaints and Reviews
So I did some more researching about LashTree, and I found a ton of customer complaints and negative reviews all over the internet.
Unfortunatelly, a lot of people felt on the scam, so they followed through in the hope to earn some easy money online. But once they tried to cash out, the lump in their through almost chocked them.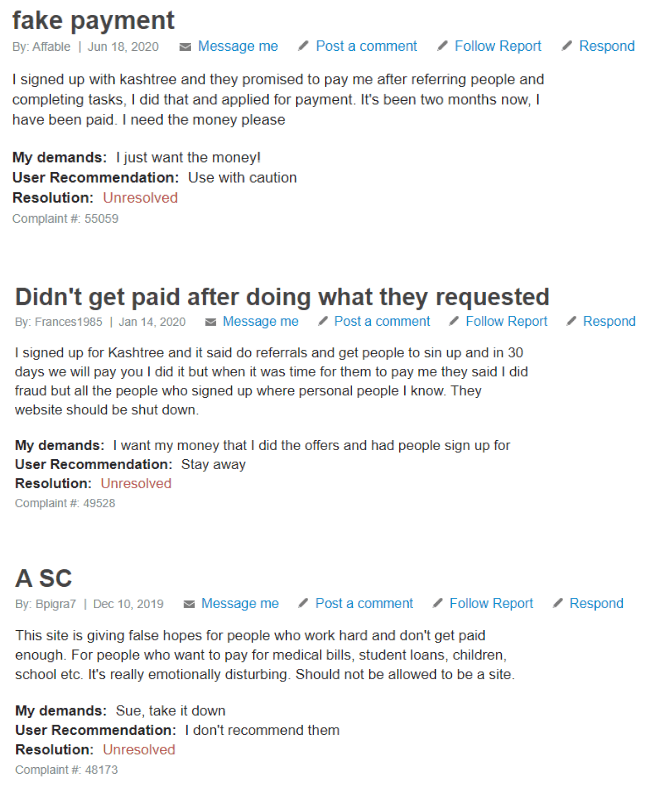 As you can see from these screenshots, KashTree has never paid a dime to poor people who have felt on the scam.
They have used them to complete these tasks, but they decided to keep the money for themselves. And if this scam sign is not enough, here are a few more.
Is KashTree a Scam or Legit?
You already know from this review that the About Us page is fake. And you've just seen a set of customer complaints that confirm the claims that KashTree is a scam.
If that was not enough, take a look at the rest of the evidence.
No Social Media Presence
Fake Testimonials
Fake Payments
A Clone of ViralCashPay Scam
Your Personal Information is in Danger!
No Social Media Presence
As you know, KashTree calls itself a #1 social media influencer in the world, right? They say that the whole business operation has started on social media.
So I was curious to see what's going to happen if I click the social media links on the bottom of the page.
Shocked?
I'm not. I wasn't even expecting that these buttons are going to work at all.
As you can see, the #1 social network influence can't even provide you with a valid social media account. And if you search Facebook, for example, you won't find KashTree community anywhere.
Fake Testimonials 
So what about those testimonials I mentioned earlier in the review? – you ask.
Well, my friend, those testimonials are fake too. As you can see from the image below, the same set of testimonials appear on a site called ViralCashPay.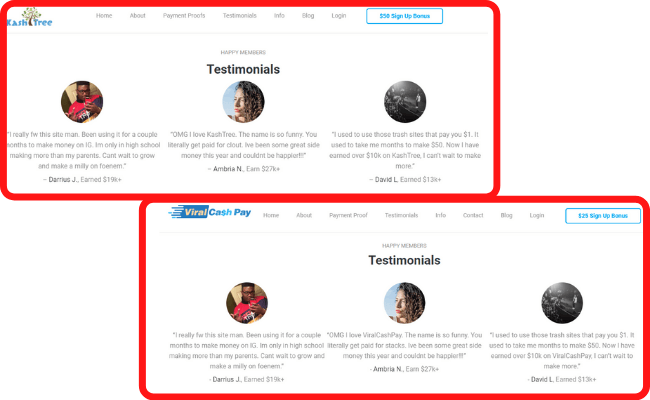 In other words, these are just random images of random people from the internet. These guys have never earned a single dime with KashTree and probably don't even know that their pictures are being used for a scam.
So what about the payment proof? – you ask.
Fake Payments
The image below shows you that the identical payment proof has been used on both sites.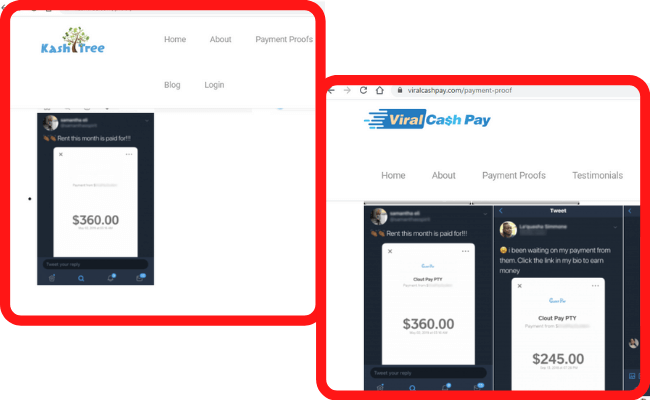 In other words, they've Photoshopped the parts they don't need and published the same fake screenshots on both KashTree and ViralCashPay sites.
As you have learned so far, KashTree does not pay its users at all, which is another reason to believe that this proof is fake.
A Clone of ViralCashPay Scam
You have probably put two and two together so far and figured out that KashTree and ViralCashPay are sister scams.
The only thing that is different about these sites is names. Everything else about them is precisely the same: the same testimonials, the same fake about us page, and the rest of BS.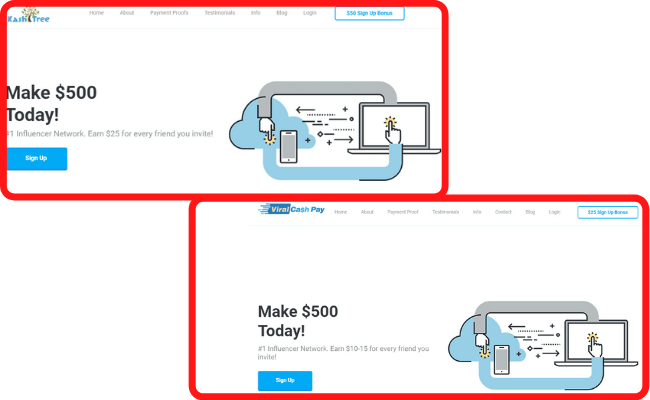 Even worse, these two scams are not the only ones out there.
I've seen at least 7 or 8 sites that look the same and claim to be the #1 social network influencer site in the world where you can earn $500 today.
So beware!
Your Personal Information is in Danger!
And lastly, I want to show you a screenshot I took from ScamGuard.com.

As you can see, these scammers may access your personal information and use it for whatever purposes they see fit. And trust me, they won't use it for good.
Besides, you'll start receiving more and more emails from spammers with invitations to join another excellent opportunity to make $500 today.
So if it's not clear by now, KashTree is a scam and a part of an extensive network of scams!
Related: Tap2Earn Review
Final Words and Recommendation
You should be very careful when searching for ways and means for making money online these days. The amount of scams on the net is unbelievable.
Most of them have great design and the pages look professional, which leaves the impression of a legitimate opportunity to make money online.
However, as you've had a chance to see in my review, you could easily get caught up in a scam like KashTree or ViralCashPay, and many others out there if you don't pay attention.
That said, congratulations on being a smart person and looking up for a review first. I hope my KashTree review was detailed enough to help you see what is going on.
And before you go any further, make sure to check out the legitimate way to earn an income below!
CLICK HERE TO DISCOVER THE BEST WAY TO EARN AN INCOME ONLINE >>
If you need any help or you have a question, feel free to contact me.
And don't forget to share this review with your friends and family!
All the best, Ivan. Founder, and CEO @freeaffiliatemarketingbusiness.com