Welcome to my Tap2Earn review.
Imagine doing a few simple tasks per day and getting paid $500 for it.
All you have to do is log in, click your mouse a few times, hit a few letters on your keyboard, and you're done.
Would this have been your dream come true?
With this kind of money, you could quit your job, pay off your debts, buy yourself beautiful things, and more!
Well, that's what Tap2Earn website wants you to think.
I hate to burst your bubble, but you're here for a reason, and that reason is the doubt that it might be a scam.
And, you're right!
In this Tap2Earn review, you're going to find out a shocking truth about this seemingly legitimate website.
I'm going to show you how it works, how much it could cost you, and lastly, you'll discover a dozen or so scam signs that are good enough to help you make a wise decision.
By the way, congratulations on dodging the bullet by doing the research first.
If you are interested, make sure the check out the best way to make money online.
So without any further ado, let's start with the review.
Tap2Earn Review
If you are already a member of Tap2Earn than you have to read this review because it'll make your life easier.
You see, Tap2Earn is a part of an extensive network of scam sites that use the same scheme to trick people into spending time and money on online tasks.
The main problem is that they do not pay the rightful earnings to their customers.
So if you have been working for hours on those tasks, and now you want to cash out your earnings, I'm afraid it will be futile.
The whole framework of these websites is fake. They use phoney payouts, fake address and testimonials, and more, to cover up the scam.
Even BBB (Better Business Bureau) has issued a consumer warning about this site.
Long story short, it's a scam and your time will be wasted.
If you need more than this, make sure to read the rest of my Tap2Earn review. But if you're tired of these scams, then click the button below and try something real!
CLICK HERE TO DISCOVER THE BEST WAY TO EARN AN INCOME ONLINE >>
What is Tap2Earn?
Tap2Earn calls itself #1 influencer network in the world today.
Funny enough, I remember seeing at least three sites that say the same. And all of them offer $500 today.
You can allegedly leverage this platform to earn those dollars via the referral program or by doing simple tasks such as surveys, downloading apps, etc.
For example, you can earn (and this is just a theory) $25 just for signing up.
Then, they'll pay you $2 for each referral you get to the platform, and if your referral joins the networks, you get $10 commission.

If you, let's say, decide to do surveys, you can get paid up to $30 per one completed.
There's also an option to download apps to your phone for which they pay you $10.
And lastly, if you shot a promo video for Tap2Earn and upload it to YouTube, you get $50.
Now, all these tasks sound legitimate, right? Maybe you have never completed a few of them already?
However, as you're about to see in the next sections of my Tap2Earn review, this site just appears to be legitimate.
While in reality, it's a dirty scam…
How Does It Work?
As I said earlier, Tap2Earn invites you to join the platform for free, and they will even give you a $25 bonus for signing up.
Then, all you have to do is share your link with others to earn more money for each person that joins through your link.
And as shown with the image below, the last step is simple. Just cash out your earnings and repeat.

These steps sound simple, even to simple to be true.
And unfortunately, a lot of people have and will fall on the simplicity of this platform.
But as you are about to see, it's all nice and simple until the moment you try to withdraw your earnings.
That's where the trouble begins for most Tap2Earn users.
How It Really Works!
You see, you and every other person that joins Tap2Earn scam and starts working on those tasks is just a mule.
In other words, they will use you to complete these tasks, but they are never going to pay you.
They will keep the money, and tell you that you've violated the terms of service or they will simply ignore your request.
Below is the screenshot of a critical paragraph from the Terms of Service page.

Translation, if you are not 99 years old, you can't use Tap2Earn services.
But the problem is, they will let you in without asking your age, and even give you your link and let you to complete those tasks and to earn money.
As I said, you're their mule.
And once you try to withdraw your money, well, you're going to fail.
In some cases, they will approve your request. You'll get a receipt and confirmation email that your money is on its way.
However, after some time, you'll realize that it's not!
And then, you might try to contact them to see what the hell is taking them so long.
And then, you'll stumble either on the wall of silence, or they will pull out the Terms of Service document and reject you because you're "too young."
In any case, your time spent on Tap2Earn platform is going to be wasted.
Who Is This Platform For?
No one. Tap2Earn is for no one!
I have prepared a set of scam signs in the next section of my Tap2Earn review to back up all my claims from above.
Maybe you may think that I'm being too rough on them or something.
But that's what they want you to think. They know that the call of easy cash is stronger than my warnings here.
In my opinion, the platform is for those who stand behind this and many other clone sites that use the same scam to cheat people all over the net.
If you value your time, which is your most precious asset, then you'll skip Tap2Earn.
Also, you should keep your distance from:
Notion Cash
Kids Earn Money
Kash Tree
and more!
These are all clone sites identical to Tap2Earn scam. They will use you and throw you like cloth!
If you want to earn an income online, you should stay away from these scams and click the button below…
CLICK HERE TO DISCOVER THE BEST WAY TO EARN AN INCOME ONLINE >>
What I Like About It
To say that I like something about Tap2Earn would be ridiculous.
In my opinion, this is a first-class scam, and if I were a scammer, that would probably be the only thing that I like about the platform.
They did an excellent job creating these fake platforms indeed.
But what goes around comes around and eventually, these sites are going to fall.
If I have to put one thing in this section that would be the fact Tap2Earn is free to join.
But then again, what's the use of free membership when they'll use you like an idiot to earn money for them.
And you are never going to see your rightful earnings.
So once again, no, I don't like anything about this scam.
Tap2Earn Shocking Discoveries
On the other hand, I dug very deep underneath the surface to show you that my claims in this Tap2Earn review are not random.
Those accusations are based on real facts!
As I said, you're going to be shocked with the number of lies these guys use to rip off innocent people like you.
Unrealistic Income Claims
One thing that you can notice on these scam platform is the banner that says "Earn $500 Today."
If you do the math, this means you could earn $15,000 per month doing these small internet tasks.
And this would translate into a yearly income of $180,000!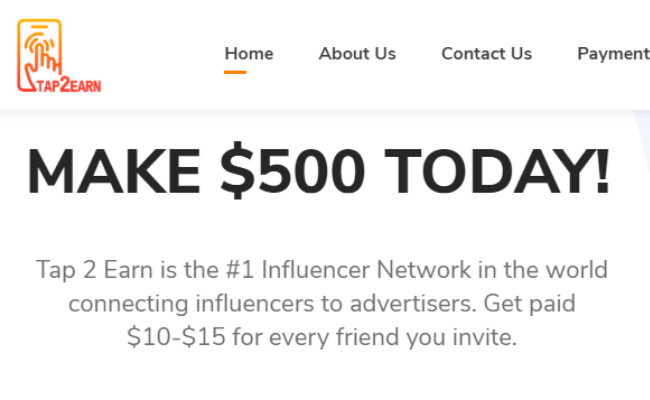 Now, wouldn't you agree that if this were right, every person on the internet would be doing these dumb tasks over other legitimate methods for earning money online?
I know I would be the first person to join.
I mean, if downloading a game or a few surveys would be enough, I'm sure I would be spending all my free time on Tap2Earn.
But since these claims about earning $500 per day are fake, I'm not.
Also, they say they have paid out millions to their members so far, and even give some testimonials and payment proof to back this up.
However, as you are about to see in my Tap2Earn review, those are fake too!
Additional Costs
I didn't put the Price section in my review because Tap2Earn is free to join.
However, as with everything else, there are a few things that they haven't told you before joining.
You see, some of those phone tasks that they offer are going to cost you!
For example, you'll be required to register for an SMS service that will keep forwarding text messages on your phone at your own cost.
According to the information for other Tap2Earn reviews, these texts could cost you up to $5 per pop!
For some other task, they will ask you for your credit card information.
The reasons for this are unknown, but the smart thing to do would be to say NO as soon as it happens.
As you could have seen so far, nothing about this platform is right.
I wouldn't trust them my shoe size!
Fake About Us Page
The next thing I want to show you is tightly related to other scam signs below, and it's regarding the fake about us page.
As you probably know already, Tap2Earn claims they are the #1 influencer network in the world.
They say they've been doing what they do since 2015.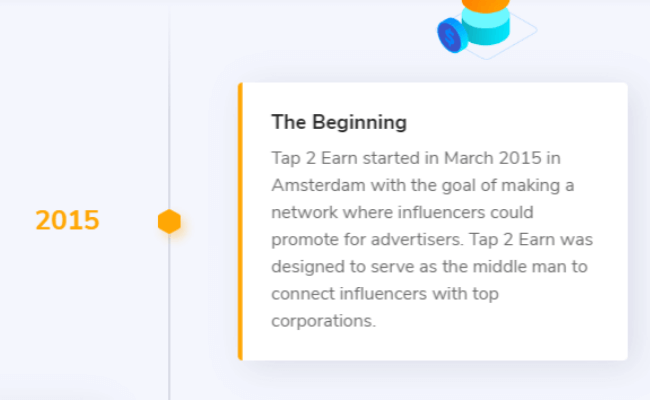 Now, once you run the domain Tap2Earn.co through domain registry, you'll get results that don't match the story from the about us page.
As you can see from the image below, the domain was purchased and registered in 2019.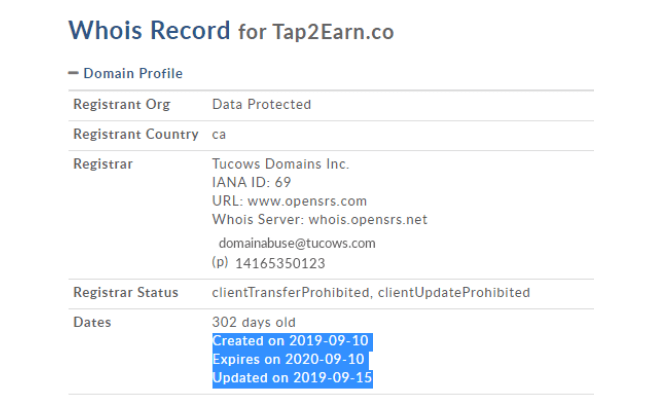 This means that the about us page is fake. And this is not the only proof I have.
Since I've seen more sites like this (those that I've listed earlier in review), I know that the about us story is fake.
Other sites use the same lines, the same dates, and everything else, to trick you into joining the platform to start doing those tasks.
Now that you know this, would you still join them?
Fake Payouts
When you scroll to the Payment Proofs page over at Tap2Earn, you'll discover tons of images that could make you think that those payouts are real and this platform is not a scam.
But these could have been faked as well.
Take a look at the date on the images below.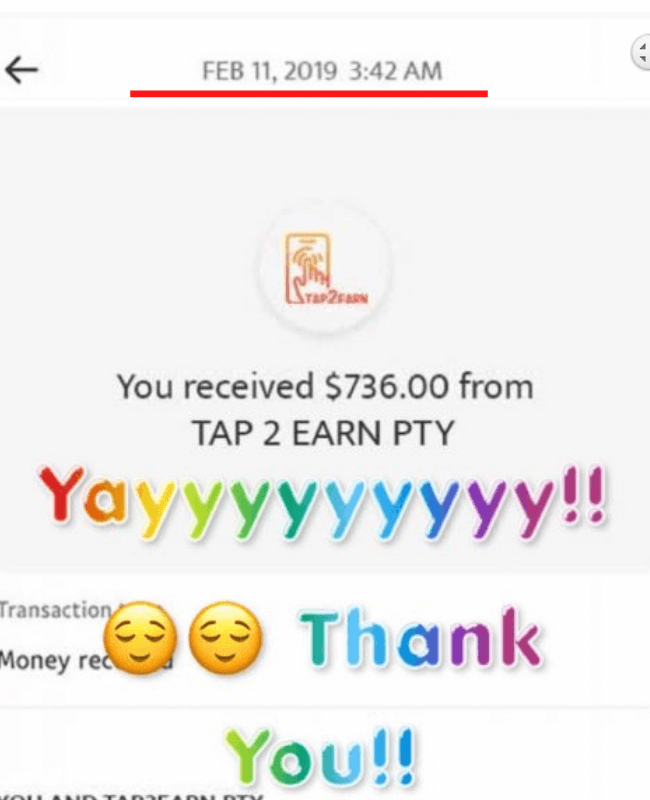 And now take a look at the date on the image that shows the time when Tap2Earn domain was registered.
The dates don't match. And clearly, those payouts are fake then!
My guess is, the creators of the platform have sent these payouts on these accounts and took the images while preparing the whole scheme.
But they didn't count that someone might notice the difference in dates.
This is just another proof of how professionally done these scams are.
Fake Testimonials
The next thing you can see on the Tap2Earn website is a set of video testimonials. It's a bunch of people singing songs about this platform.
But in reality, those testimonials are fake too.
Fake video testimonials have become a popular trick these days because a lot of people on Fiverr will say anything you want in front of the camera.
And the same case is with Tap2Earn testimonials.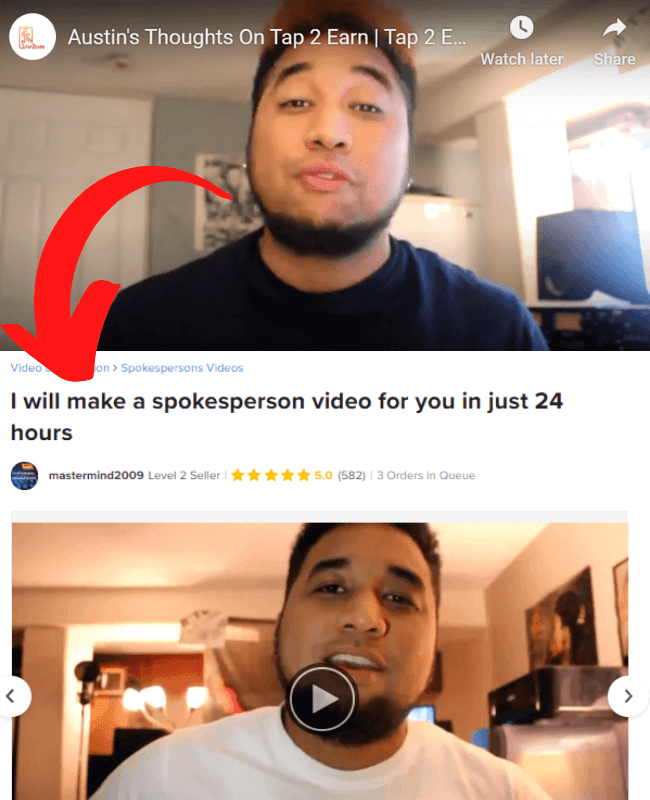 They've been recorded by random people from Fiverr, and this is not the only gig they did.
I've seen them a few times giving fake testimonials for other MMO scams.
Naturally, you have got to ask yourself, why do you put fake testimonials if you run a successful platform since 2015 and have paid out millions to your loyal members?
Why?
Well, I might give you an answer too. It's because they didn't! And the whole thing is a scam!
Shall we continue with the evidence?
Fake Address
Alright now, the next thing that you can notice on Tap2Earn platform is the address of the company that says they are located in the Netherlands.
More precisely, you can find the company over at Laan van Langerhuize 1, Amstelveen, 1186 DS Netherlands.
However, if you run this address through Google Maps, you are not going to find Tap2Earn there.
Shocked?
I think we're already past the state of shock and somewhere between disbelief and anger.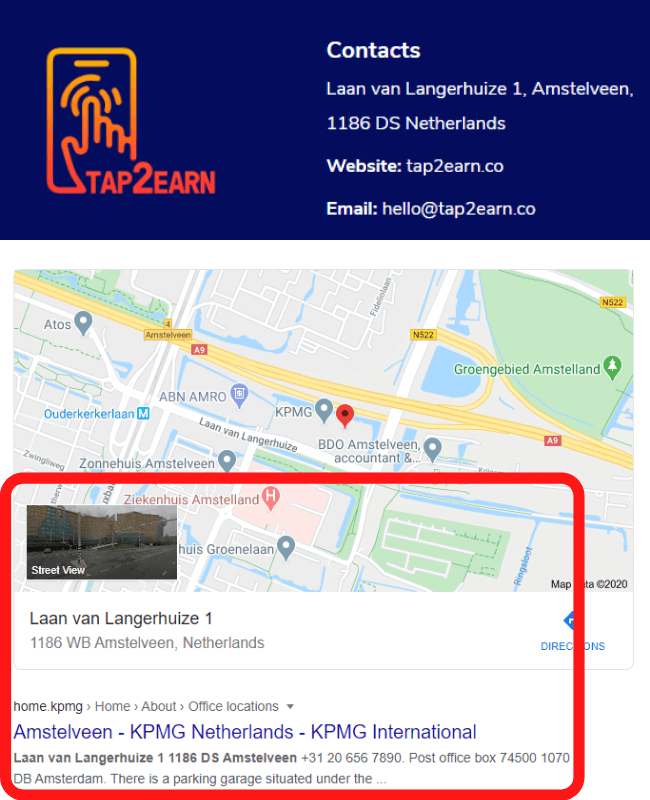 In any case, this address is occupied by KPMG International, a global network of professional firms providing Audit, Tax and Advisory services.
The company has offices located all over the world, and one happens to be on the same address Tap2Earn is or is not to be correct.
So fake address is already fifth scam sign that we discovered, and we have more things to bust so let's move on.
Unable to Cashout
I think we're done with the fake stuff. We should address the elephant in the room now.
The major problem with Tap2Earn scam is the fact that they do not pay out earnings to people who have fallen to those promises about making $500.
You see, some people (I hope you're not one of them) have decided to join and play. And since all those tasks are legitimate, they have even earned some money too.
But once they wanted to cash out, they couldn't! In other words, Tap2Earn did not pay them.
One of the reasons is the 99 years of age thing from Terms of Service.
And another one is because the platform is a scam and they never paid out a dime to anyone.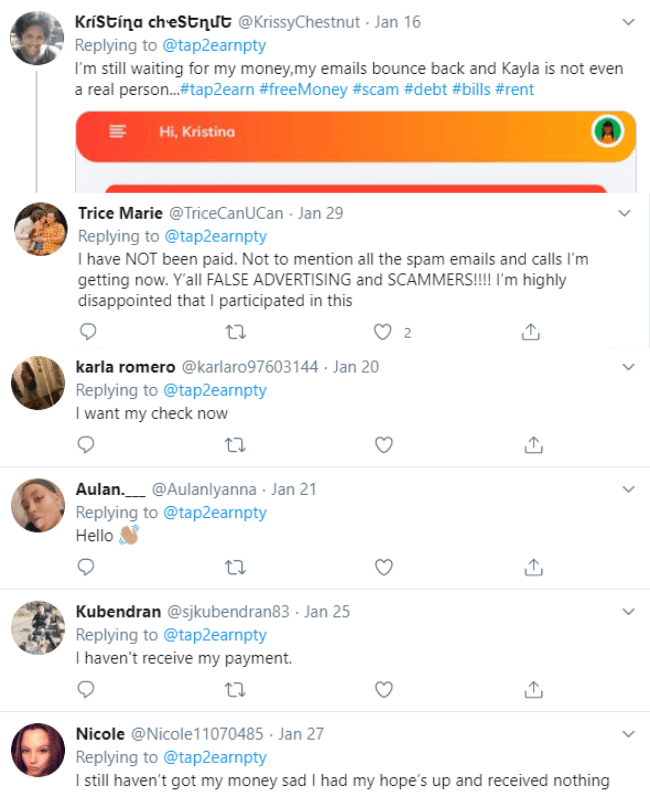 As you can see from the image above, a lot of people have said what I'm saying here all this time.
They joined Tap2Earn scam, played those games and surveys, and even earned some cash.
But once they asked for it, nothing happened.
Part of a Large Scam Network
Tap2Earn is not the only scam in town. I reviewed a few clone scams so far, and unfortunately, there are many more out there.
All these sites look identical to one another. All of them offer $500 today. And all of them are the #1 influencer network in the world.
Each site shares the same About Us page and many other things as well.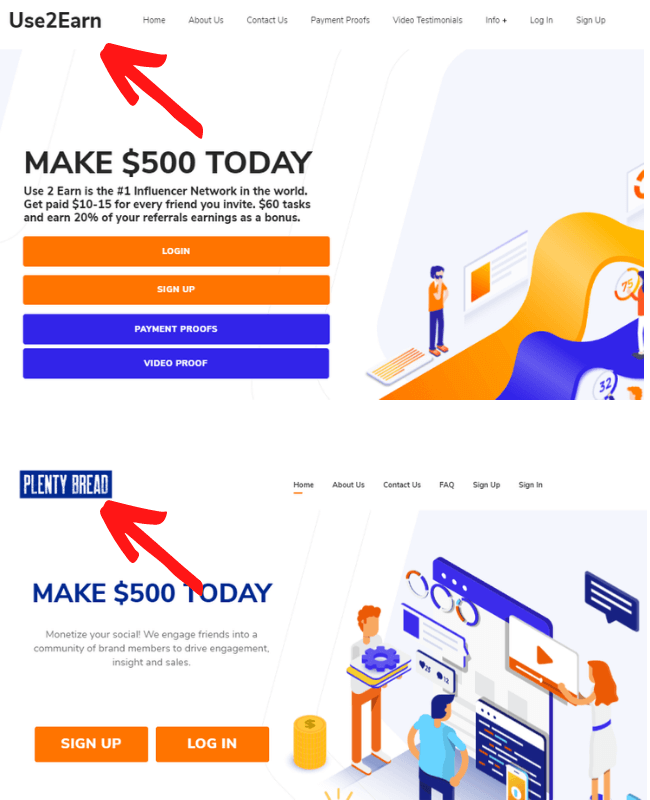 The story is the same with all those sites.
You can join for free and receive a $25 bonus. Then, you can participate in surveys, share links, download apps, and more to earn an income online.
However, if you try to cash out, you're screwed.
Better Business Bureau Warning
Better Business Bureau has issued a consumer alert about companies calling themselves Notion Cash and Kids Earn Money.
Those two platforms are a part of the scam network I've mentioned just above!
BBB has received tons of complaints and queries related to these two platforms. They tried to locate them but all without any success.
They warn customers to avoid these influencer networks because they are a part of a massive scam.
The same warning goes for Tap2Earn, PlentyBread, Use2Earn, and every other #1 influencer network that promotes easy $500 today.
You've been warned!
Tap2Earn Review – Scam or Legit?
The verdict is clear…Tap2Earn is a scam! It's a part of a vast scam network that uses innocent people like you to waste their time online for someone else's profit.
Even if you have already joined the platform and earned some money, you can forget about it.
They won't pay you a single dime, unfortunately.
And if you bump into some other site that promises $500 today, and calls itself #1 influencer network in the world, my suggestion is to run away!
They won't do you any good and your precious time will be wasted on a scam.
However, not all platforms are scams.
If you are interested in earning an income online, there are still a few legitimate platforms out there.
You could click the button below and read the next page if you want.
The platform that I recommend has nothing to do with trivial tasks like surveys or downloading apps.
But it has everything to do with the best way to earn an income online.
Click the button below to learn more!
CLICK HERE TO DISCOVER THE BEST WAY TO EARN AN INCOME ONLINE >>
Thanks for reading my Tap2Earn review!
If you need any help or you have a question, feel free to contact me.
And don't forget to share this review with your friends and family!
All the best, Ivan. Founder, and CEO @freeaffiliatemarketingbusiness.com