Welcome to my MarketPlace SuperHeroes review.
Have you ever wondered what the secrets of top FBA sellers are?
Do you have your own FBA business and yet somehow, you're feeling like a hamster on a wheel?
Need some help with getting started or moving forward?
Today, I'm going to share my review of MarketPlace SuperHeroes training course focused on teaching you how to sell products on Amazon.
Could this be the solution to your problems?
I'm going to show you what it is about. We're going to take a look at what you get inside. And we'll discuss the price tag as well as many other things.
So without further ado, let's dive in the review.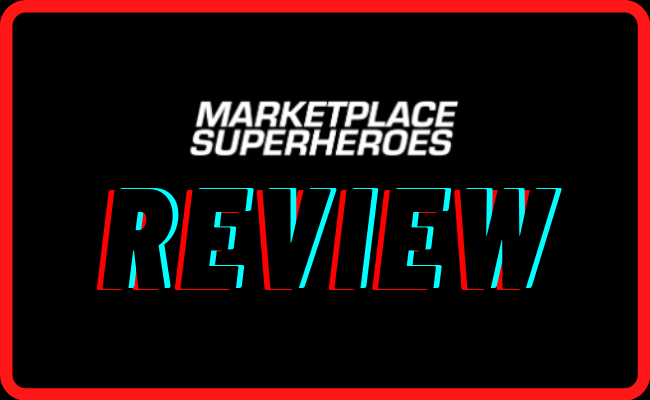 MarketPlace SuperHeroes Review
Whether you want to start a business from scratch or you're already running an FBA business, but you need more, MarketPlace SuperHeroes is the course you've probably heard off.
MPSH is one of the rare FBA course out there that is suitable for beginners in terms of simplicity as well as the price range.
For example, Amazing Selling Machine is equally comprehensive, yet 10X more expensive course.
With MPSH, you're getting access to a set of two training modules with over 100 lessons combined to show you how to create a business selling anything you can imagine on Amazon.
The thing that I appreciate about MPSH is the number of freebies they give away before asking you to join the course.
Guys are determined to show you that you're getting value for your money and if taken seriously, MarketPlace SuperHeroes could help you to create a profitable business online.
You get 7-day free access to the masterclass where they share actionable steps for getting started.
Then, there's a free webinar, and you can even get access to a knowledge vault for only $10. But more about all of that in the rest of MPSH review.
CLICK HERE TO DISCOVER THE BEST WAY TO EARN AN INCOME ONLINE >>
What Is MPSH All About?
MarketPlace SuperHeroes is a comprehensive training program for building an Amazon FBA business from scratch.
The core of the business model that you can learn during the 100 video lessons is in finding low-cost products and then reselling them for higher margins.
In addition to this core system of MPSH, you're getting a software called 4S Product Finder, which is designed to help you find these products.
But more about the features of the course a bit later. Let me share with you a quick story about the founders first.
Who Owns the Course?
Whenever I do a review, I include a section about the owners of a course, platform, software or whatever else is the topic.
The reason?
Well, first of all, it's nice to know who owns the product. And secondly, you can check their background quickly to determine whether the product is for you or not.
That said, MarketPlace SuperHeroes created and owned by Robert Rickey and Stephen Somers.

Robert has close to 20 years of experience selling things online and has generated millions in sales so far. And Stephen is selling online for seven years.
Both guys had their ups and downs along the way. However, their careers skyrocketed the moment they got together to learn from one another.
The metaphors two batteries are stronger then one applies here as well.
I consider them to be two legitimate guys who are really devoted to helping you to grow a successful Amazon business. And once you get to watch a few videos, you'll see my point.
Speaking of the content, let's take a peek at what you get with MarketPlace SuperHeroes.
What You Get Inside
The course is divided into two training modules. One focused on the mindset and preparation, and the second one is driven toward the mechanical part of the business.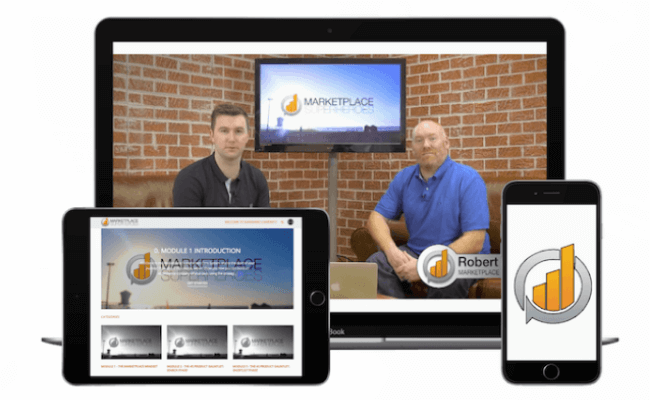 In addition to the core training, you get access to a set of bonus material too.
Here's what you get inside:
MarketPlace SuperHeroes Core System V2 Phase 1 – Mindset and Research (45 videos)
MarketPlace SuperHeroes Core System V2 Phase 2 – Importing and Logistic (51 videos)
4S Product Gauntlet (software for finding products)
MPSH Facebook Community
These two training phases contain 12 video modules (6 each) with over 90 lessons that are designed to take you from the start to the finish of FBA business.
The amount of content within the members' area is indeed praiseworthy. As I said, Robert and Stephen do care about your success.
Training modules are in a step-by-step format in both video and written form, and in my opinion, are good enough to build a successful FBA business.
And for the sake of your success and my review, let's break them down to see what can you learn from Robert and Stephen.
MarketPlace SuperHeroes Core System V2 Phase 1 – Mindset and Research (45 videos)
The training inside of the first phase is not about finding some super-hot products to compete with big brands on Amazon.
On the contrary, it's about finding a set of low-key products that are easy to sell and does not require too much hassle, which is something that I like to hear.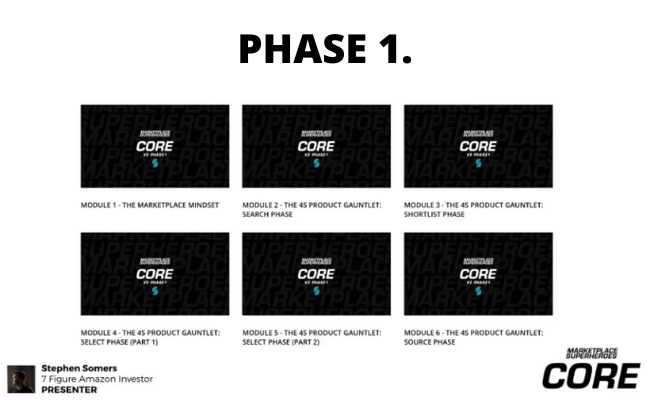 Module 1 – Marketplace Mindset
Module 2 – Search Phase
Module 3 – Shortlist Phase
Module 4 – Select Phase One
Module 5 – Select Phase Two
Module 6 – Source Phase
MarketPlace SuperHeroes Core System V2 Phase 2 – Importing and Logistic (51 videos)
During the second phase, you can learn how to set up your seller account, purchase and import products, create a listing that converts, manage your business and much more!
And once you get established, Robert and Stephen are going to show you how to spread your business all over the world and go global.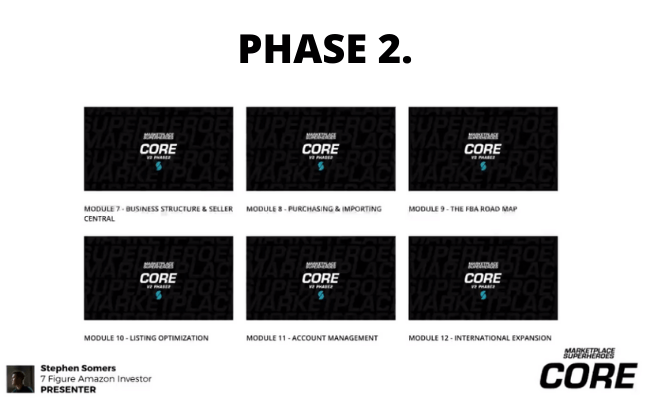 Module 7 – Business Structure & Seller Central
Module 8 – Purchasing & Importing
Module 9 – FBA Road Map
Module 10 – Listing Optimization
Module 11 – Account Management
Module 12 – International Expansion
And the content does not stop there. As I said earlier in this MarketPlace SuperHeroes review, you get software for finding the profitable products.
4S Product Gauntlet
The software is specifically designed to search for the top-selling products that are proven to convert very well, so you don't have to waste time finding the products manually and selling the wrong products.
It's a handy feature that is more than welcomed when starting an FBA business.
A fun fact about the name of the software: 4S stands for Search, Shortlist, Select, and Source, and that describes what this software does for your business.
MPHS Facebook Community 
All members of MarketPlace SuperHeroes get access to a community called Amazon SuperHeroes. The group is closed for public and counts 16,502 members by the time of writing this review.
I was lucky enough to get access and was pleasantly surprised to see that the group is highly active.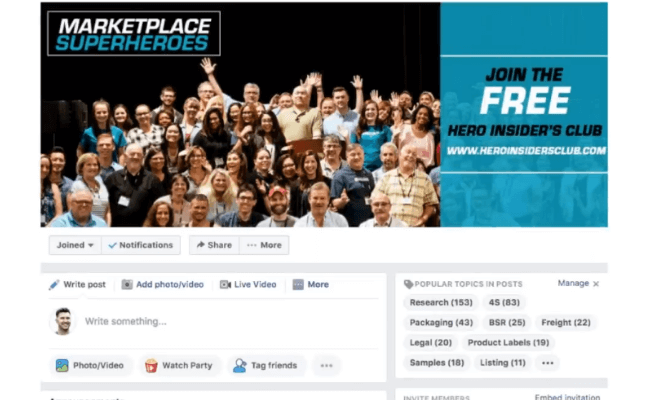 You'll see members chatting about the FBA, MPSH, and even Robert and Stephen are engaged within the community, which was awesome to see.
I believe that a community is one of the keys to success online.
You'll get stuck, that's for sure. But once you have community support in your corner, your problems should be only temporary.
So with all these features of MarketPlace SuperHeroes program covered, it's time now, to take a look at the price tag in the next section of the review.
Price and Upsells
Before you are asked to pay a single cent, Robert and Stephen give away a lot of free resources in the form of a webinar, free workbook, and 7-day email training course.
This is well enough to understand what MarketPlace SuperHeroes is all about and to make a well-informed decision.
And if you decide that MPSH is something for you, it's going to cost you $997 one time. Also, you can choose to pay in 12 instalments of $97.
Sure, you can find a lot cheaper courses on FBA on sites like UDIMI or elsewhere online, but I think MPSH is worth every single penny.
And if you nail the course, you could be having a profitable FBA business in your hands.
So $997 is not that much compared to what you could gain from this course, right?
Just keep in mind that the price is not final. In other words, you'll have to outsource tools, products, and traffic, and this is actually where the real cost of the business is in.
I won't give any projections. But a few $ K's would be a reasonable expectation.
Also, it's important to mention that guys offer two upsells to the members of Marketplace SuperHeroes, but they are not pushy about selling them.
Origin Program – this upsell unlocks features like one-on-one coaching, live calls, DFY listing and photography, Origin Workbook, Superheroes Freight (I'll explain this one soon), and more.
Invasion Program – this program is about expanding to Amazon's European market. Also, you get everything from Origin Program as well.
These are high-ticket programs, and guys are clear about it. It's not like they will push them down your throat as much other product owners do.
Also, you get 30 days to test the program and get a refund if you don't like it!
SuperHeroes Freight
SuperHeroes Freight is an optional feature that Robert and Stephen have come up with, and it's all about helping you resolve storage issues.
They offer the members of Marketplace Superheroes an exclusive chance to store their products in their warehouses that they've built on several locations across the globe.
This means that you don't have to send all your stock to Amazon storages or rent your room. You can use SuperHeroes Freight to dispatch products to Amazon when your inventory gets low.
This is just another feature of MPHS system that I find to be brilliant.
How Does MPSH Work?
I'm not going to waste my breath to explain how it works in every detail.
Instead, here's Steven's video where he talks about Amazon FBA and MPSH.
Who Is MarketPlace SuperHeroes For?
Are you interested in starting an FBA business from scratch?
Do you already have a business, but you need to take it on the next level?
In any case, MPSH is for anyone wanting to make money online selling things on Amazon through its FBA program.
Marketplace Superheroes is an excellent course for people who want to build a passive income business but don't have any experience with Amazon FBA.
Stephen and Robert are two cool guys that know a lot about this business, and I believe anyone with a genuine interest in this business who is willing to nail it is going to discover that MPSH is a right choice.
Since this line of a business depends on your ability to invest, it's reasonable to say that it's also for investors.
MarketPlace SuperHeroes Pros and Cons
I decided to make the cons section as well, but there's almost nothing to put there as I find this course to be perfect.
When you take a look at it from a distance, you notice that it's created by experts, it's comprehensive and well-structured, and most importantly, it's affordable.
In addition to those key aspects, you get tools like 4S Product Gauntlet and access to a vibrant community, plus a few bonuses that complement the course.
And if you don't want to send all your stock to Amazon or rent your storage, you can leverage SuperHeroes Freight feature.
Furthermore, if you buy the course, and then discover that FBA is not for you, guys will give you your money back with no-questions-asked. You have 30 days window to do so.
All in all, MarketPlace SuperHearoes is a well-rounded training course for getting started with FBA business.
PROS:
Step-By-Step Training Course
Suitable For Beginners
Reasonable Price
No-Question 30-Day Money-Back Guarantee
4S Product Gauntlet Software Included
Tons of Free Resources
Vibrant Facebook Community
CONS:
FBA is Expensive Business
Is MPSH Recommended?
I would recommend MarketPlace SuperHeroes to those of you looking to start with the FBA program to sell products on Amazon to earn an income.
The success with MPSH is not guaranteed, of course. But I can confidently say that if you take the course like it's a once in a lifetime opportunity, you'll be much closer to having a successful online business.
And if you ever decide to go for it, just remember that it takes $997 for the training, and at least twice as much for other expenses.
MarketPlace SuperHeroes Review – Conclusion
Starting a business is never an easy thing to do. Whether you plan to open a brick and mortar business or Amazon store, the rules of the game are the same.
You need a goal, a plan, the knowledge, the tools, and a bag of money in most cases.
And when you're just getting started, the key to success is having someone to show you how it works.
In other words, everyone needs a mentor.
So if you're interested in FBA, you can find all those critical aspects of a successful start-up in MarketPlace SuperHeroes course and its owners, Robert Rickey and Stephen Somers.
Thanks for reading my review!
If you find MPSH too much or you simply don't like the idea, make sure to click the button below…
Affiliate marketing is much similar to FBA. But it's not that expensive to get started, which is why many beginners chose affiliate marketing as their first business venture.
And when you have the training, the tools, and the support in your corner, the success is just behind the corner.
Click below to learn more…
CLICK HERE TO DISCOVER THE BEST WAY TO EARN AN INCOME ONLINE >>
If you need any help or you have a question, feel free to contact me.
And don't forget to share this review with your friends and family!
All the best, Ivan. Founder, and CEO @freeaffiliatemarketingbusiness.com