Welcome to my MarketPlace SuperHeroes review. What is it about? Is it legit? Is MarketPlace Superheroes a scam? Should you invest? Keep on reading…
Today, I'm going to share my review of the MarketPlace SuperHeroes training course. It's been designed by two FBA experts to teach you how to become a successful Amazon seller.
With this step-by-step course, Robert Rickey and Stephen Somers help you to start selling physical items on Amazon using the right and tested techniques.
Is this course worth the price? Or is it a scam?
But first, who am I? Can you trust my opinion?
Hi, I'm Ivan! I'm a successful blogger and affiliate marketer. I went from serving tables in a restaurant to earning a five-figure income online from affiliate marketing!
Moreover, I have also reviewed and tested 500+ programs to find the best way to make money online. In other words, I'm passionate about making money online and helping you to follow in my footsteps!
That said, my review of MPSH will help you to make your own decision.
So without further ado, let's dive into the Marketplace Superhero review. I'm going to show you what it is about. We're going to take a look at what you get inside. And we'll discuss the price tag as well as many other things.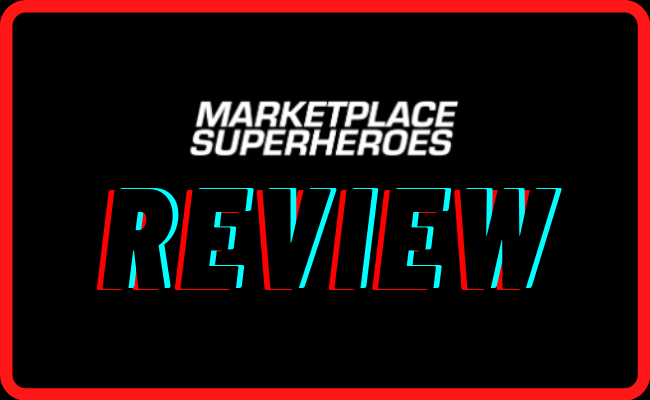 MarketPlace SuperHeroes Review – Overview
Product: MarketPlace SuperHeroes
Type: eCommerce/Amazon FBA
Owners: Robert Rickey and Stephen Somers
Price: $997 + Upsells
Money-Back Guarantee: 30 days
Recommended?: Yes, but not for newbies
Quick Summary: Whether you want to start a business from scratch or are already running an FBA business, but want better results, MarketPlace SuperHeroes is the course you've probably heard of.
With MPSH, you're getting access to two sets of training modules with over 100 lessons. Lessons are designed to show you how to create a business selling anything you can imagine on Amazon.
The thing that I appreciate about MarketPlace SuperHeroes is the number of freebies Robert Rickey and Stephen Somers give away before asking you to join the course.
Guys are determined to show you that you're getting value for your money. And if taken seriously, MarketPlace SuperHeroes could help you to create a profitable business online.
Speaking of value, you will have to shell out $997 to get started with MPSH.
Before you do so, you get 7-day free access to the masterclass where Robert Rickey and Stephen Somers share actionable steps for getting started.
Then, there's a free webinar, and you can even get access to a knowledge vault for only $10. But more about all of that in the rest of the MarketPlace SuperHeroes review.
With all that being said, MPSH is one of the rare Amazon courses out there that is suitable for beginners in terms of simplicity as well as price range.
For example, Amazing Selling Machine is an equally comprehensive, yet 10X more expensive course.
All in all, Marketplace Superheroes is legit. To learn more about the specs, keep reading my MarketPlace SuperHeroes review!
Alternative: My #1 Recommendation enabled me to go from $0 to earning $100's per day with affiliate marketing. It's a 100% newbie-friendly program. It's affordable and doesn't include any extra costs. Learn how you too can copy my steps!
THE BEST WAY TO MAKE MONEY ONLINE IN 2023 >>
What Is MarketPlace SuperHeroes?
MarketPlace SuperHeroes is a comprehensive training program for building an Amazon FBA business from scratch.
Before we move on with my review, I have to confess…
I'm not a big fan of FBA because it costs a lot of money to set up your own business using this model. Moreover, the competition on Amazon is huge!
That said, I'm more for business models that are beginner-friendly like affiliate marketing. In my opinion, MPSH and Amazon FBA are suitable more for people who are in it with both feet already.
However, that doesn't mean that this course is not working.
In fact, after researching online, I found that people are making money with this course, which is great news right from the start!
MPSH Will Teach You How To Sell on Amazon
The core of the business model that you can learn during the 100 video lessons is in finding low-cost products and then reselling them for higher margins.
And the good news is that Robert and Stephen are true experts when it comes to FBA.
In addition to this core system of MPSH, you're getting software called 4S Product Finder, which is designed to help you find these products.
But more about the features of the course a bit later in this Marketplace SuperHeroes review. Let me share with you a quick story about the founders first.
What is MPSH Origin? Who Created It?
Whenever I do a review, I include a section about the owners of a course, platform, software, or whatever else is the topic. The reason?
Well, first of all, it's nice to know who owns the product. And secondly, you can check their background quickly to determine whether the product is for you or not.
That said, MarketPlace SuperHeroes was created and owned by Robert Rickey and Stephen Somers.

Robert has close to 20 years of experience selling things online and has generated millions in sales so far. And Stephen is selling online for seven years.
That said, both guys had their ups and downs along the way. However, their careers skyrocketed the moment they got together to learn from one another.
The metaphor two batteries are stronger than one applies here.
All in all, I consider them to be two legitimate guys who are really devoted to helping you to grow a successful Amazon business. And once you get to watch a few videos, you'll see my point.
Speaking of the content, let's take a peek at what you can learn with MarketPlace SuperHeroes.
Related: Search Find Buy Review
How Do MarketPlace SuperHeroes Work?
As I said earlier in the MarketPlace SuperHeroes review, this program is all about teaching you how to sell items by leveraging an existing Amazon network.
You as an independent seller can leverage Amazon to sell your own products under your own personal brand or sell other people's products in exchange for commissions.
Keep in mind that this course is not about finding some super-hot products to compete with big brands on Amazon.
On the contrary, it's about finding a set of low-key products that are easy to sell and do not require too much hassle.
Amazon FBA allows you to store and ship your products from their warehouses. Therefore, you don't have to waste money on inventory storage, packaging, shipping, etc.
Basically, what Amazon does with this program is that it allows product vendors to leverage the entire Amazon network in exchange for a little fee on top of the price of your products.
I'm not going to waste my breath explaining how it works in every detail.
Instead, here's Steven's video where he talks about Amazon FBA and MPSH.
What Do You Get With MarketPlace SuperHeroes?
First things first, you will get access to the MPSH training course – the most important part.
The course is divided into two training modules. One is focused on mindset and preparation. Furthermore, the second one is driven toward the mechanical part of the business.
In addition to the core training, you get access to a set of bonus materials too.
Here's the whole package
MarketPlace SuperHeroes Core System V2 Phase 1
MarketPlace SuperHeroes Core System V2 Phase 2
Bonus Training Lessons
4S Product Gauntlet
SuperHeroes Freight
MPSH Facebook Community
The two training phases contain 12 video modules (6 each) with over 90 lessons.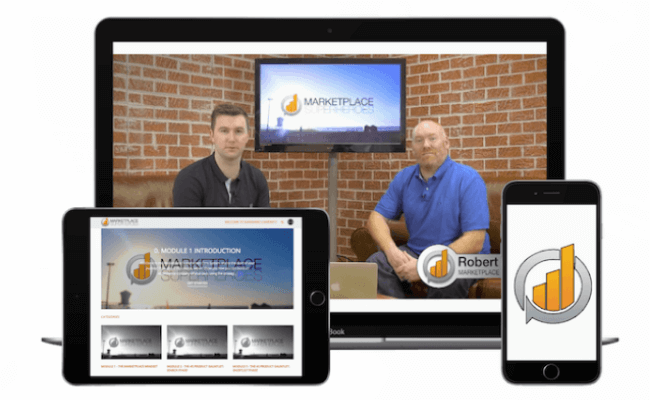 I have to say that the amount of content within the members' area is indeed praiseworthy. As I said, Robert and Stephen do care about your success.
Training modules are in a step-by-step format in both video and written form. In my opinion, they are good enough to help build a successful FBA business.
And for the sake of your success and my Marketplace Superheroes review, let's break them down to see what can you learn from Robert and Stephen.
Alternative: My #1 Recommendation enabled me to go from $0 to earning $100's per day with affiliate marketing. It's a 100% newbie-friendly program. It's affordable and doesn't include any extra costs. Learn how you too can copy my steps!
THE BEST WAY TO MAKE MONEY ONLINE IN 2023 >>
What's Inside MarketPlace SuperHeroes Curriculum?
As mentioned earlier in my Marketplace Superheroes review, the program is decided into 2 phases. Here is the breakdown of each phase…
MarketPlace SuperHeroes Core System V2 Phase 1 
The training inside of the first phase consists of 45 video lessons.
Robert and Stephen focus the first phase on Mindset and Research. You will be learning how to search, select, and source products. Also, you will tap into the mindset of the market.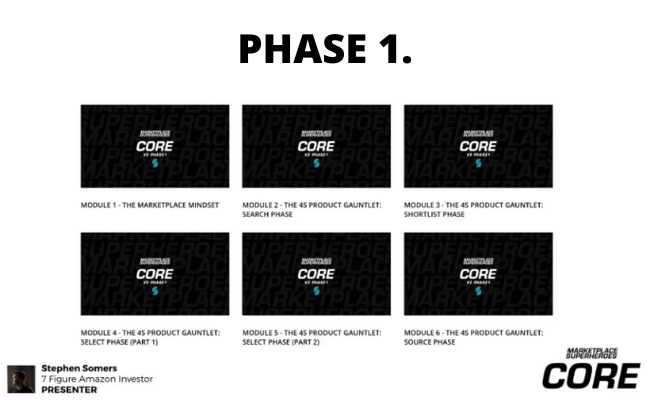 Module 1 – Marketplace Mindset
In this module, you will find 7 video clips that introduce what to anticipate from the whole MPSH program.
Module 2 – Search Phase
There are 9 videos in this component. You can learn how to review your product research method. It will show how to evaluate products by making use of MPS tools. Also, it shows how to do a product study successfully.
Module 3 – Shortlist Phase
This module comes with 6 videos. Complying with the study and also the search stage, this module describes exactly how to filter items. Also, you can learn how to locate the highest-converting products.
Module 4 – Select Phase One
This module includes five video clips that explain how to choose the best product for your company.
Module 5 – Select Phase Two
Here are 7 video clips. This module teaches about distributor search and finding very popular products.
As you check out the market in this component, you will search for the most effective distributors of the items you have an interest in, based on the items you picked.
Module 6 – Source Phase
With a collection of 11 video clips, this component gives info on item sourcing.
In addition, you will get an understanding and instructions about putting sample orders, resolving branding and product packaging, finding wonderful distributors, etc.
MarketPlace SuperHeroes Core System V2 Phase 2
There are 51 video lessons in this section of the MarketPlace SuperHeroes review that is about importing and logistics.
During the second phase, you can learn how to set up your seller account, purchase and import products, create a listing that converts, manage your business, and much more!
And once you get established, Robert and Stephen are going to show you how to spread your business all over the world and go global.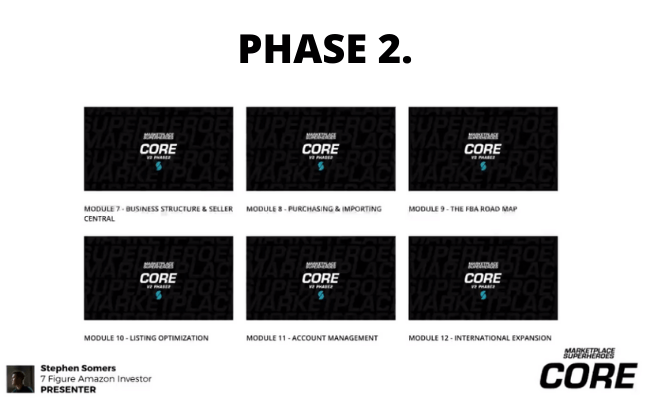 Module 7 – Business Structure & Seller Central:
There are 68 comprehensive video clips in this module. Module 6 presents you with the basics of searching for items, vendors, branding, packaging, sampling, settlements, importation, and also logistical procedures.
Furthermore, module 7 takes you to run your online business.
Module 8 – Purchasing & Importing
The module consists of 7 videos. You will learn every little thing you require to understand about product procurement as well as importation in this training course.
Module 9 – FBA Road Map
There are 5 videos. In this module, you will look in even more deepness at the FBA process once you have the products you want to market.
Also consisted the same time are recognizing the labeling needs, the guidelines, as well as any kind of added demands from Amazon Vendor Central.
Module 10 – Listing Optimization
The videos in this section demonstrate how to develop the best (high-converting) product listing.
Module 11 – Account Management
An overall of 13 video clips can be found on the administration of your Amazon.com service daily.
Module 12 – International Expansion
There are seven videos included in this component covering the vital to increasing your Amazon.com service globally.
And the content does not stop there. As I said earlier in this MarketPlace SuperHeroes review, you get a few bonus training modules as well as software for finding profitable products.
Related: Blue Sky Amazon Review
MPSH Review – Bonuses, Tools, and Community
The bonus material is all about the overview and expectations of FBA businesses on Amazon. Here is the list of bonuses:
Fuel Your Empire – This perk bundle teaches you exactly how to find the best Amazon item listings. Instead of doing the hard work alone, you are presented to Stephen and Robert as they execute product searches and look for item possibilities on Amazon.
Fuel Your Empire – God Series A – Three videos are included in this bundle that will certainly quicken as well as improve the item research study process.
Fuel Your Empire – God Series M – 3 video clips are included in this plan, all of which take care of Amazon's market evaluation.
Invincible Importing – You will master the art of product importation with the help of this plan.
$1K/Day Roadmap – You can learn as well as exercise just how to grow your business as much as $1,000 daily utilizing this bonus.
30-Min Legendary Listings – In this auto-selling approach, you will certainly find out just how to develop high-converting and auto-selling Amazon listings.
Superhero Sprint – All the pre-recorded products from the thorough Bootcamp are included in this package. Additionally, it consists of sub-sessions. Superhero sprints are upselling available on Industry Superheroes. Utilizing this attribute, MPSH Heroes participants can interact with you regularly.
Long-term Thinking – You will certainly discover how to grow your online marketing service to improve future growth along with learning what steps you require to take today to attract buyers.
4S Product Gauntlet
The software is specifically designed to search for the top-selling products that are proven to convert very well. Therefore, you don't have to waste time finding the products manually and selling the wrong products.
It's a handy feature that is more than welcomed when starting an FBA business.
A fun fact about the name of the software: 4S stands for:
Search
Shortlist
Select
Source
SuperHeroes Freight
SuperHeroes Freight is an optional feature of the MarketPlace SuperHeroes review that Robert and Stephen have come up with. It's all about helping you resolve storage issues.
In more detail, they offer the members of Marketplace Superheroes an exclusive chance to store their products in the warehouses that they've built in several locations across the globe.
This means that you don't have to send all your stock to Amazon storage or rent your room. You can use SuperHeroes Freight to dispatch products to Amazon when your inventory gets low.
This is just another feature of the MPHS system that I find to be brilliant.
MPHS Facebook Community 
All members of MarketPlace SuperHeroes get access to a community called Amazon SuperHeroes. The group is closed to the public and counts 16,502 members by the time of writing this review.
I was lucky enough to get access and was pleasantly surprised to see that the group is highly active.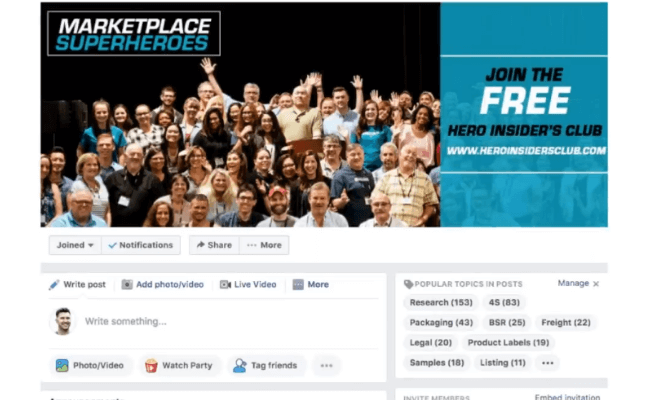 You'll see members chatting about the FBA, MPSH, and even Robert and Stephen are engaged within the community, which was awesome to see.
I believe that a community is one of the keys to success online.
You'll get stuck, that's for sure. But once you have community support in your corner, your problems should be only temporary.
So with all these features of the program covered, it's time now to share some pros and cons in the next sections of the MarketPlace SuperHeroes review.
Alternative: My #1 Recommendation enabled me to go from $0 to earning $100's per day with affiliate marketing. It's a 100% newbie-friendly program. It's affordable and doesn't include any extra costs. Learn how you too can copy my steps!
THE BEST WAY TO MAKE MONEY ONLINE IN 2023 >>
Who Are MarketPlace SuperHeroes For?
Are you interested in starting an FBA business from scratch? Do you already have an Amazon seller business, but you need to take it to the next level?
In that case, MPSH is for anyone wanting to make money online selling things on Amazon through its FBA program.
Furthermore, Marketplace Superheroes is an excellent course for people who want to build a passive income business but don't have any experience with Amazon FBA.
Stephen and Robert are two cool guys that know a lot about this business. Therefore, I believe anyone with a genuine interest in this business who is willing to nail it is going to discover that MPSH is the right choice.
Also, since this line of a business depends on your ability to invest, it's reasonable to say that it's also for investors.
In other words, you need to be prepared to spend a lot of money to succeed with MPSH.
Speaking of which, let's jump to the next section of my review of MarketPlace SuperHeroes. I'm going to cover everything about the price, costs, refunds, upsells, etc.
Related: AMZDFY Review
How Much Do MarketPlace SuperHeroes Cost?
Before you are asked to pay a single cent, Robert and Stephen give away a lot of free resources in the form of a webinar, free workbook, and a 7-day email training course.
This is well enough to understand what MarketPlace SuperHeroes is all about and to make a well-informed decision.
And if you decide that MPSH is something for you, it's going to cost you $997 one time. Also, you can choose to pay in 12 installments of $97.
Is MPSH Worth It?
Sure, you can find a lot cheaper courses on FBA on sites like UDIMI or elsewhere online, but I think MPSH is worth every single penny.
And if you nail the course, you could be having a profitable FBA business in your hands.
So $997 is not that much compared to what you could gain from this course, right?
Just keep in mind that the price is not final. As mentioned in this MarketPlace SuperHeroes review, you'll have to outsource tools, products, and traffic, and this is actually where the real cost of the business is.
I won't give any projections. But a few $ K's would be a reasonable expectation.
You can watch the video below to learn more about the costs of starting an FBA  business through MarketPlace SuperHeroes…
MarketPlace SuperHeroes Upsells
Also, it's important to mention that guys offer two upsells to the members of Marketplace SuperHeroes. But they are not pushy about selling them.
Origin Program – this upsell unlocks features like one-on-one coaching, live calls, DFY listing and photography, Origin Workbook, Superheroes Freight (I'll explain this one soon), and more.
Invasion Program – this program is about expanding to Amazon's European market. Also, you get everything from Origin Program as well.
These are high-ticket programs, and guys are clear about it. It's not like they will push them down your throat as many other product owners do.
Does MPSH Offer Refunds?
Yes, you get 30 days to test the program and get a refund if you don't like it! Simply contact Robert Rickey or Stephen Somers, or anyone from the support team and that is it.
Alternative: My #1 Recommendation is low-cost, but high-quality platform for building a successful affiliate marketing business. This system has helped me to go from $0 to earning $100's per day in passive income.
Learn how it did it and how you too can do the same by clicking the button below!
THE BEST WAY TO MAKE MONEY ONLINE IN 2023 >>
Do People Get Results With Marketplace SuperHeroes?
One of the best ways to find out whether MarketPlace SuperHeroes is a scam or legit is to read some reviews on independent blogs like this one. And at this moment, most of them are fairly positive.
Other good signs that Marketplace Superheroes is a legit program are student testimonials and their results.
Below are screenshots as well as video case studies from successful students.
Marketplace SuperHeroes Review – PROS
When you take a look at the MarketPlace SuperHeroes course from a distance, you notice that it's created by experts, it's comprehensive and well-structured, and most importantly, it's affordable.
That said, here are some more good things about it.
Step-by-Step Training Course
The first and most important thing about this course is the fact that you get a decent and fairly comprehensive training course on Amazon FBA.
I've seen a lot of courses in this category, and some of them are far less comprehensive.
Robert Rickey and Stephen Somers's courses come in two phases that consist of 12 training modules altogether.
I like the fact that the Marketplace SuperHeroes is detailed and in a step-by-step format, which confirms the quality of the course.
Course Comes at a Reasonable Price
$997 is a lot of money for some people, and for them, this MarketPlace SuperHeroes review might come off as a super-expensive one.
However, most competitors in this category cost way above this price range, which puts Marketplace Superheroes at the top of the list of cheap ones.
And it's not like you're getting less value. In fact, the value of this course seems great.
So yea, it is a reasonably priced course.
It's Suitable For Beginners
The reasons why I say that this course is suitable for beginners are mostly mentioned in the previous section of the Marketplace SuperHeroes review.
The very fact that this course is detailed, well-structured, and comprehensive means that people who take it will not have problems following it.
And when you look at the price of $997, this is something that most serious beginners could afford.
People are Getting Results With MarketPlace SuperHeroes
One of my favorite things about this program is the number of success stories and proof that this actually works for those who take action and implement the program.
Below are some examples…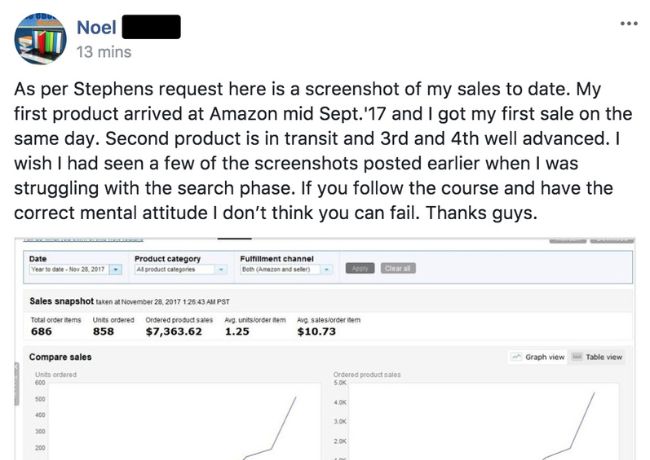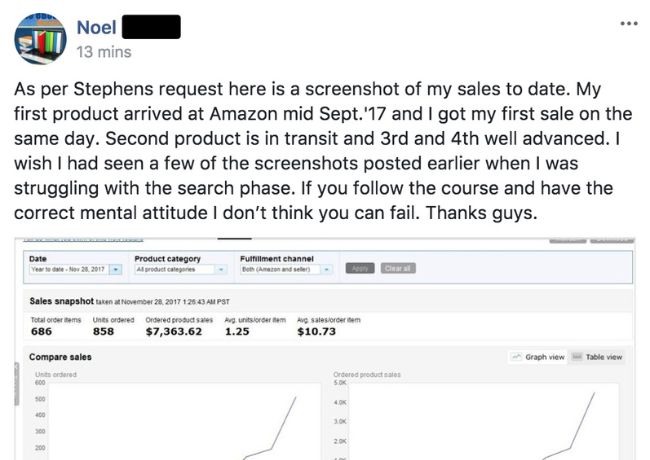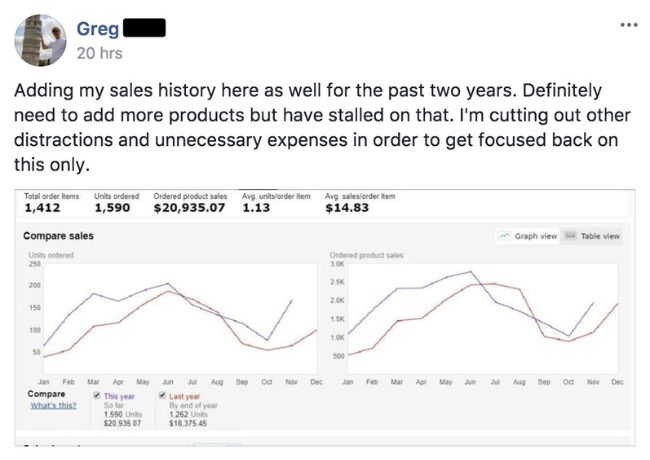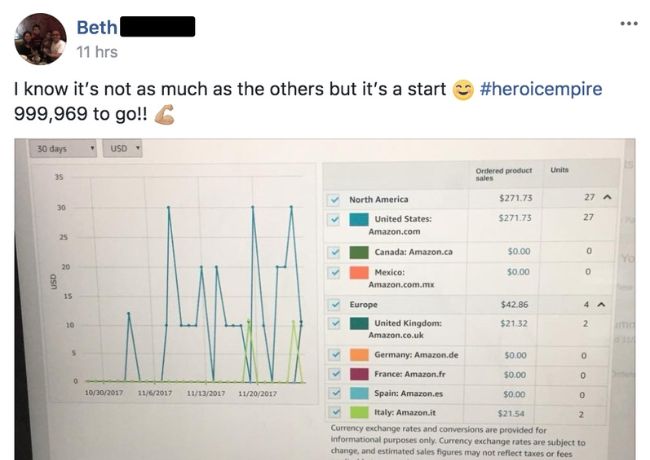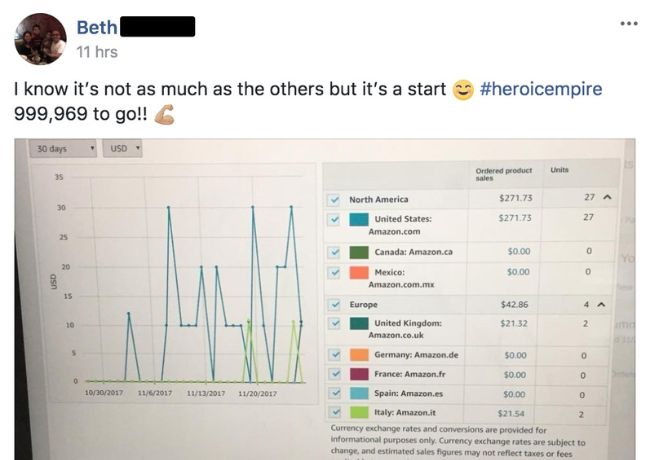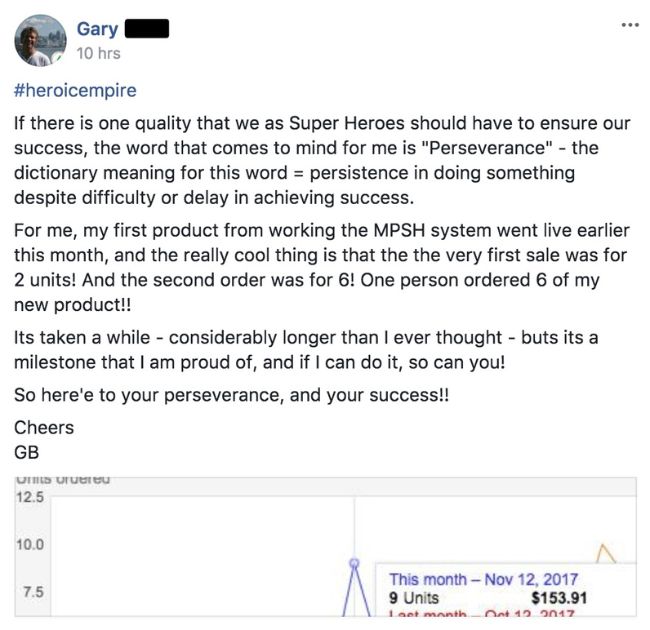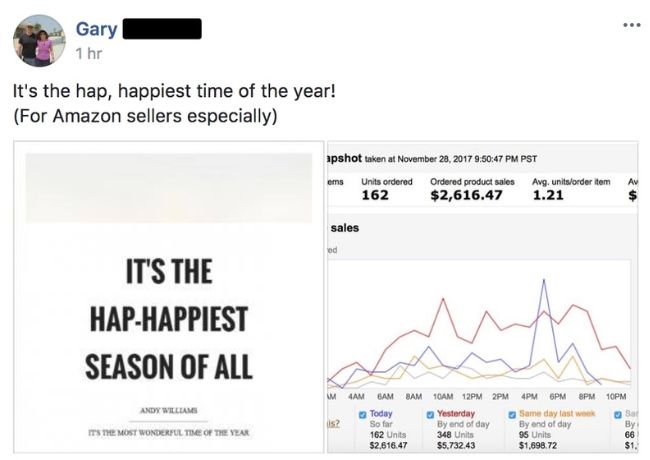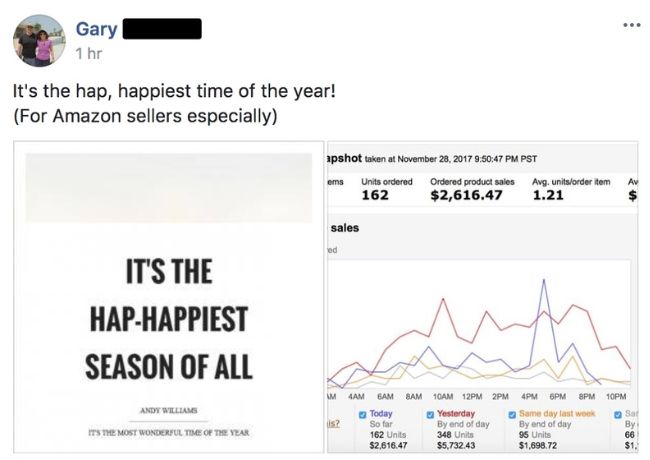 You Can Get a Refund in 30-days
A great thing about this MarketPlace SuperHeroes review is the fact that you can get your money back during the first 30 days of your purchase.
The even better thing is that the creators will give you a refund without any questions asked!
This tells me that the owners have great respect for their customers and students and are not in it just to make some quick buck off you.
4S Product Gauntlet Software Included
It's a rare thing to see a course that includes critical tools that will help you with building your FBA or any other type of online business.
A good thing about Marketplace Superheroes is indeed the fact that you get 4S Product Gauntlet software.
Software like this could cost a couple of hundred of dollars per month alone.
You Get Tons of Resources
In addition to the step-by-step training, and 4S Product Gauntlet software, all users of the course get valuable bonuses and resources.
So when I come back to the price/quality ratio, once again, this course exceeds the most!
Access to Vibrant Facebook Community
Another thing that I really like about this FBA course is the community.
Every new member gets direct access to a vibrant Facebook community where you can chat with other members, share experiences, and ask for help when you get stuck.
All in all, MarketPlace SuperHearoes is a well-rounded training course for getting started with the FBA business.
Alternative: My #1 Recommendation is a low-cost, but high-quality platform for building a successful affiliate marketing business. This system has helped me to go from $0 to earning $100's per day in passive income.
Learn how it did it and how you too can do the same by clicking the button below!
THE BEST WAY TO MAKE MONEY ONLINE IN 2023 >>
MarketPlace SuperHeroes Review – CONS
Overall, Marketplace SuperHeroes is a pretty decent course given the price range and everything that's included for that price.
However, there are a few flaws in it that I would like to share in this review as well.
No Disclosure About Extra Costs
As you can see from my MarketPlace SuperHeroes review, you need to invest a lot of money. I prefer courses that come with full disclosure about the price and extra costs that FBA carries with it.
So when you take a look at MarketPlace SuperHeroes for the first time, you will not get this information, and it is a tiny red flag.
FBA Business Costs Can Be Huge
Starting an FBA business carries lots and lots of costs. So in addition to the $997 that you have to pay for the course, you will have to invest a few thousand on top of it.
For example, you need to invest in the actual products. Then, there are storage costs with Amazon.
Add to that marketing costs, $997 for the Marketplace Superheroes course, and you get one expensive pie.
FBA Is Not the Most Easiest Business to Get Into
All those things that I mentioned above can be a pain in the arse, which just confirms what's already known "out there."
And that is, Amazon FBA is a tough cookie to crumble.
However, with a decent course like Marketplace SuperHeroes, it could be less painful.
Success Rate With FBA Is Meager
Most people who get interested in the FBA business get excited by the fact that you can make money.
But they forget (or are not properly informed) about all those extra costs, the stress of getting accepted by the program, the time and effort needed to set everything up, etc.
This leads to a high volume of failed FBA businesses.
I'm not saying that the success rate of Marketplace SuperHeroes is low though. That's something I can't confirm.
Related: Proven Amazon Course Review
Is MarketPlace SuperHeroes a Scam?
No. MarketPlace SuperHeroes is not a scam in my review. It's a real training course designed to help you to set up an FBA business and make money online.
While researching all the material for this review, I didn't find a single red flag.
In other words, MarketPlace SuperHeroes comes out as clean and as legit as it can be.
The owners are two legit guys who obviously have a great deal of experience with this business model.
Moreover, the price of the course is backed up by an unconditional money-back guarantee.
So the bottom line is, that Robert Rickey and Stephen Somers have created a good course that has head and tail. If taken seriously, MarketPlce SuperHeroues could produce good results.
The only thing that I mind about this course, and this is not a red flag, are the enormous startup costs.
Keep in mind that it will take a couple of thousands of dollars to set everything up and start your own FBA business.
Alternative: On the other hand, if you're looking for the best business model to earn passive income online as a beginner, there are other, more suitable, and cost-effective alternatives.
My top-rated course has helped me to go from earning $0 to $100's per day!
THE BEST WAY TO MAKE MONEY ONLINE IN 2023 >>
Is MarketPlace SuperHeroes Legit?
Yes. MPSH is a legit program. As discussed above in the MarketPlace SuperHeroes review, the course is teaching how to start a legit business online.
It is one of the most affordable, yet comprehensive, and valuable FBA courses out there.
So if you are interested in selling items on Amazon, this course could be for you. And if you want to see another MarketPlce SuperHeroes review, watch the videos below:
Is MPSH Course Recommended?
I know I have said that MarketPlace SuperHeroes is legit in my review. However, I'm not 100% on board with the FBA business…
In other words, I'm not a fan of Amazon's FBA business. Here are some of the reasons why I don't recommend this business model to newbies.
You Need a Substantial Capital To Start on The Right Foor
Remember the previous section of my MarketPlace SuperHeroes review. I said to release a business on Amazon.com, you will certainly need $15-20k, at the very least.
Additionally, you have to spend cash on evaluating a variety of items in order to learn the winning product.
This suggests you need to develop listings for various products and also remove best-selling items from unremarkable ones.
This procedure is lengthy and sets you back a great deal of cash. So, you have to assume thoroughly if you really want to risk your hard-earned money.
The Business Comes With a Lot Of Difficulties
As I said in my MarketPlace SuperHeroes review, you have to deal with a lot of difficulties in Amazon FBA.
For example, you'll need to negotiate with distributors, make contrasts with shipping companies, and freight forwarders, and adhere to the regulations of Amazon.com and also city governments, etc.
This process is also innovative for newbies who may be simply seeking a side hustle or a source of passive earnings that needs little time and financial investment.
You Can't Profit As Fast As You Might Want
Cash flow is the lifeline of any business. Nonetheless, in the Amazon FBA service model, most vendors need to invest a considerable amount of cash to purchase supplies from vendors in China.
If you intend to produce a one-of-a-kind exclusive label item, the expenses will certainly be even greater. As an example, most makers in China bill you a couple of hundred bucks just for developing a prototype.
If you do not trust me, you can request a price on Alibaba.com.
In most cases, production might take 1-2 months depending upon the nature of the products and also the amount. Later on, it takes 2 weeks for delivery and customs clearance before reaching the Amazon.com warehouse.
This procedure shows that it can take months before you're paid for the supply you acquired.
You Have To Fight With a Lot Of Competition on Amazon
The cost battle is big on Amazon. Whenever a vendor attempts to draw in even more customers by reducing the rates, various other sellers will certainly be compelled to reduce their costs as well.
To prevent a bottom line, you might need to cut product expenses. This leads to reduced product quality, adverse responses from clients, and for this reason a decrease in sales.
Aside from the intense competition, you have to deal with changing sales tax obligation laws, category restrictions, and Amazon.com policies.
In the most awful case, Amazon.com may also prohibit your account permanently if you mistakenly go against some regulations. Imagine this happening to you after months of hard work.
The Bottom Line…
Although I'm not a fan of the business model, I would still recommend MarketPlace SuperHeroes. If you looking to start with the FBA program, you will find this course legit.
Success with MPSH is not guaranteed, of course. But I can confidently say that if you take the course like it's a once-in-a-lifetime opportunity, you'll be much closer to having a successful online business.
And if you ever decide to go for it, just remember, it takes $997 for the training! And at least twice as much for other expenses!
MarketPlace SuperHeroes Alternatives
Before I conclude this MarketPlace SuperHeroes review, here are some of the top alternative FBA courses that you might want to check out as well…
Freedom Ticket ($997 one time or three times $397)
Freedom Ticket by Kevin King is a course that can help sellers to start a new business on Amazon using the FBA system.
In a nutshell, this system allows you to leverage Fulfilled by Amazon program to sell items on Amazon while letting them take care of stock, shipping, customer service, etc.
The course rolls over 8 weeks and has 66 training videos where Kevin King explains how to build an Amazon FBA business from scratch.
It comes with a set of bonus features such as community, webinars, spreadsheets, etc. Also, there is a no-questions-asked 30-days refund policy.
You can learn more in my detailed Freedom Ticket review.
Amazing Selling Machine ($4,997 one-time)
Amazing Selling Machine is an Amazon FBA training course created by Jason Katzenback and Matt Clark. The main goal of this course is to show you how to make money as an Amazon seller.
In a nutshell, they teach how to pick a niche, find products, create listings on Amazon, drive traffic to your business, and if it all goes well, you should end up in profits.
Amazing Selling Machine is about creating an Amazon FBA business with the help of eight extremely comprehensive training modules.
On top of that, the course comes with exclusive research tools, a community, and a 30-days refund policy.
Moreover, there is something called a 6-month buy-back guarantee that's also a part of their refund policy. You will find more details in my Amazing Selling Machine review.
Amazon FBA Heroes (2x $597/month or $997 one time)
Amazon FBA Heroes is a course that teaches you how to launch an eCommerce store selling physical products on Amazon.
The course has a training video that spans more than 4 hours to take you through starting your Amazon FBA business from scratch.
You will also get a private Facebook group to interact with other members and ask Derrick questions. Overall, it is a good (not great) course. In my opinion, a bit expensive but legit.
There are some pros and cons to it which is why I recommend reading my Amazon FBA Heroes review.
My Personal MarketPlace SuperHeroes Review
What I Like:
Step-By-Step Training Course
Suitable For Beginners
Reasonable Price
No-Question 30-Day Money-Back Guarantee
Tools and Free Resources
Vibrant Facebook Community
What I Don't Like:
FBA is an Expensive Business
Hidden Extra Costs
Not Beginner Friendly
MarketPlace SuperHeroes Review – Conclusion
At the end of the MarketPlace SuperHeroes review, I just want to remind you that starting a business is never an easy thing to do. Whether you plan to open a brick-and-mortar business or an Amazon store, the rules of the game are the same.
You need a goal, a plan, the knowledge, the tools, and a bag of money in most cases.
The issue is whether you can truly generate income after taking the training course. Although Marketplace SuperHeroes is a good course, there are absolutely no guarantees.
As stated, Amazon FBA is difficult. You require hundreds of bucks as the start-up expense.
Moreover, the way that Robert Rickey and Stephen Somers recommend you do is even more challenging. It's difficult to ahead up with an item concept and also develop your very own product.
Although Robert Rickey and Stephen Somers are educated in Amazon.com FBA, I reckon they make a lot of cash in marketing this program over Amazon's FBA.
But in the end, MarketPlace SuperHeroes is a legit course.
So if you're interested in FBA, you can find all those critical aspects of a successful start-up in the MarketPlace SuperHeroes course. Robert Rickey and Stephen Somers have created a legit course.
Thanks for reading my MarketPlace SuperHeores review!
Is There a Better Way To Make Money Online?
I know how hard it is to trust websites these days. There are too many scams out there, especially in the make-money-online world. I know, because I reviewed over 600+ sites so far!
See, MarketPlace SuperHeroes is just one of the many marketing courses I have reviewed…
While searching for the best ways to make money online myself, I bumped into a program that helps you to start making money online in the best way possible.
It is a 100% legit course that helps people to create a successful affiliate marketing business.
Keep reading for more info…
How I Make Money With Affiliate Marketing
The program that I recommend as my #1 solution for making money online with affiliate marketing is based on a 100% proven and tested system.
The best thing about this method is that it is passive in terms of results and income.
In other words, you could be earning an income from your site for years and years to come because this method is so POWERFUL and overlooked by many marketers.
Just take a look at commissions that I earn passively all thanks to affiliate marketing.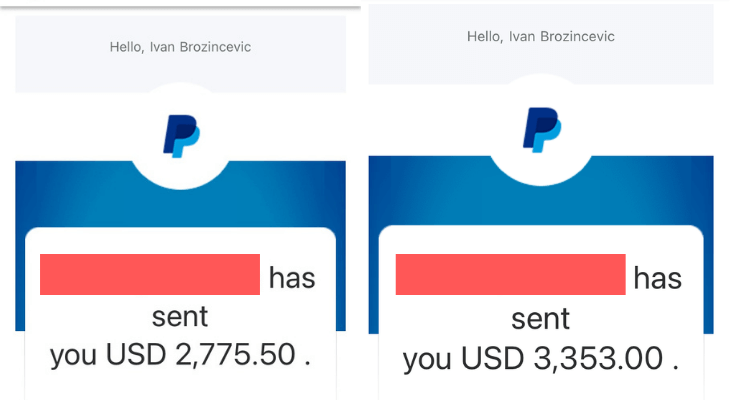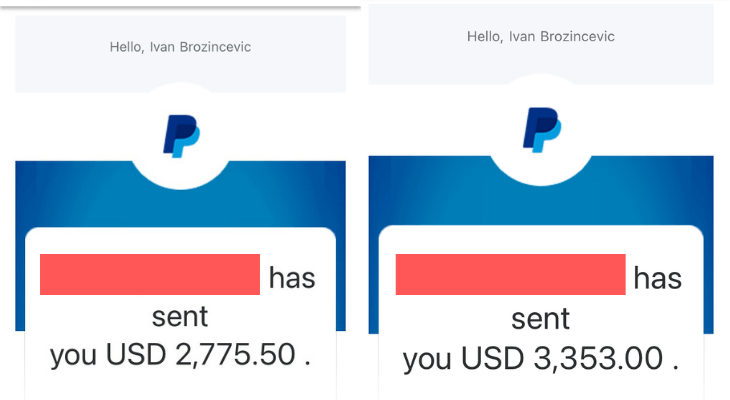 If you want to learn more about how you too can start making money online with affiliate marketing, click the button below!
After evaluating over 600+ programs on the web, my conclusion is easy. This is the best course to learn about ins and outs of affiliate marketing.
And if you're looking for the very same, click the button below!
THE BEST WAY TO MAKE MONEY ONLINE IN 2023 >>
If you need any help or you have a question, feel free to contact me.
And don't forget to share this MarketPlace SuperHeroes review with your friends and family!
All the best, Ivan. Founder, and CEO @freeaffiliatemarketingbusiness.com
Related: