Welcome to my Write To 1K review.
If you're one of those people who enjoy writing and like to share your thoughts with others through the written word, then you might find this post very helpful.
Writing is a lucrative business, and anyone can leverage the opportunity to become a successful and well-paid writer.
However, a lot of people think that they have to be an English major to be successful writers, which is not true. If you can talk about it, you can write about it.
That's all there is to it, really.
All it takes is a bit of time and practice to get there. And Write To 1K course is designed to show you how to turn your words into 1K paydays. But is Write to 1K a scam or legit? Could it help you to earn $1000's writing online?
But first, who am I and why should you listen to me?
I'm Ivan and I'm a successful online marketer who went from waiting tables to managing a full-time income online. I have also tried and tested 500+  courses, scams, and all sorts of schemes to find the best way to make money online.
In other words, I'm passionate about making money online and helping you to find legit ways to do so!
In this Write To 1K review, you can find out what exactly this program is all about. Moreover, I will show you how it works, what to expect, and I will also share my opinion about whether Write To 1K is a scam or a legitimate program for making money online.
Write To 1K Review – Overview
Type: Freelance Copywriting
Product Owner: Elna Cain
Price: $75 three times or $195 one-time
Money-Back Guarantee: 30-Days
Recommended?: Yes. See Below…
Quick Summary: Write To 1K is a 100% legitimate training program that teaches people how to make money online writing content for other people. It's created by a legitimate freelancer and online entrepreneur, Elna Cain.
If you're looking to start an income online by writing content for other people, this course could be your best chance.
Write to 1K includes seven comprehensive training modules, valuable bonuses, a private Facebook community, a 30-day money-back guarantee, and is relatively affordable.
The only thing I personally don't like about freelancing is the fact that your income potential is limited. See, there's a limited amount of clients that you can take in one day, which puts limits on your income.
But still, Write To 1K is legitimate and you're safe from a scam. Read the rest of my review for more info!
Alternative: My #1 Recommendation allows me to earn an UNLIMITED income online by writing content for myself! Interested in learning more? Click the button below…
THE BEST WAY TO MAKE MONEY ONLINE IN 2023 >>
What Is Write To 1K About?
Write To 1K is a step-by-step training course created by Elna Cain, an experienced writer, and blogger. With this course, she teaches people how to follow in her footsteps to make money online with freelance writing.
One of the first things I really like about Write to 1K is the owner and creator herself. Elna Cain is not your average online guru.
In other words, Elna is a real deal when it comes to writing for herself and other people to make money online.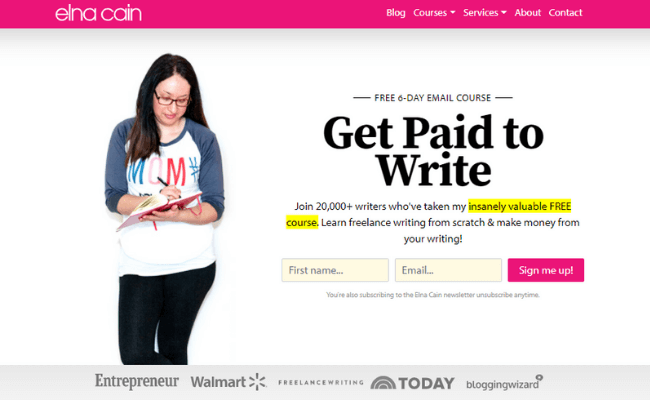 You can hop on to her official website, ElnaCain.com, to learn more about her and see that she really knows how to talk the talk and walk the walk. She's also behind courses like:
Freelance Writing Prep
Get Paid To Write Online
Freelance Blogging In A Weekend
Freelance Writing Rockstar
That said, the fact that Elna is a professional copywriter is the first sign that Write To 1K is not a scam – but more about this later in my review.
In a nutshell, Write To 1K is a 7-module training course where you can actually learn how to develop or turn your writing skills into profits by writing content for other people.
The good news is, these jobs are in high demand and Elna could indeed show you how to get started.
Below is the video where she walks your through the course curriculum in case you are interested:
How Does Write To 1K Work?
The Write to 1K course helps to turn your writing skills into profits. It is designed to lead you step-by-step from laying the foundation, building your platform, finding clients, and making money from your work.
The course is based on Elna's personal experience, which is great because she is a legit freelance copywriter and she really makes $1K+ from ger gigs.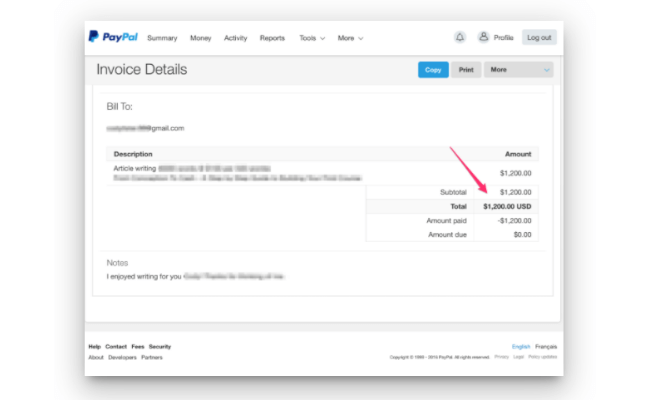 With Write To 1K course, you'll get access to seven training modules. Here's what you can learn from each module.
Module 1 – Laying The Foundation
Discover what to expect as a freelance writer and understand the skills you need to start off on the right track.
Learn the costs to start freelance writing, how to find your profitable freelance writing niches, what services to offer, creating goals, and having that solopreneur mindset.
Module 2 – Building Your Writer Platform
Learn the exact copy to increase your conversion rate (aka more gigs) on your writer's website, create and optimize your social media profiles and start building a visual brand online.
Module 3 – Building Your Portfolio
Learn how to create and display your freelance writing portfolio for maximum visibility.
Find the key components to land a guest post, draft your author bio, and format your blog posts to attract high-paying clients.
Module 4 – Finding Writing Clients
Learn step-by-step how to find clients on job boards, social media, through cold pitching, locally, with boutique content marketing agencies, and from unlikely ways.
Elna tells you all ways to land clients, and you'll get your handy 95+ ways to land client cheatsheet too.
Module 5 – Your Pitch
Learn the proven pitching process to set your rate (so you can make a living out of this) and learn the skills and tools to pitch like a pro.
You will also get access to Elna's pitch archive full of swipe copies and templates you can use.
Module 6 – Your First $1K
Dive deep into online writing for small businesses.
You will get a breakdown of how to write a highly engaging, high-paying blog post for your clients.
You will also learn (with video enhanced training too) how to format your post, submit your post, source and optimize images, upload posts to WordPress, create zip files, how to annotate your images.
Module 7 – Your Freelance Business
Discover the elements of a successful freelance business.
Learn how to have a great interview, tips to invoice your clients (so you always get paid), draft your service agreement, how to effectively communicate to clients, the tools to run your business, and how to secure recurring work.
Just by looking at these lessons, it's becoming very clear that Write To 1K is not a scam. As you can see, it's a comprehensive course and you even get some bonus resources as well.

Who Is Write To 1K For?
If you're seriously entertaining the idea of writing for others to earn an income online, Write To 1K could be for you then. It's basically for anyone interested in turning their writing skills into profits.
The fact of that matter is, you don't even have to be a professional writer, or very skilled at it to succeed. All it takes is a desire to become successful at it and a proven training course that could show you the way.
So in my opinion, Elna's course is for both beginner freelancers, and those of you who are very skilled at your craft but you maybe need some help with finding clients and making money from your work.
Related: Fiverr Success Review
How Much Does Write To 1K Cost?
There are two packages that you can choose from. One, you can join Write To 1K and pay three times $75. Second, you can pay $195 one time and get lifetime access to all the training and other features of Elna's program.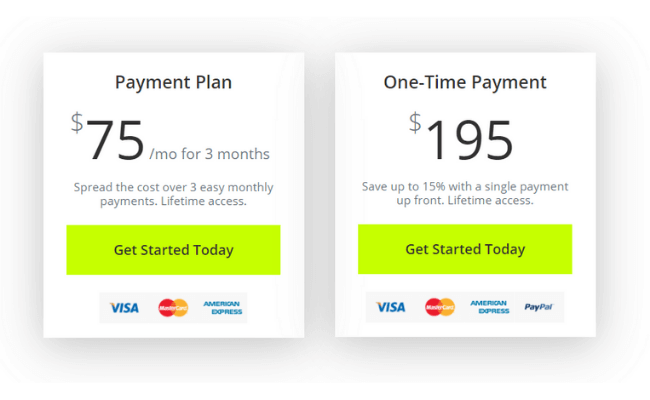 Generally speaking, Writing to 1K is not expensive. I've seen courses that will cost you 10x more and will not deliver as much content as this course.
However, the course doesn't include tools, which means that you will have to invest more money into:
hosting
domain
keyword tool
page builder
Are There Any Upsells Inside?
As far as I know, there are no upsells once you get inside of the platform, which is another great sign that Write To 1K is not a scam.
Can I Get A Refund?
Yes, Elna Cain gives you 30 days to take her course for a spin. If you don't like it, all you have to do is send her an email and she will give you your money back fair and square.
Related: My Freelance Paycheck Review
What Do You Get With Write To 1K?
You've had a chance earlier in this Write To 1K review to take a look at the training course and all the bonus resources that you get with this program. Here's a quick recap of all the features that are included.
Lifetime access with all updates for free
7 self-paced modules (50+ lessons)
Video tech training on popular tools and best practices
Specific exercises within each lesson to help stay on the right track
Ready-to-use templates, email swipe copy
6 valuable bonuses
Access to Private Facebook Community
30-days money-back guarantee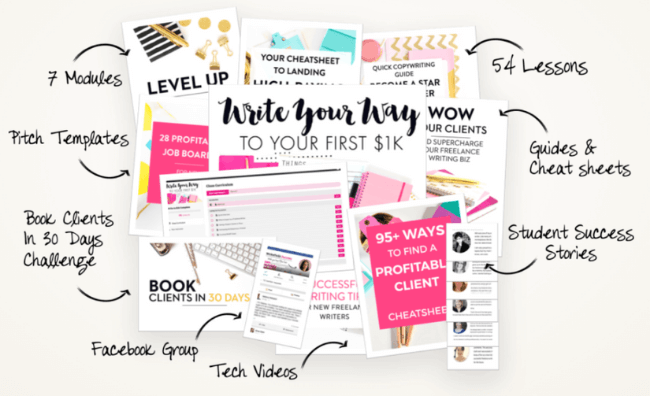 Write To 1K Bonuses
In addition to the step-by-step training course, Write To 1K includes a few useful and helpful additional resources designed to help you get started on the right foot. Here's what I'm talking about exactly:
The Pitching Bundle
Level Up Your Freelance Writing
Get On The Right Track Bundle
Profitable Niche Workbook
Book Clients In 30 Days Challenge
Personalized Pitch Review
Private Facebook Group Community
What I Like About Write To 1K
To be 100% honest with you, Write To 1K is one of the best, if not the best course, in this category that I've had a chance to review so far on this blog. And trust me, I've seen a lot of ugly scams as well so I know the difference.
There are several things that I really like about Elna's course and here's a quick breakdown.
Elna Cain Is Professional Freelancer and Writer
Upon landing on this course, I did comprehensive research on Elna Cain. The results that came back were amazing.
She owns several blogs, has created a few great courses so far, has been published in Huffington Post, SmartBlogger, The Writer Life, and more!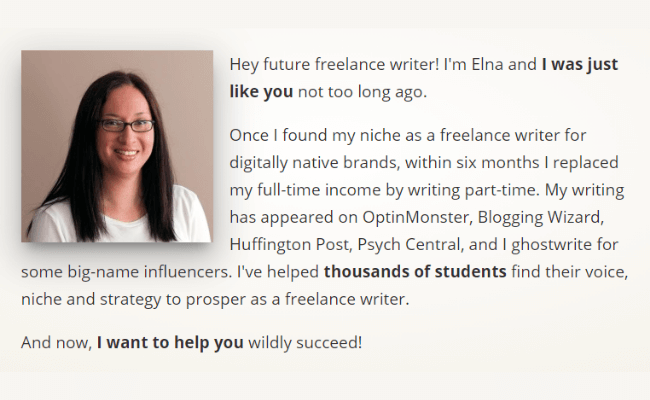 When starting your first steps in a new industry, it's always a great idea to start learning from a person who is an expert. After all, there are too many fake gurus out there.
Needless to say, Elna Cain is a go-to person when it comes to freelance writing.
She has a legitimate portfolio. Her course reflects her expertise. The Write to 1K student's success is a reflection of the course's quality. All in all, Elna is an expert!
Freelance Writers Are in Demand
Another great thing about Write To 1K is the fact that it is strictly focused on finding freelance writing gigs. These jobs are in high demand due to an increasing number of websites each day.
More and more websites are being published every day. This means that the demand for freelance copywriters is increasing every single day.
I've personally leveraged freelance writers a few times so far on this blog.
And my number one priority when hiring a writer is that a person is well-educated about the business, which the Write to 1K can help to accomplish.
7 Step-By-Step Training Modules
Most courses online are not good enough to teach you how to get started and make money online. Most of them are scams that are designed to trick you into spending your hard-earned money.
Write To 1K is a step-by-step course that contains seven training modules where Elan is going to show you how to lay the foundation, find clients, and start making money writing for others.
I like the structure of the course. Elna is not beating around the bush and is straight on point.
Moreover, Write to 1K is a fairly comprehensive course. I believe that a user can really use this to make $1000 online and more. But it takes time and effort, don't get me wrong!
You Get Extra Bonuses
The good thing about this course is that you will also get six bonuses that complement those seven training modules. I personally like each bonus and see the value in them.
For example, Write to 1K will teach you how to become a good freelancer. But you can leverage personalized pitches to attract more clients using experts' advice.
Access To Private FB Community
The hardest part about the Write To 1K course and making it as a freelance writer is the fact that you have to self-motivate yourself all the time. So having access to a community where you can get some motivation is a great deal.
Students Share Positive Testimonials
I'm 100% sure that there are negative testimonials as well.
However, I'm also 100% sure that those negative ones are coming from people who are generally lazy, and were expecting that Write To 1K is going to be some shortcut to earning an income online.
But if you ignore those lazy people, you will find a lot of success stories from real students.
That said, I like to see a lot of positive feedback on this course from action-takers.
You Can Get A Refund (30-days)
And lastly, Elna promises to refund you every cent in case you are not satisfied with her training course.
Related: Top 5 Real Ways To Make Money Online
What I Don't Like About It
The only thing I don't like about Write to 1K is the business model itself. Sure, freelance writing is lucrative, but it's limited in terms of income, which means that there's a limited number of clients that you can take in 24 hours.
I'll talk about this at the end of my Write To 1K review in more detail and will give you a great alternative if you're interested in writing for yourself and earning an unlimited income from your words!
Is Write To 1K A Scam?
As I said earlier, I've seen a lot of scams and utterly bad programs so far. At first, I thought I have another scam on my hands here. However, I'm glad to report that Write To 1K is not a scam. It's a 100% legitimate course.
If you ever join Elna's course, you will get access to a legitimate program that could help you to start making money online by writing content for other people. These jobs are 100% legitimate and in demand.
The number one reason why I'm sure that Write To 1K is not a scam is Elna Cain herself.
If you do quick research, you'll discover that she has a very strong reputation online and is very successful at her work, which is great news for anyone who joins her course.
You wouldn't believe how many courses and scams I have reviewed so far that use some made-up characters to cover up the scam and make you believe that a real person stands behind it.
For example, 10 Minute Paydays is a scam that uses fake names, fake claims, and even fake testimonials to get you to sign up for some crap course. And there's also Paid Online Writing Jobs scam that does the same things as well.
So yeah, trust me, it's a great thing and quite a relief to review a course like Write To 1K where the owner is a real deal.
On top of that, Elna's course has got a ton of positive reviews from both students and reviewers like myself, which speaks for itself. In other words, it's 100% legitimate.
Alternative: On the other hand, if you're looking for the best business model to earn passive income online as a beginner, there are other, more suitable, and cost-effective alternatives.
My top-rated course has helped me to go from earning $0 to $100's per day!
THE BEST WAY TO MAKE MONEY ONLINE IN 2023 >>
Do I Recommend Write to 1K?
As I said, I'm not a big fan of copywriting for money, but I do recommend Write to 1K if that is your gig. In my opinion, it is a legitimate course that could help you to start in this industry.
And even if you don't like Elna's course, you can ask for a refund. In other words, it's a risk-free investment.
Related: IM Checklist Review
Final Words and Recommendation
So there you are. We have come to the end of my Write To 1K review. In summary, if you're interested in turning your writing skills into profits, you're safe in Elna's hands. She's a pro and her course is not a scam.
As I said, I like a lot of things about it. You will get step-by-step lessons, valuable bonuses, access to a private community, 30-days money-back guarantee, and more.
And if you take it seriously, you could be the next Write To 1K success story.
However, despite the fact that I like this course, I'm 100% sure that there's a much better way to write content and make money online (no limits to your earning potential).
How I Make Money Writing For Myself
A few years ago, I learned that it is more than possible to earn a good living by writing blog posts, publishing them on your OWN website, and making money with affiliate marketing.
The best thing about this method is that you're writing for yourself (you're your own boss!), which means no deadlines, no clients to deal with, no stress!
Another awesome thing about blogging and affiliate marketing is the fact that there's no limit to how much money you could earn from your writing!
The formula is simple, the more you write the more you make.
I personally earn $100's per day from this website, and some of my friends earn six even seven figures per month with blogging and affiliate marketing!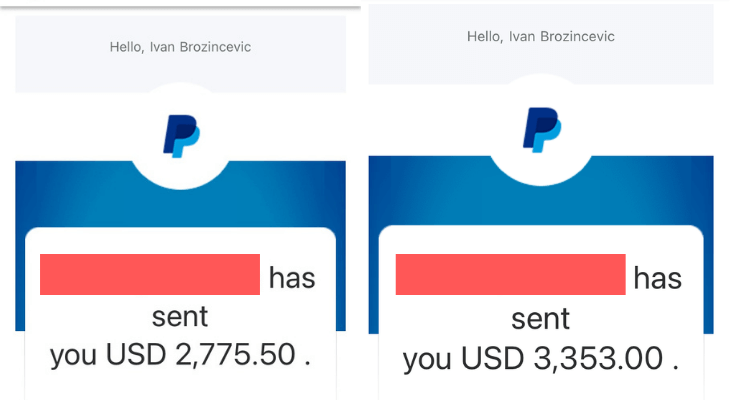 That said, my #1 Recommendation is the top spot to start your own successful blog and earn with affiliate marketing.
Among the best features of my # 1 ranked course is that you can take it for a test drive (just a $49 Premium subscription).
You will get one complimentary site and access to the very first ten lessons from the course to try things out.
After evaluating over 500 programs on the web, my conclusion is easy. This is the best course to learn about ins and outs of affiliate marketing.
If you're interested in learning more about how to make money online with free traffic by recommending other people's products and services, make sure to click the button below…
THE BEST WAY TO MAKE MONEY ONLINE IN 2023 >>
If you need any help or you have a question, feel free to contact me.
And don't forget to share this Write to 1K review with your friends and family!
All the best, Ivan. Founder, and CEO @freeaffiliatemarketingbusiness.com
Related: Write App Reviews Review