Welcome to my Instapreneur Academy review.
One of the "laziest" ways to make money online these days is definitely Instagram. We tend to like, follow, and heart everything and everyone on Instagram without even realizing how much money those people make running simple IG accounts.
Don't get me wrong. Making money via Instagram is not a walk in a part. To become an Instapreneur, you need to have a strong work ethic and follow a set of proven rules.
That's why today, I want to share my review of the Instapreneur Academy course by Gurdit Singh.
Hi, I'm Ivan and I'm a successful online marketer who went from wasting my time waiting tables to operating a thriving online business.
Moreover, I have tried and tested 500+ courses to find the best way to make money online.
In other words, I love making money online and helping you to find legit ways to do so!
While doing one of my researches online, I learned about Instapreneur Academy. I was following Gurdit Singh online and decided to learn more about his course.
He claims that with this course, he's going to show you all his secrets for building, growing, and maintaining a successful Instagram account.
These methods are based on his own success with a few channels that I'm going to disclose later in this review. Also, I'm going to show you what you get with Instapreneur Academy.
We will talk about how it works, whether it is a scam, and more.
Let's go!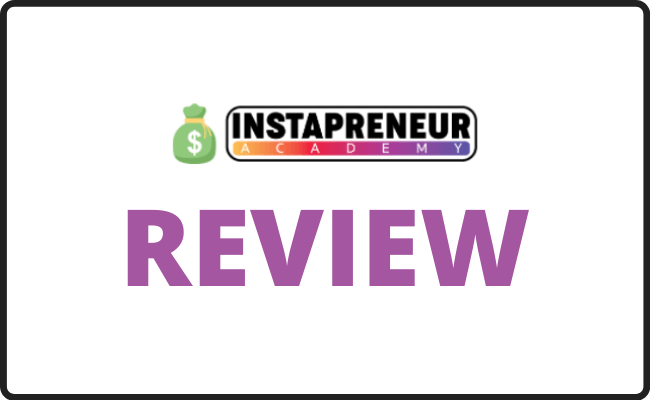 Instapreneur Academy Review – Overview
Type: Make Money Online With Instagram
Price: $97 + UPSELLS
Owner: Gurdit Singh
Money-Back Guarantee: 60-days
Recommended?: Yes if you're into Instagram
Overview: Instapreneur Academy is a step-by-step training course for starting a successful Instagram account. Created by legitimate online entrepreneur, Gurdit Singh, the course is designed to show you how to start, grow, and maintain an IG account and earn revenue as well.
Inside the Instapreneur Academy, I found seven video modules, several valuable bonuses, affordable prices backed up by a money-back guarantee, and more.
The strongest evidence that Instapreneur Academy is legit is positive customer reviews and the fact that Gurdit Singh has actually achieved significant success running Instagram accounts.
Meaning, if you decide to join this course, you will be learning from a legit person who knows how to make money online.
The only red flag that I have found while reviewing this course is unexpected upsells.
If you're not sure about Instapreneur Academy, keep reading my review to learn more. Or, click the button below to discover the best way to make money online!
My #1 Recommendation has helped me to go from $0 to earning $100's per day with affiliate marketing. 1000's before me have done the same with this PROVEN system!
THE BEST WAY TO MAKE MONEY ONLINE IN 2023 >>
What Is Instapreneur Academy?
The Instapreneur Academy is a training program based on a proven system that explains how to build a successful Instagram account and earn an income.
It's a step-by-step course created by Gurdit Singh where he leads you through everything you need to know about making money with Instagram.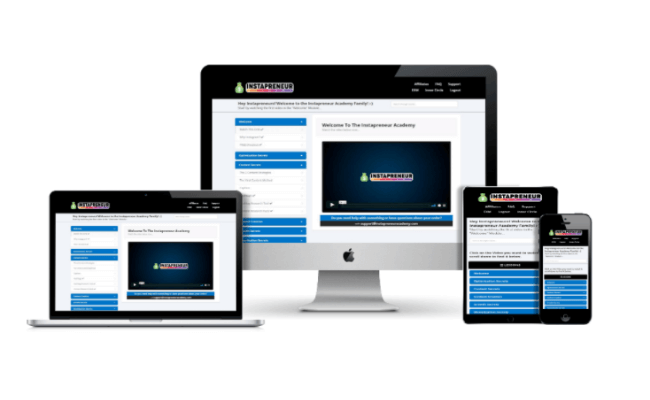 In more detail, the course shows how to start a brand new Instagram account and go from zero to a few thousand followers fast. It contains everything you need to know from getting followers, likes, comments, engaging with your subscribers, and making your first $1000.
One of the coolest things that I like about Instapreneur Academy is that it shows how to do all these things without even showing your face. That said, this course is not about building an influencer account.
Instapreneur Academy is for people who would like to utilize this social media platform while keeping their identity in the shadows.
On the contrary, the creator of the course has decided to reveal his face and show us what he has done so far. This is good because most scams have fake owners or don't reveal their identities at all.
Who Is Gurdit Singh?
Gurdit Singh is an average young individual who couldn't find himself in the system. He was not too fond of going to school, getting a job, paying taxes, and waiting for your pension.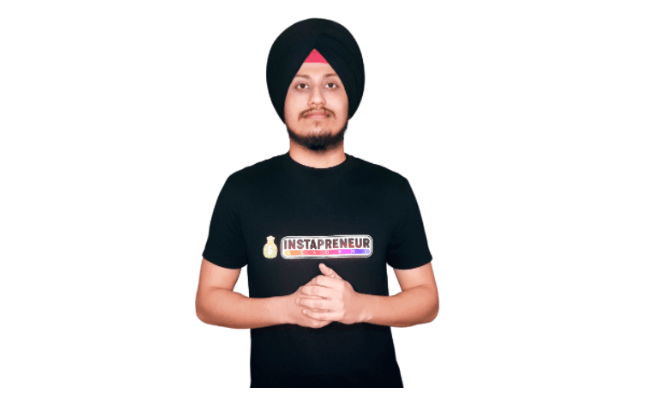 I can certainly relate to this, as I am the same type of individual.
In other words, Gurdit always had a desire for something more. He wanted freedom, so he decided to get it in one way or another. That's how he's discovered that you can make money with Instagram.
Fast forward to the present moment, Gurdit Singh earns $1000's per month using only his phone and the internet connection. And with this Instapreneur Academy course, he intends to reach out to as many individuals as possible to show them the way.
The course is based on his own success with three Instagram account, namely:
Success.Portal – 500K followers
Mental.Aspect – 680K followers
Psych.Opinion – 420K followers

These three channels produce tens of $1000's in revenue per month today. However, Gurdit's success didn't come overnight. It took him a while to "crack the code" to massive Instagram following.
Speaking of which, let's see the next section of my review where I reveal what will you get with Instapreneur Academy.
What Do You Get Inside Intrapreneur Academy?
The core of the Instpreneur Academy is the starting course with over 40 video lessons. Each lesson will take you through the process of starting an Instagram account for generating a following and earning revenue.
As I said, I like the fact that the course is based on Gurdit's personal experience. This means that everything you're going to learn within the course is tested and proven. All you need to do is apply the information.
Now, don't get me wrong. What may have worked for one person, does not mean it will work for everyone.
You see, there's a secret ingredient to success and making money online, and that is a strong desire for success and persistence to carry out the instructions to the letter and for as long as it takes.
Having access to a proven course does not guarantee success.
With that in mind, let's take a look at the content of Instapreneur Academy.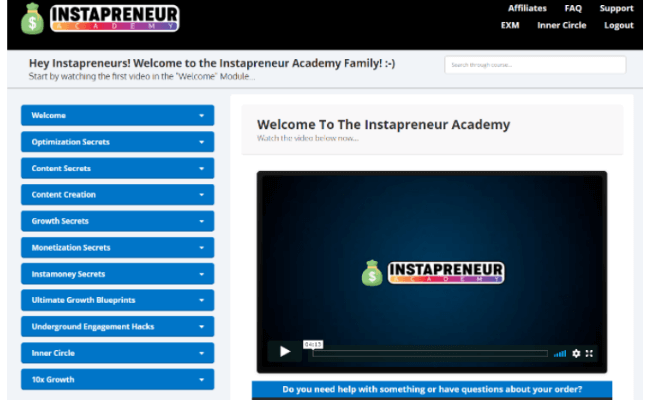 Module #1 – Welcome To The Instapreneur Academy
The first training module is just an intro video to the Instapreneur Academy where you get to know Gurdit. There are a few videos where he talks about:
Welcome Video
Why Instagram
Free shoutout
V.I.P. support
The first video explains the member's area and membership. The next one is where Gurdit talks more about why you should decide to follow Instagram for success. Moreover, he's going to be talking about a few basics such as choosing your niche, username, etc.
Module #2 – Instapreneur Academy Optimization Secrets
Unlike some other courses out there The Instapreneur Academy keeps things in line and does not deviate. It's all about taking the right action.
The second module contains nine videos where you can learn how to:
Set up your account
Complete your bio
Upload a high profile picture
Craft the perfect @username
Select a niche
SEO hacks
Explore page
Avoid these things
Analytics and tracking tools
These are the technical basics for your Instagram account that you need to complete before uploading any content. Speaking of which, the third module is all about content secrets.
Module #3 – Content Secrets
So the next module is going to lead you through the process of creating a perfect content strategy.  The main idea is to post on your account frequently using a few special techniques.
Instagram is all about getting the attention of the viewer as fast as possible. And in this module, you'll learn some of the following lessons:
The best types of content
Viral content
Captions
The importance of #hashtags
Hashtag research tool
Content research hacks
This module is basically a preparation for the next one where you will learn how to create a piece of content from scratch.
Module #4 – Content Creation
Content is what gives you exposure. The more you have, the more exposure you get.  With this module, you'll learn how to create content. Also, you'll learn how to use shoutout posts to attract even more audience.
Here's what you'll learn here;
Feed posts
I.G. stories
Feed shoutout posts
Story shoutout posts
The natural step after mastering the content basics is scaling and growth, which is the topic of the next training module.
Module #5 – Growth Secrets
The main idea is to build a network. And in this module, you'll be learning the following lessons:
Why Engagement Networks?
How to build an I.G. empire
Optimal posting times and frequency
Giving shoutouts
Paid shoutouts
Building a network
This is what Gurdit is doing the best and this is one of the most critical modules of them all, in my opinion. Building the IG empire is not just about getting tons of followers. It's also about maintaining a relationship with your audience.
If you want to make money with your Instagram account, creating a relationship is critical!
Once you do so, you'll be ready for module six where you'll be learning about making money.
Module #6 – Monetization Secrets
Module six is a critical part of the Instapreneur Academy course where you'll learn how to monetize your page. The main focus is on affiliate marketing, but there's more.
Here's what you'll learn:
Become an Instapreneur Affiliate
Sell shoutouts
Consulting services
Dollars with no followers
Expert Secrets (Russel Brunson)
My favorite method is affiliate marketing. However, as you can see that's not the only monetization technique you'll be learning, which is something I really like to see.
You don't want to depend on one source of income as an entrepreneur. You need to diversify, and this module is all about that!
Once you master all these methods, you'll get some extra insights into Gurdit's secrets behind his massive success.
Module #7 – Instamoney Secrets
The last module is there Gurdit's is going to show you a few advanced techniques that you can use to grow your Instagram empire even bigger.
Build and flip accounts
Email Marketing
Instagram Academy
Five easy ways to make money
Bonus: Gurdit's monetization strategy
And that's it!
That's the content of Gurdit's Instapreneur Academy course. These seven modules (40+ lessons) could take you from zero to hero if you apply them to the letter.
The good thing about the course is that you'll get access to Gurdit's private support.
Also, there are a few bonuses as well:
Bonus #1 – How to make your first $1000 without having your own product
Bonus #2 – How to build your dream business on Instagram without showing your face
Bonus #3 – The dollars without followers strategy
Bonus #4 – How to completely automate your Instagram business
Bonus #5 – A 60-Day Money-Back Guarantee
Bonus #6 – Free Shoutout
Speaking of which, let's see the next section of the review where I'll be showing you the price of Instapreneur Academy.

How Much Does Instapreneur Academy Cost?
According to some reviews out there, Gurdit's course was selling for $7, which was extremely cheap! However, it seems that Gurdit has realized the mistake and had raised the price to $97 one time.
Nonetheless, I think it's a fair price given the amount and the quality of the information you'll get in return for your money. And as I said, if you're not happy, you can get a refund during the first sixty days. No questions asked.
And also, you'll be offered a few upsells as soon as you join. These are not mandatory.
Is Instapreneur Academy a Scam?
Before we move on with this review, it's important to say that Instapreneur Academy is not a scam. It's a legitimate training course for building an Instagram business.
I personally don't think that Instapreneur Academy is the best way to make money online. That's because I have discovered a much better business model (click the button below to learn more!).
However, the fact is, there are no red flags that could make me say that it is a scam.
One of the main reasons to say that it is a legit course is that you actually get lots of value for your money. As you have had a chance to read in my review, you get step-by-step training, bonuses, and more.
The sad truth is, there are tons of scams out there that promise fast results and massive success online.
However, most of these scams hide behind the fake owners and even provide fake testimonials to cover up the scam. You can see what I'm talking about in the example of Cash Finder System or Easy Retired Millionaire.
But as you can see the Instapreneur Academy course contains 100% legitimate information and is created by a real Instagram entrepreneur Gurdit Singh. Moreover, the course is backed up with 60-days money-back guarantee.
Moreover, as you search for Instapreneur Academy reviews on Google, you will find lots of positive customer reviews. This is another indication that we have a legitimate course here.
THE BEST WAY TO MAKE MONEY ONLINE IN 2023 >>
Who Is Instapreneur Academy For?
There's no perfect customer for courses like this. It could be for anyone interested in making money using Instagram. The cool thing is, it shows how to do so without showing your face, so it's literally for anyone.
I would also say that this course is suitable for beginners because there are no significant investments. All you need is an internet connection and a smartphone. You don't need to invest too much money except for access to the course curriculum.
Do I Recommend Instapreneur Academy?
I would recommend Instaprenaur academy to people who like the idea of building Instagram accounts to make money online. The course includes step-by-step video training and is created by a legit person.
One of the top reasons why  I would recommend this course is the owner.
Gurdit Singh has achieved significant success with this method. We know this because he shows his Instagram accounts behind the scenes and teaches you how to do the same.
But as I said, there is a much better way to make money online – see the end of the review!
Instapreneur Academy Reviews
I've gone through Google to find user testimonials to see what others might have been saying about Instapreneur Academy. The feedback was more than good. In fact, I couldn't find a single negative review.
Here are some of the examples: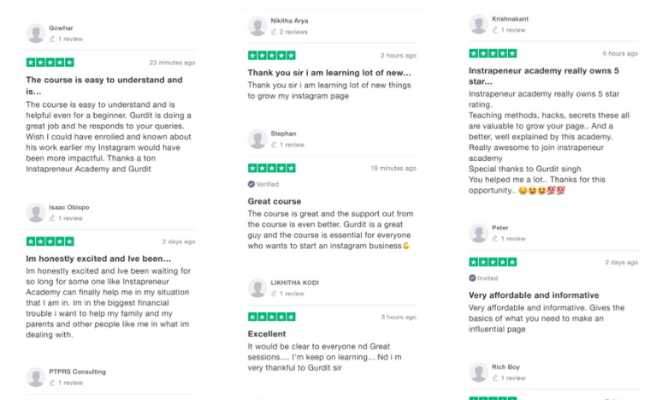 It's a good sign to see that people are leaving positive Instapreneur Academy reviews. It means that the content of the course is legit and most importantly, it works.
Instapreneur Academy PROS
Created by a real Instagram entrepreneur
Easy to follow training material
Suitable for complete beginners
Positive customer reviews
Affordable price
60-days money-back guarantee
Instapreneur Academy CONS
Unexpected upsells
No guarantees
Final Words and Recommendation
So there you have it. We have come to the end of my Instapreneur Academy review. In conclusion, it is a legitimate training course or starting an Instagram account, generating followers, and monetizing your account created by a real Instagram entrepreneur.
If you have a desire to start your own successful Instagram business, I would recommend this course.
Gurdit Singh has achieved massive success following these strategies and if you're looking for a mentor in this business, I'm positive that he's the person to follow.
The price seems to be reasonable too. And if you don't wish to pursue this course after the purchase, you can get your money back within the first 60 days.
Related: Inbound Closer Review
My #1 Recommendation For Making Money Online
If you're not sure about Instapreneur Academy, and you're looking for an alternative way to start an online business, my #1 recommendation is affiliate marketing.
I've personally leveraged this online business model to generate a passive income online in one year.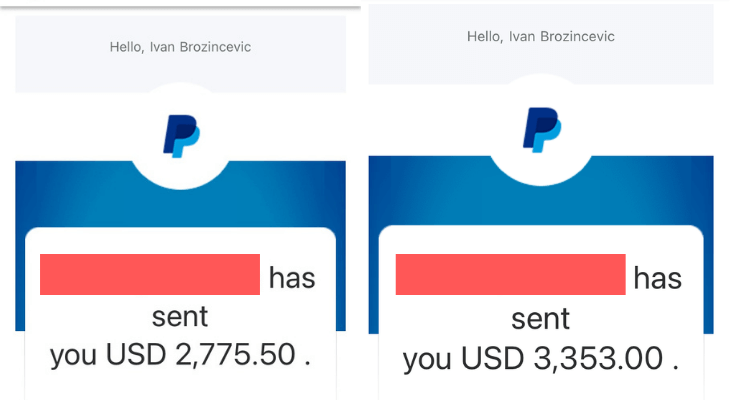 My #1 recommendation has helped tens of thousands of people from all over the world to start earning an income online with affiliate marketing, and it can help you too.
The best thing about affiliate marketing is the fact that you don't have to own or create products.
Instead, you will be learning how to promote other people's products in return for commissions after the sale has been made on the seller's site.
This is the reason why affiliate marketing has quickly become one of the best ways to make money online.
And with my #1 rated course, you will get access to 50 step-by-step video lessons, all the best tools such as websites, research tools, content writing platforms, product research tools, and more!
On top of that, you will get access to a huge community of affiliate marketers, live help, and private coaching!
Best of all, it's free to try it out! To learn more, click the button below!
THE BEST WAY TO MAKE MONEY ONLINE IN 2023 >>
And don't forget to share this review with your friends and family!
All the best, Ivan. Founder, and CEO @freeaffiliatemarketingbusiness.com