Welcome to my Learn Build Earn review.
One of the most popular internet marketing courses was and maybe still is Affilorama. Mark Link started it over a decade ago and you can still join it today, although it is fairly outdated.
Almost a decade later, in 2017, Mark has decided to release a Learn Build Earn course.
But the questions are, what is it about? Is this course any good? Is it just a rehashed version of Affilorama? Will it help you to succeed online?
Learn Build Earn is a training course designed to teach you how to make money online. With this course, Mark teaches three different ways to do so, which I'll discuss later in this review.
However, one of the questions that people ask the most is: Is Learn Build Earn a scam or legit?
Hi, I'm Ivan! I'm an affiliate marketer who went from waiting tables to earning a five-figure income online with my affiliate marketing business!
I have also reviewed 500+ schemes and scams to find the best way to make money online. Simply put, I'm passionate about earning money online and assisting you to follow in my footsteps!
By the way, congratulations on doing your own research first! That's how smart people avoid getting scammed online!
The last thing you want to do is fall for a get-rich-quick scam, right?
In my Learn Build Earn review, you will get all the facts about this program. I'm not affiliated with this course, which means that my review is unbiased.
Let's start with an overview first, shall we?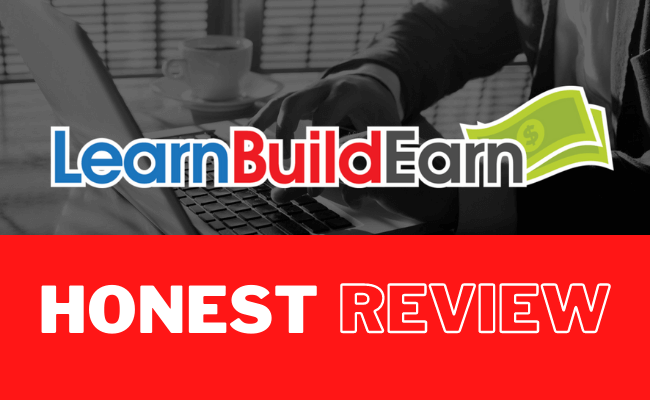 Learn Build Earn Review – Overview
Product Type: Affiliate Marketing
Product Owner: Mark Ling
Price: $2,497 one time or $497 ten times
Money-Back Guarantee: Not Available
Recommended?: Yes and no
Quick Summary: Learn Build Earn is a course created by the well-known online marketer – Mark Ling. With this course, you can learn how to build an online business from scratch and make money.
But is it a scam or legit?
From the birds-eye perspective, Learn Build Earn is so much different than Mark Ling's Affiliorama program. The latter was more of an info-product about affiliate marketing that grew large because it was free to join.
However, LBE is something else.
This time, Mark has taken a different approach and has decided to charge you straight away, which kind of makes you think that LBE is an exclusive program for advanced marketers only.
And if you've got that feeling, then you're right because it is.
Don't get me wrong. I do believe that newbies can become successful with this program too, but the price tag is something that is going to turn a lot of beginners off.
So when you look at it from the price standpoint, it's not as beginner-friendly as Mark claims.
In any case, the program is legitimate. That said, let's put this Learn Build Earn review under a microscope, and let's take a closer look now to see what it is all about and how it works.
If you're a beginner looking to make money online, feel free to check out my top-rated course as well.
Alternative: My #1 Recommendation enabled me to start a successful online business and go from $0 to learning $100's per day with affiliate marketing! Interested in learning more?
THE BEST WAY TO MAKE MONEY ONLINE IN 2023 >>
What Is Learn Build Earn?
Learn Build Earn is an online marketing training course that will show you how to make money online. It was created by Mark Ling, who is not an unknown face in this industry.
A few years ago, I was looking to learn about affiliate marketing, build my own business, and earn an income. But I just couldn't find the right place to do so.
While I was looking and searching, I tried Mark Ling's Affiliorama training course amongst many others. Although it was free to join, my first impression was not so good, and I left the course after a few lessons.
The reason? Well, the video library was too disorganized, and it lacked proper step-by-step training.
Today, a few years fast forward, I run a successful affiliate marketing business (not thanks to Mark), and I'm still looking to complement my income all the time, so I bumped into Learn Build Earn program.
I was surprised to see Mark's face again but intrigued to learn more, so I decided to write this review in case you share my experience and are looking to discover what Learn Build Earn is all about.
Affiliorama was a straight affiliate marketing program. It was similar to Savage Affiliates by Frankilin Hatchet, for example. Or even Affiliate Marketing Mastery by Stefan James.
However, Learn Build Earn is designed to let you choose between three sets of directions. All of them are about making money, so it's all about your preferences.
There are three sets of courses inside:
Digital product creation
Physical product Bootcamp
Affiliate success Bootcamp
You can choose one or all three courses. Mark seems to have a lot of experience in all those areas, and he is a person to follow, that's for sure.
After all, Affiliorama was a great success, and Learn Build Earn seems to track the same route.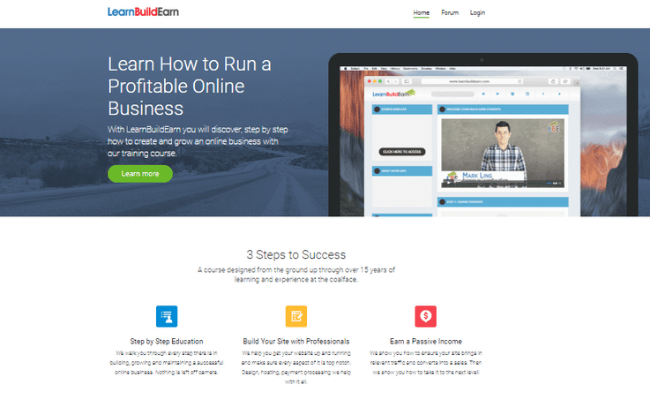 Mark claims that he's created LBE with beginners in mind.
In other words, he is confident that this program is suitable for anyone looking to learn about online marketing, build a business, and earn an income online.
Is it really for beginners? Well, the only thing that makes me say no is the price tag of the Learn Build Earn. I'll show you more details about the price later in the review. Let's take a look at how it works to answer that question better.
How Does Learn Build Earn Work?
The sole purpose of Learn Build Earn is to lead you step-by-step through the process of building an online business from scratch regardless of your skills or knowledge.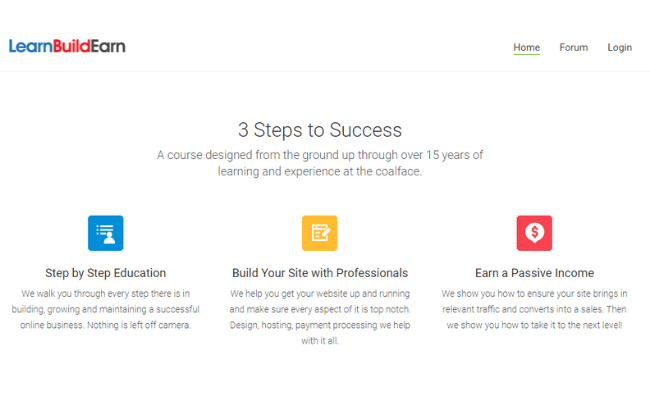 Each program is well-structured, and I do believe that beginners could understand this material.
Mark Ling has over a decade of experience, and the cool thing about this course is that you can even contact him through the course.
That's why he's letting only a limited number of people join Learn Build Earn system.
And if you ever become a member, you'll get a chance to learn how to create your digital product. Also, Mark is showing how to sell a physical product through eCommerce. And he teaches affiliate marketing as well.
Here's a quick overview of the program.
Digital Product Creation
Within Learn Build Earn you'll find a 14 module Digital Product Creation course that shows how to research, create and sell your digital product from scratch.
This is Mark's first recommendation to create a stream of income. Like the other two suggestions, creating your digital product takes time and effort, and in most cases a lot of money too.
So you have to be prepared to spend a lot of everything you have to become a successful digital product owner.
If you don't want to create your own, you can promote 4 of Mark's products to earn 100% commissions. This means that Mark is going to give you PLR rights to resell his products.
In my opinion, this is an easy road, but a very welcomed feature.
Additionally, Mark is going to show you how to outsource the entire process through the services he personally uses.
Physical Product Bootcamp
Inside Physical Product Bootcamp, you'll find 12 module course that explains eCommerce or selling physical products.
This could be an alternative route to take if you don't want to sell digital products. During the twelve modules of training, Mark is going to explain everything from choosing a niche to building a store and outsourcing the whole process too.
Related: eCom Success Academy Review
Affiliate Success Bootcamp
Lastly, Affiliate Success Bootcamp is a 12-module training program within Learn Build Earn platform where Mark is going to explain how to promote other people's products.
This method is my favorite of all three.
You will learn how to find a niche, build a website, find products on Amazon, ClickBank, and other marketplaces, create content, drive traffic, and more.
Affilorama was a pretty much disorganized course on affiliate marketing. Affiliate Success Bootcamp is Mark's second attempt to teach this business model, and he's doing a better job here.
What Do You Get With Learn Build Earn?
In this section of Learn Build Earn review, you can take a look at the breakdown of the features that come with Mark Ling's training program.
Digital Product Success Secrets
Physical Product Bootcamp
Affiliate Success Bootcamp
DONE-FOR-YOU
Traffic Mastery Academy
Website Creation Software
Coaching & Community
Fast Action Bonuses
Copy Assistant – Makes sales letters, order pages, and email copywriting
DONE-FOR-YOU Continuity Product
Online Millionaire's Secret Recorded Private Event
How Much Does Learn Build Earn Cost?
By the time of writing this Learn Build Earn review, there are three payment options available:
Standard Pay – 10 payments of $497
Instant Discount – 1 payment of $2497
PayPal Credit ($2497)

Keep in mind that Mark closes the doors once he gets enough students. In my opinion, this is a great thing because this way he can devote enough attention to all members.
Who is Learn Build Earn For?
So who is LBE for? What is the profile of an ideal person for this course? Well, I would say that Learn Build Earn is for anyone looking to earn an income online. It could be for beginners and advanced marketers too.
Mark Ling emphasizes that the way to achieving complete financial freedom is by starting multiple sources of income. That is why he's decided to include the three most popular ways to do so in this course.
Once again, Learn Build Earn is for those interested in creating their digital product such as a training course. Also, if you're interested in building an eCommerce business, this is covered as well.
My top pick would be the last module where Mark Ling shows how to build an affiliate marketing business.
Affiliate marketing is an excellent way for newbies to start online because you don't need to own products.
Also, you don't have to stock products or deal with customers. The main task is to focus on promoting other people's products and earn commissions.
Sounds easy, right? Well, everything looks easy in theory. You'll have to try it out to see whether it is going to work for you or not.
Before you make your decision, you should read the rest of this Learn Build Earn review.

Things I Like About Learn Build Earn
I could probably give you a list of things that I like about Learn Build Earn program. However, there's one thing that I would like to put above all the other benefits of this course, and that is Mark Ling himself.
Mark Ling Is a Reputable Online Entrepreneur
Mark Ling is a super-affiliate and a legitimate online entrepreneur. He proved himself with Affiliorama before, and today, he's taking a step forward to educate even more people on how to create multiple streams of income.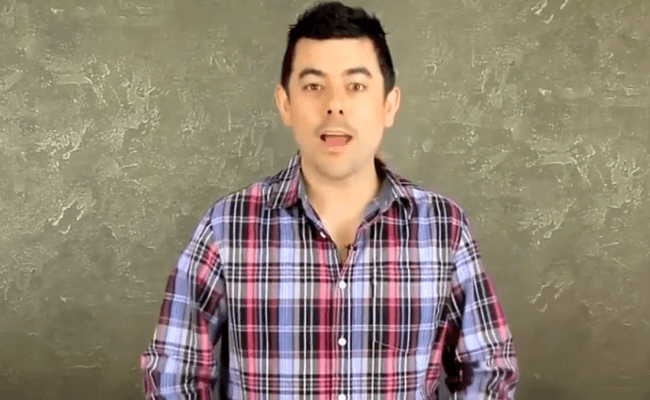 You want to have an influential mentor that knows the way to success. In other words, you don't want to follow someone who has no idea what he is doing. With Mark, you're getting the former.
Freedom To Choose Your Own Direction
Another thing that I found exciting about Learn Build Earn course is the chance to learn how to create an income in three different areas of online business.
We all have different preferences, which Mark knows, and has done an excellent job to offer an education in all three areas.
This is undoubtedly the second-best feature of this program, but it's the last one.
Community, Support & Help
Affiliorama grew into a large community where you can join forums and chats to communicate with other members. This is cool. With Learn Build Earn you get that as well.
But also, you get Mark Ling's support, which is a massive plus in my book.
Bonuses & Webinars
In addition to these features, each member is going to get access to some bonus training material, live weekly webinars, copy-writing, and conversions lessons, and more.
All in all, it's an exciting package. But it's not perfect. Let's see the next section of the review to see where's the poop.
What I Don't Like About Learn Build Earn
Well, there isn't a lot of things that I don't like about Learn Build Earn program. However, one thing pokes my eye and the eye of everyone else interested in this course.
$2.5K is Just Too Much Money For Beginners
In my opinion, $2,497 is a lot of money. I'm not saying that LBE is not worth that much. It' could be more, or it could be less. All I'm trying to say is that you can get access to the same info without having to pay that much money.
If you give yourself enough time to do the research, you could get access to this information for free. We do live, after all, in an era of the internet where everyone can get access to tons of data in seconds.
Nonetheless, I still think that Mark has put together a great course, and if he thinks it's worth $2,497, then it is worth that much. Who am I to set the price on Mark's expertise.
Related: Amazing Selling Machine Review
Is Learn Build Earn a Scam?
We all have haters, and so does Mark Link. His haters will say that Learn Build Earn is a scam. But I'm not one of them. In my opinion, LBE is a legitimate training course.
The course is relatively comprehensive and contains all the right information. Moreover, all members get access to a lot of bonus features as well as community and Mark's personal support.
The latter is in my opinion, the most valuable feature of the whole program. Maybe that's why Mark has decided to put so high price tag on his course.
Speaking of which, price is the only thing that I don't like.
As you may have noticed in the previous sections of my Learn Build Earn review, I have gathered more pros than cons to Mark's program. In other words, it's legitimate.
Alternative: On the other hand, if you're looking for the best business model to earn passive income online as a beginner, there are other, more suitable, and cost-effective alternatives.
My top-rated course has helped me to go from earning $0 to $100's per day!
THE BEST WAY TO MAKE MONEY ONLINE IN 2023 >>
Is Learn Build Earn Recommended?
If I forget about the price for a second, and focus on the features and benefits of Mark Ling's latest creation, I'm happy to recommend this program. In my mind, this is a 100% legitimate place to learn how to earn an income online.
Moreover, Learn Build Earn is not only about building one stream of income. All users get the chance the learn how to create three sources of income, which I find brilliant!
In my opinion, I would recommend this program to advanced marketers. Surely, if you are a beginner, you could also learn from and leverage this program. But I'm not so confident to say that the price of Learn Build Earn is beginner-friendly.
A lot of you guys out there are just getting started, so $2,497 might be a lot of money to shell out on education. I know that is the case because I was in your shoes not so long ago.
That is why I have prepared a bonus recommendation for those of you who might find Mark's program a bit expensive for your taste. You'll find it at the bottom of this Learn Build Earn review.
Related: Paid Traffic Mastery Review
Learn Build Earn Review – Conclusion
So, whether you are a newbie with a bag of cash, or an advanced marketer looking to scale your income and explore other areas of internet business, Learn Build Earn might be the program for you.
As I said during this review, Mark Ling is s super-successful digital entrepreneur. If you ever choose to work with Mark, you should prepare yourself for a lot of work.
This is not just another training course. LBE is, in my opinion, a masterclass.
In other words, it is going to take some time, work, and money to successfully apply the information covered within Learn Build Earn training courses.
So don't take Mark's program for granted. You'll be disappointed if you think that this is a get-rich-quick scheme.
Thanks for reading my Learn Build Earn review. I hope my research has helped you to learn more about Mark Ling's latest project and to make a wise decision.
Learn Build Earn Better (Less Expensive) Alternative
My #1 recommendation is a step-by-step beginner-friendly affiliate marketing course that has helped me to go from $0 to earning $100's per day with affiliate marketing.
The reason why I recommend it over Learn Build Earn is that my #1 recommendation is the leader in the affiliate marketing training industry.
Also, my #1 recommendation comes with all the tools like hosting, websites, keyword tool, etc., included with the course!
Moreover, my #1 recommendation is proven by 1000's from all over the world.
On top of it, my top-rated course is the largest online community of marketers of all levels.
This means that you can get help 24/7 and get answers from 1000's expert coaches, including me!
Best of all, I used this exact system to go from $0 to $1000's per month in passive income!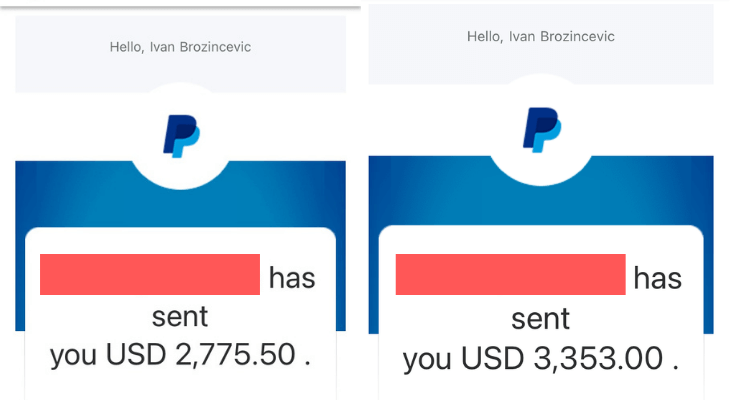 Among the best features of my # 1 ranked course is that you can take it for a test drive (just a $49 Premium subscription).
You will get one complimentary site and access to the very first ten lessons from the course to try things out.
After evaluating over 500 programs on the web, my conclusion is easy. This is the best course to learn about ins and outs of affiliate marketing.
And if you're looking for the very same, click the button below!
THE BEST WAY TO MAKE MONEY ONLINE IN 2023 >>
If you need any help or you have a question, feel free to contact me.
And don't forget to share this Learn Build Earn review with your friends and family!
All the best, Ivan. Founder, and CEO @freeaffiliatemarketingbusiness.com