Welcome to my Online Sales Pro review.
Right from the top of the sales page, the owner and co-founder of Online Sales Pro, Joel Kellman, claims that this software has helped over 78,000 entrepreneurs to create more business.
Those are impressive numbers, right?
Well, the truth is, OSP is a lead generation tool that could help you get more leads and sales to your business.
But is it that good? What if Online Sales Pro is a scam? Well, I'll explain everything you need to know as we go.
But first, who am I? Can you trust me?
Hi, I'm Ivan and I'm an online marketer who went from losing my time waiting tables to running a thriving online affiliate marketing business.
In the meantime, I have actually tried and reviewed 600+ courses, scams, MLMs, and even pyramid schemes to find the very best way to generate income online.
Within this Online Sales Pro review, I show you what this tool is all about, how it works, how much could it cost you to join.
Most importantly, I'll show you a few pros and cons you need to be aware of before going any further.
Let's go!
Online Sales Pro Review – Overview
Type: Affiliate Marketing
Owner: Joel Kellman
Price: $47/monthly or $97/monthly
Money-Back Guarantee: 14 or 30 Days (not clear)
Recommended?: Yes and no
Quick Summary: In a nutshell, Online Sales Pro is a lead generation tool that helps to generate more leads and improve conversions and sales.
The tool suite allows you to build landing pages (similar to ClickFunnels) and even to buy traffic directly from the platform.
In other words, Online Sales Pro is, in my opinion, a legitimate tool. There's no scam there.
The only thing that is missing within this platform is an autoresponder. You must outsource third-party autoresponders (extra costs).
I would recommend Online Sales Pro to advanced marketers who are looking for ways to improve their online business.
On the other hand, I feel like beginners will have a hard time understanding this tool since there's no in-depth marketing training inside.
For more information about Online Sales Pro, keep reading my comprehensive review.
Alternative: My #1 Recommendation below comes with everything you need to build a successful online marketing business from scratch! This platform helped me to go from $0 to earning $100's per day from my websites!
THE BEST WAY TO MAKE MONEY ONLINE IN 2023 >>
What is Online Sales Pro?
So as I've briefly touched at the top of this page, Online sales pro is a lead generation tool. OSP comes in two formats, as an app, and as software.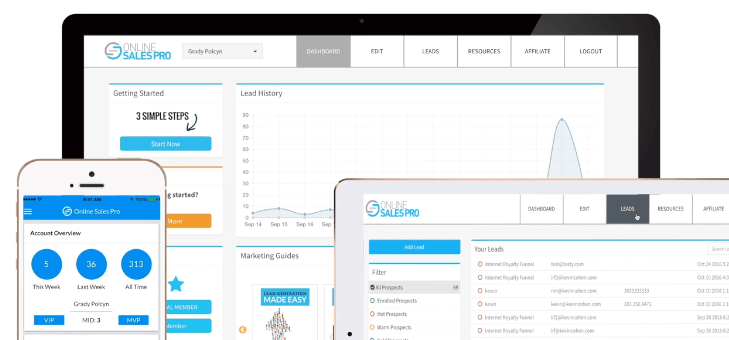 In my opinion, it's best for small business owners, online marketers, and anyone who is looking to optimize and scale their business.
Before we proceed, I need to say that I'm not associated with Online Sales Pro in any way, so expect that I'll be fully unbiased with my review.
That said, it's important to say that there are two ways to utilize OSP to make more money.
Firstly, you can use it as it's designed to be used as a lead generation tool.
The program comes with step-by-step training, hosting, landing page builder, and ALMOST everything you need to run a successful email marketing campaign.
The second way to utilize Online Sales Pro is through their affiliate program. Even if you do not wish to use OSP to scale your business, you can market the tool and make money.
However, I would recommend this only if you have used and benefited from the tool yourself.
Another great platform that offers more or less the same features as OSP is Wealthy Affiliate. In my experience, WA is a better option because you get much more from your membership.
For only $49 a month, you get in-depth affiliate training, website builder, hosting, domains, content writing platform, keyword research tool, live help, private coaching, tech support, and more!
And you can even market WA like me and earn a 50% commission for each new paying member you referr!
What is Lead Generation?
If you are still new to the online world, it's best to learn the terminology first, to see whether or not you are going to need Online Sales Pro in your campaigns.
So let's start with a short rundown of lead generation and email marketing.
Lead generation is a process of attracting and converting strangers and prospects into leads and, ultimately, turning those leads into customers. The most effective ways to do so are via blogs, websites, job applications, etc.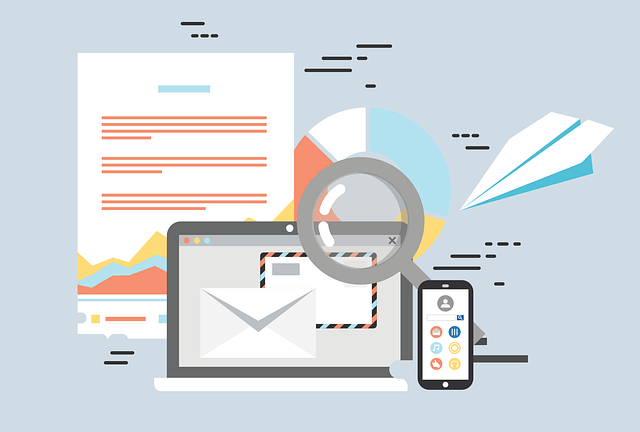 A great way to collect leads is by offering something free in return before asking for a sale.
For example, you can give away an ebook or a guide or anything that gives value. You give away something valuable in return for their email address.
Then, you can contact your lead further, and offer them your product or service to make money from your list.
It's common to hear that the money is in the list or, the list is your biggest asset. Online Sales Pro is a tool that helps to maximize the whole process in general.
But is it the best? Let's see in my review.
Related: What Is Affiliate Marketing?
How Does Online Sales Pro Work?
There are a few steps to an effective lead generation campaign. Online Sales Pro works as a tool with which you can ALMOST do all steps needed to generate more leads and money.
The reason why I emphasize the word almost is that it's missing one key component, at least in my opinion. I'll explain it below.
If you prefer video format, below is a useful review of OSP as well:
1.) Landing Page
If you are familiar with ClickFunnels or LeadPages, you'll understand the modus operandi of Online Sales Pro easily.
The whole point of the first step is to build an effective landing page. Consider this your storefront.
A landing page is going to tell your visitors what is your business all about. It's your chance to grab their attention, whether with a gift or by promising some benefits if they share their email address.
If you've been on the Online Sales Pro website, you can see a professional example of a landing page. The key is to capture your visitor's email address.
OSP has a built-in landing page builder with a 'drag-and-drop' option, which helps to build pro-looking landing pages effectively.
Also, you can choose from a list of done-for-you landing pages if you don't have time to do it on your own.
2.) Traffic
Now, you can have the best-looking landing page on the whole wide web, but if no one lands on it, the thing is worthless. Online Sales Pro has included training on social media marketing.
However, this is not the best traffic generation tool on the planet.
To make the most out of your landing page, you will need to work through social media to get leads. Alternatively, if you have enough budget, you can run a paid advertising campaign to collect leads and customers.
Online Sale Pro can teach you how to collect leads for free from social media, or you can buy one of their DFY traffic packages. The prices are below.
$497 – 300 clicks
$747 – 500 clicks
$1297 – 1000 clicks
3.) Conversion & Sales
The last part of the process is where you need to convert your prospects into customers. You can do this in several ways. A few are already mentioned.
However, the best way to convert visitors into buyers is if you provide them with value.
In other words, help them to solve a problem, and they will help you to make money.
Online Sales Pro helps to maximize the process with follow-ups. In a few short sentences, follow-ups are emails or a sequence of emails sent directly after your leads sign up to your list.
This is the moment where you create an even deeper connection and step out to make the sale by offering them your product or service.
Below is an image that can help you to get a picture of the process.
The Missing Link Inside Online Sales Pro
As I said earlier in my review, there's a small issue with Online Sales Pro. And that is, they don't have a built-in autoresponder. However, you can remedy this with a third-party autoresponder.
OSP is easy to connect with any of the leading autoresponders on the market.
To clarify, an autoresponder is a time-based email that you send automatically as soon as a visitor signs up to your email list.
As I said in the last step, you need to stay in touch with your leads if you want to convert them to buyers and generate the most sales from your list.
But the problem is that you will have to spend more money each month on tools like Aweber or Get Response. The expected monthly cost is about $50.
Related: How to Start With the Affiliate Marketing Business
Is Online Sales Pro Going to Make You Any Money?
Technically speaking, yes, you can make a lot of money with the help of Online Sales Pro. I've touched on this topic at the top of my Online Sales Pro review, but let's talk about it some more.
After all, it's a tool that helps to make money. It's the main topic, right?
So if you remember, you can use this tool to generate leads and sales. We live in a time where websites, landing pages, and sales funnels are the most valuable asset you can hold.
Of course, if you know what to do with it.  Online Sales Pro is, in my opinion, an excellent tool (not the best one for sure) to scale your business and your earnings to the next level, especially if you are a beginner.
Does Online Sales Pro Have An Affiliate Program?
You can become an affiliate for OSP and offer it to your visitors to make money. Online Sales Pro gives 30-40% commissions depending on which plan you choose.
It's an excellent option to create a new stream of income. Below is income proof from one of the members:
To start earning from the OSP affiliate program you would require to be a VIP participant. This is an additional upsell once you get inside and become a member.
And here is how much you could earn in commissions if you become an Online Sales Pro affiliate:
Essential Membership $37 – you earn a $20 commission
Annual Membership $297 – you earn a $150 commission
MVP Add-on $997 – you earn a $500 commission
With that topic covered, let's check out what each package brings to the table.
How Much Does OSP Cost?
At the moment of updating this review, Online Sales Pro has updated its prices as well. It used to be more expensive. However, they lowered the prices in 2022.
Essential Plan
The first plan is, in my opinion, more than enough if you are looking to utilize the basic features of Online Sales Pro. The price is $37 per month.
Unlimited Landing Pages
Mobile App for iPhone and Android
Full Online Training and Support
Access to Facebook Community
Autoresponder Integration (not the tool)
30% Affiliate Commission
Annual Plan
Now, the second plan is more for those of you who are looking to become a "full-time" member of Online Sales Pro. Complete Plan goes for $97 per month or $297 if you go for an annual subscription.
Everything From Essential Plan
Full Access to OSP Marketing Training
Private OSP Facebook Comunity
Priority Live Chat Support
Beta Access to New Features
40% Commission on Direct Referrals
10% Commission on 2nd-Tier Referrals
MVP Add-on
You can pay month-to-month for a cost of $97 per month or you can pay each year for a cost of $997 each year. The MVP Add-on is generally developed to enhance your making possibility.
Keep in mind, it is mainly geared towards those that are reselling OSP. It enables you to develop your own "affiliate source center" inside OS, so essentially when you refer new people to OSP.
In addition to this, you get added training. Moreover, you'll get access to a private MVP Facebook group which is geared in the direction of even more severe & seasoned online marketers that are wanting to take their business to the next level.
Is OSP Backed Up With Refund Policy?
While I was watching the sales video, the owner has said that you are covered with a 3o-day money-back guarantee.
However, on the official site, there is a badge that clearly states that you have 14-days to test it out and ask for a refund.
In any case, there is a refund policy in place. I advise double-checking if you ever decide to try the Online Sales Pro toolkit.
Related: Ecom Success Academy
Online Sales Pro PROS:
Easy to Use
OSP comes with a set of DFY landing pages as well as a simple landing page builder tool. This makes the process of creating pro-looking landing pages easy, even for a complete newbie.
This is my favorite feature of this app. In fact, I'm a big fan of these page builders that help marketers like myself to create web pages faster and without too much sweat.
Online Sales Pro might not be the best landing page builder on the marketing, but it's easy to use and it works.
Training Included
OSP membership includes marketing training as well as instruction on how to use the tools properly so that you don't miss out on anything.
I personally like to learn from videos so the fact that you get the training is highly appreciated. Just keep in mind that this is not marketing training. It's just a series of videos that show you how to use the tool.
Relatively Cheap Tool
The price of OSP is pretty cheap when compared to its main competitor, ClickFunnels, which goes for $99 per month. You can get OSP for only $25 per month.
In my opinion, this is great news. But once again, keep in mind that Online Sales Pro is not as nearly as good as CluckFunnels or other top landing page builders on the market.
Facebook Community
OPS memberships grant you access to their Facebook community. So if you ever need a helping hand or have questions, there's a place where you can turn. Thumbs up.
I like to have access to help and support. Imagine working on your landing pages and you stumble across some issue that you just can't overcome. If you don't have anyone to ask for help, you might stay there for months!
Lucrative Affiliate Program
You can market the very same tool to your visitors and earn revenue from doing so. Online Sales Pro gives a high commission structure to its members.
As you can see, this Online Sales Pro review is link-free, which means that I'm not promoting OSP to make sales. But if you choose to do so, and become successful at it, there's a high chance for a high income.
It's A Mobile App
Having access to your business operation straight from your smartphone is an excellent move by the company. You can download OSP as an app and get notified as soon as you get a new subscriber.
A lot of companies these days turn to mobile apps or simply mobile website versions because 2/3 of internet users today are mobile users. Good move by OSP.
Online Sales Pro CONS:
You Need to Buy Traffic
Although Online Sales Pro includes training on traffic generation, it's not the best one I've seen.
As an alternative, the company offers to buy traffic. In my experience, that's not how you create a long-term business operation. Knowing how to get traffic from free sources is vital.
Limited Landing Page Builder
You will get DFY landing pages with an option to customize them. However, this element is finite and gives you minimal options. Compared to some leaders on the market, OSP has been disappointed in this aspect.
No Autoresponder
Another disappointment is that Online Sales Pro does not come with a built-in autoresponder. You need to integrate one from a third party, and the list of choices is minimal.
Related: Making Sense Of Affiliate Marketing
Is Online Sales Pro a Scam?
No, Online Sales Pro is not a scam. It's a legitimate digital tool that helps to improve and scale your existing business to the next level in terms of leads and sales.
I don't like the fact that you need to probably outsource traffic generation since OSP does not offer too much in that aspect. Also, the whole structure is going to cost you more since you need to outsource the autoresponder too.
I feel that the creators of the OSP could've done a better job to round up the whole package, but that's just my impression.
The bottom line is, Online Sales Pro is not a scam.
It is a decent tool for lead generation. Based on everything that I've seen, you can utilize this tool very effectively to create a new online business or scale your existing one.
Although it has a few cons, that doesn't affect the overall quality of this product. You can get a set of high-quality landing pages, step-by-step training, help and support, and almost everything you need to make money online.
I would recommend Online Sales Pro if you are looking for a way to get more leads and sales.
Alternative: On the other hand, if you're looking for the best business model to earn passive income online as a beginner, there are other, more suitable, and cost-effective alternatives.
My top-rated course has helped me to go from earning $0 to $100's per day!
THE BEST WAY TO MAKE MONEY ONLINE IN 2023 >>
Online Sales Pro Review – Conclusion
Thanks for reading my Online Sales Pro review. I hope that you have gotten all you were looking for. If you have any questions about this program or maybe you can offer an experience, feel free to leave them in the comment box below.
You see, OSP is an excellent tool for making money online, but if you are looking for a long-term solution, I have something better.
Unfortunately, Online Sales Pro is very limited in terms of traffic generation, and not to mention, you need to pay a lot for questionable traffic.
The best alternative is to learn how to generate leads from free traffic sources. This will generate a vast amount of free visitors to your landing page over a more extended period.
It'll take some work, but the result is a passive income. Meaning, you could be sleeping and still making money!
How I Generate Leads and Make Money Online
The program that I recommend as my #1 solution for making money online with affiliate marketing is 100% based on free traffic from SEO and blogging.
The best thing about this method is that it's FREE and EVERGREEN!
Below is the screenshot of my Google Search Console and my results with SEO.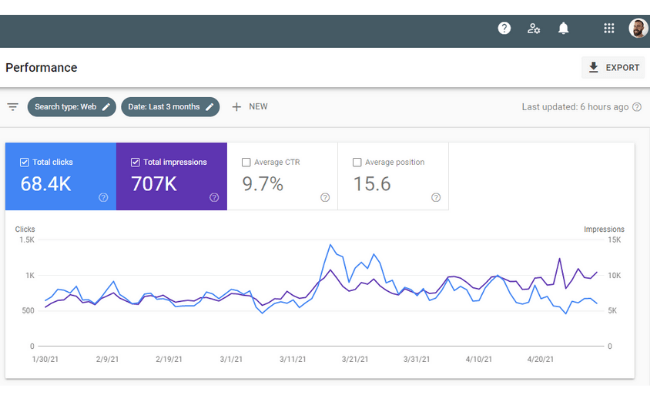 Basically, I'm creating content on my websites to help internet users to solve their problems and answer their questions. In turn, I receive thousands of clicks per month for FREE!
The best thing about this method is that it is passive in terms of results and income.
In other words, you could be earning an income from your site for years and years to come because this method is so POWERFUL and overlooked by many marketers.
Just take a look at commissions that I earn passively all thanks to my #1 recommendation.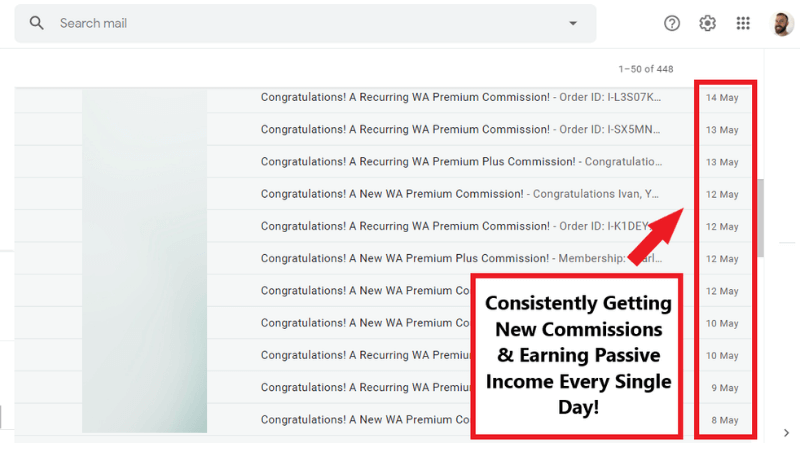 If you want to learn more about how you too can start leveraging SEO to get tons of visitors to your website and make money online, click the button below!
Among the best features of my # 1 ranked course is that you can take it for a test drive (just a $49 Premium subscription).
You will get one complimentary site and access to the very first ten lessons from the course to try things out.
After evaluating over 500 programs on the web, my conclusion is easy. This is the best course to learn about ins and outs of affiliate marketing.
And if you're looking for the very same, click the button below!
THE BEST WAY TO MAKE MONEY ONLINE IN 2023 >>
If you need any help or you have a question, feel free to contact me.
All the best, Ivan. Founder, and CEO @freeaffiliatemarketingbusiness.com
Related: Traffic Ivy Review