Welcome to my OPM Wealth review.
While observing the official site, it's hard to say what OPM Wealth is all about and whether or not it is a scam.
There are no usual signs like overhyped earning claims, tons of fake testimonials, etc.
On top of that, you can't find anything that would tell you what it is about, how much it costs, and other, legitimate information.
Instead, you're welcomed with a plain video by Stefan Dessalines where he invites you to join this opportunity to earn an income, and that's all there is.
Naturally, you're here because you're not sure about Stefan's invitation.
By the way, you did a good thing by searching for a review first.
You don't want to fall for a scam, and it shows me you're actively looking for the best way to earn an income online.
Today, I decided to research and write this OPM Wealth Review to show you all the details before making your own decision.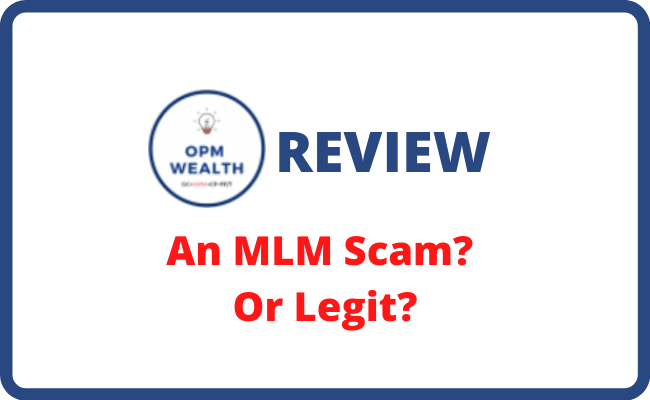 OPM Wealth Review
One of the things that got me to check out OPM Wealth is free to access policy.
You can register for free, which gives you access to three videos that are designed to "brainwash" you to join the scheme.
When I say brainwash, I really mean it. You're shown three videos where they play on your situation emotionally.
You're probably worried about your current financial situation because of the crisis, and you're looking for solutions in the world of making money online.
So, you're invited to join the scheme to start recruiting others to earn an income.
One might say, and one would not be wrong if he does so, OPM is an MLM pyramid scheme, which is a practically illegal business model and a scam.
Would I say it's a scam? Maybe. Read the rest of my review to see what I mean.
CLICK HERE TO DISCOVER THE BEST WAY TO EARN AN INCOME ONLINE >>
What is OPM Wealth?
OPM Wealth is an MLM pyramid scheme designed to recruit newcomers into promoting the same business to other newbies using other peoples money.
By the way, OPM stands for "other peoples money."
You can join for free after watching a short video with the host Stefan.
Then, you have to complete your profile, and watch three more intro videos.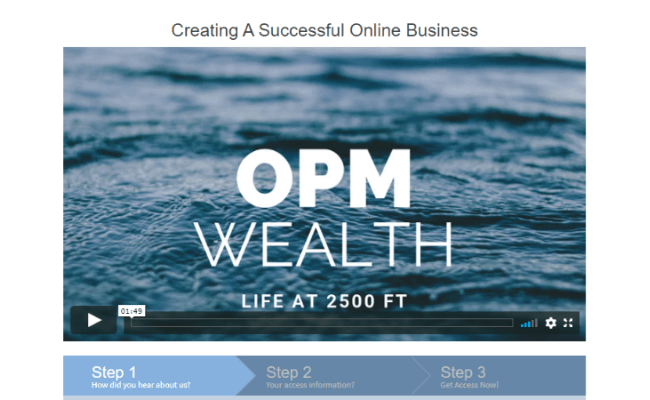 At one point, you'll have to schedule a call with a mentor and you'll be offered to start buying different packages to move through the scheme.
And since most people don't have the finances to start such an expensive (and risky!) feat, the company even offer some sort of credit assurance to help you.
I'm just not sure how pushing people into debt is helping them, but that's how it is.
Once you buy-in, you'll get access to the instructions and training where they will show you how to recruit others to earn commissions.
There are several packages, and the compensation plan is 2 tier system, which I'll breakdown later in OPM Wealth review.
Let me introduce the owner before we move onto the products and packages section.
Who is Stefan Dessalines?
I can't be sure whether Stefan Dessalines is really the owner or just a spokesperson since no information could help with this.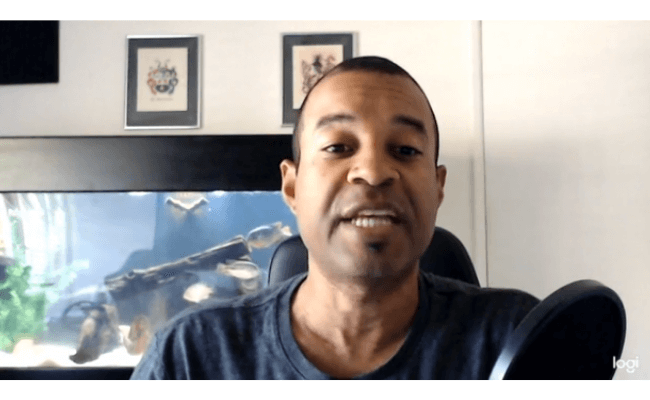 All we know is that Stefan appears in almost all videos and seems like he's the man in charge.
Before this experience, Stefan was an actor. But there is no information about his background in marketing.
Packages
Once you register for the free account and finish watching the free videos, you'll have to either join or quit.
If you decide to join, here's what packages they will offer to you down the road.
Hermes – cost is $2,000
Apollo – cost is $5,000
Athena – cost is $8,500
Poseidon – cost is $14,500
Zeus – cost is $27,500
I have to say, they've been very creative with the names. Those are all Gods from Ancient Greek Mythology.
And as you can see, each new package (level) is going to cost you more and more money.
To earn with OPM Wealth, you'll have to buy each package to earn commissions, which is the next topic of my review.
Related: Six Figure Mentors Review
How Does OPM Wealth Work?
So as I was saying earlier in this OPM Wealth review, the scheme comes down to borrowing money from banks to finance the system and to recruit others.
Some might say this is a scam. Some will say it's a brilliant way to earn online.
However, I tend to pull on the side of those who will say that it is a scam best for those who run it.
In any case, the procedure is simple. All you have to do is watch three videos where Stefan is going to introduce the opportunity.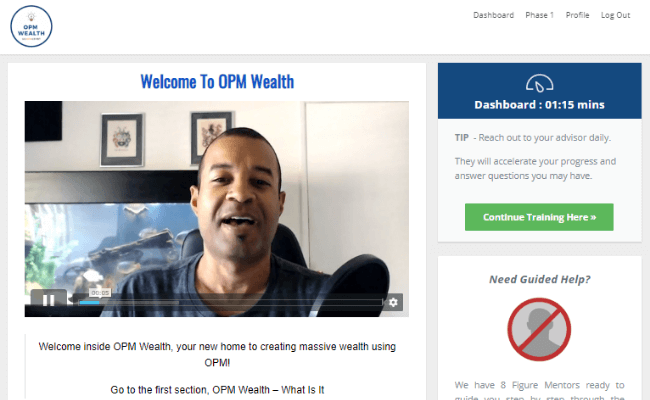 Once you buy the first package, you'll get some training that looks like this.
What Is It?
How It Works
How To Get Started
Digital Franchise
(OPM) Other Peoples Money
Great Credit
The Truth About Money
Time Management
Crypto Basics
Trading Cryptocurrency
Paradigm Shift
Power of Systems
Compensation
Laws of Life
Keep More Money
7 Steps to Financial Freedom
20 Rules of Money
The Power of Mindset
Financial Independence Pt/1
Financial Independence Pt/2
Before you can access the coaching sessions, you'll have to watch those free videos and schedule a coaching call with one of the team.
This is, of course, going to be a person appointed to encourage you to join the scheme.

Once you finish with the training, you have to keep taking action and start recruiting others to become members of OPM Wealth so you can earn commissions.
And of course, there will be extra costs down the road to keep running marketing campaigns and all.
Can You Earn With This?
Each time you recruit a person, and that person agrees to follow the same path, you earn a commission.
Your commission is based on your level. So if you are only on a Hermes level, you'll earn a commission when your referral takes the same package.
In case you stay on the same level and your referral upgrades, you won't earn any commissions on that upgrade.
Here's how OPM Wealth Compensation plan looks like up close.
Compensation Plan
The compensation plan is based on 2 tier system, which means that you get paid commissions based on your referrals actions and based on the activities of their referrals too.
1st tier commission is 60%
2nd tier commission is 10%
For example, you can earn $1,200 for level one referrals and $200 each time level two referral upgrades to Hermes package.
Then, $2000 for level two referrals and $500 each time level two referral upgrades to Apollo package.
The next level upgrade earns you $5,100 for the first level upgrade and $850 each time level two referral upgrades to Athena package.
You earn $8,700 for the first level upgrade and $850 when level two referral upgrades to Poseidon package.
Lastly, you could earn $16,500 for the level one upgrade and $2,750 when your level two referral upgrades to Zeus package.
Now you can see why I consider OPM Wealth a pyramid scheme above all and probably a scam as well, but let's not rush with that.
There are no products to be sold or anything else that provides value, which is, by definition, precisely a pyramid scheme.
This also means that this business model is not sustainable, and at one point, it must collapse.
CLICK HERE TO DISCOVER THE BEST WAY TO EARN AN INCOME ONLINE >>
What I Like About OPM Wealth
Free to Join the Scheme
Earning Potential is There
Free to Join the Scheme
I'm always up for a freebie before handing over my money to random people on the internet. And not just on the internet.
If you're buying a car, you want to take it out on a test drive, right?
So I guess it's a good thing that you can join OPM Wealth for free to get a feeling and understand it a bit better before you decide to fork over $2000.
Earning Potential is There
I'm not a fan of any schemes that are designed in the way OPM Wealth is. It just does not feel right.
However, reasoning back at the structure, I can see an earning potential. It could be possible to earn an income with this.
That is, of course, if everything goes right and there are no surprises down the road (which is rarely the case).
Related: Newbies On Fire Review
OPM Wealth Scam Signals
It's Could Be a Pyramid Scheme!
It Asks You to Borrow Money!
It Could Collapse Easily
No Testimonials or Any Other Proof
Hidden Expenses
It's Could Be a Pyramid Scheme!
By definition, a pyramid scheme is a business model that recruits members via a promise of payments or services for enrolling others into the system, rather than supplying investments or sale of products.
Now, you can see why I say OPM Wealth fits the profile of a pyramid scheme.
And with this, it also comes a possibility that it is a scam since pyramid schemes are illegal in most counties in the world.
It Asks You to Borrow Money!
Borrowing money to invest in a possible pyramid scheme is never a good idea!
You see, the OPM Wealth system is based upon getting a loan (other peoples money) from a bank so you can start investing and the person that got you in could earn.
Then the same door of possibility opens to you as well.
In any case, I would never take a $27,000 loan to invest in some random scheme on the internet. Never!
It Could Collapse Easily
As recruiting multiplies, recruiting becomes quickly impossible, and most members are unable to profit; as such, pyramid schemes are unsustainable.
In other words, at one point or another, OPM Wealth is doomed to failure!
Would you still consider becoming a member now that you know that your money is not safe?
Does it feel comfortable knowing that you could waste $1000's and a lot of time on something that is doomed to fall apart?
I know my answers…
No Testimonials or Any Other Proof
Finally, the thing that tells me that OPM Wealth is a scam is the lack of testimonials or any other sort of proof that the scheme works for other people.
I haven't managed to find a single soul that could show me their results.
And even if I have found, I would still overthink joining something like this.
Hidden Expenses
This scheme requires some excellent marketing skills and the ability to invest a lot of money into online ads.
These expenses could rise very quickly, and if the training is not adequate, you could lose a lot of money.
And not to mention, these extra expenses are not disclosed before joining.
Related: Too Damn Easy Review
Is OPM Wealth a Scam?
You could call OPM Wealth a scam if you wish because it has a lot of traits of something illegal.
I'm not going to say so because no proof could confirm such claims.
However, there are a few things that trouble me still.
You see, the company is not registered online on sites like Better Business Bureau, or any other third-party screening platform.
All I found while researching for this review were other reviews like mine that say the same things.
In other words, we are all united around the opinion that OPM Wealth is not safe nor a smart investment.
You could end up borrowing and spending $1000's on a scheme that has zero testimonials and by all standards seems to be illegal and could collapse easily in a few short months.
If that happens, you'll be left on your own.
Worst of all, your money would be gone, and you'll be in debt!
OPM Wealth Review – Conclusion
That is my review and opinion on OPM Wealth, guys. I hope you found it very useful.
All I can say is that I'm not going to be recommending this scheme to my readers.
In my opinion, this is not the smartest thing you could do to earn an income online.
On the other hand, if you are interested in making money online, and want to try something safe, tested, and proven by 1000's of regular people like you and me.
Click the button below and learn more!
CLICK HERE TO DISCOVER THE BEST WAY TO EARN AN INCOME ONLINE >>
If you need any help or you have a question, feel free to contact me.
And don't forget to share this review with your friends and family!
All the best, Ivan. Founder, and CEO @freeaffiliatemarketingbusiness.com