Welcome to my OPM Wealth review.
While observing the official site, it's hard to say what OPM Wealth is all about and whether or not it is a scam. There are no usual signs like overhyped earning claims, tons of fake testimonials, etc.
On top of that, you can't find anything that would tell you what it is about, how much it costs, and other, legitimate information. Is it a scam? An  MLM maybe? Is it legit? What is it???
Instead of giving you this information, you're welcomed with a plain video by Stefan Dessalines where he invites you to join this opportunity to earn an income, and that's all there is.
Naturally, you're here because you're not sure about Stefan's invitation.
And I'm here to help you!
Hi, I'm Ivan! I'm a successful affiliate marketer. I went from waiting tables to earning a five-figure income online with my affiliate marketing business!
Moreover, I have also reviewed 500+ schemes and scams to find the best way to make money online. In other words, I'm passionate about affiliate marketing and helping you to follow in my footsteps!
Today, I decided to research and write this OPM Wealth Review to show you all the details before making your own decision. We're going to see how it works, how much it costs, and most importantly, whether OPM Wealth is a scam or a legitimate scheme.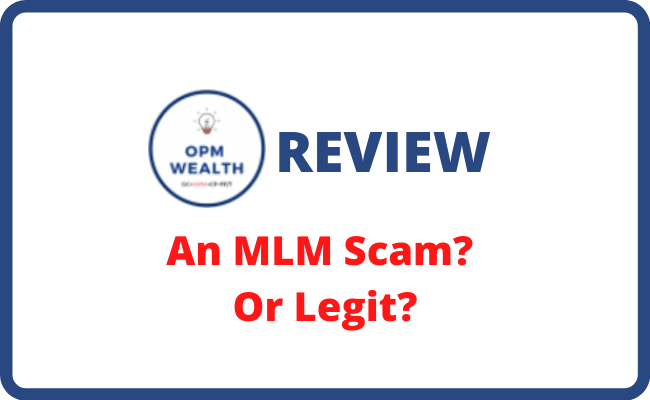 OPM Wealth Review
Type: MLM/Pyramid Scheme
Owner: Stefan Dessalines
Price: $2,000 to $27,500
Money-Back Guarantee: no
Recommended?: No
Quick Summary: One of the things that got me to check out OPM Wealth is free to access policy. You can register for free, which gives you access to three videos that are designed to "brainwash" you to join the scheme.
When I say brainwash, I really mean it. You're shown three videos where they play on your situation emotionally.
Let me explain…
You're probably worried about your current financial situation because of the crisis, and you're looking for solutions in the world of making money online.
So, you're invited to join the scheme where you can allegedly earn $1000's without any effort.
But little did you know that to make this money, you must start recruiting others to join OPM Wealth. And to do so, you'll have to invest some serious money.
The total price of packages inside goes well over $55K!
If you don't have this money, they will show you how to get a loan! Hence the name of the scheme is "Other People's Money Wealth."
But in my opinion, OPM Wealth is a scam best for those who run it!
One might say, and one would not be wrong if he does so, OPM Wealth is actually a pyramid scheme, which is a practically illegal business model and a scam.
Make sure to check out the OPM Wealth reviews in the comment section. Also, avoid the Digital Veteran Blueprint and Multiple Income Funnel as well. Both are worthless schemes designed to funnel you to OPM.
Alternative: If you're tired of scams, MLM, pyramid, and get-rich-quick schemes, check out my #1 recommendation. It is a 100% legitimate training course that helped me to go from $0 to earning $100's per day with this site!
THE BEST WAY TO MAKE MONEY ONLINE IN 2022 >>
What is OPM Wealth?
OPM Wealth is an MLM pyramid scheme designed to recruit newcomers into promoting the same business to other newbies using other people's money.
By the way, OPM stands for "other people's money." In other words, they will show you how to get a loan (if you can't pay for the expensive memberships) and use other people's money to make money.
Interesting, right?
You can join for free after watching a short video with the host Stefan. Then, you have to complete your profile and watch three more intro videos.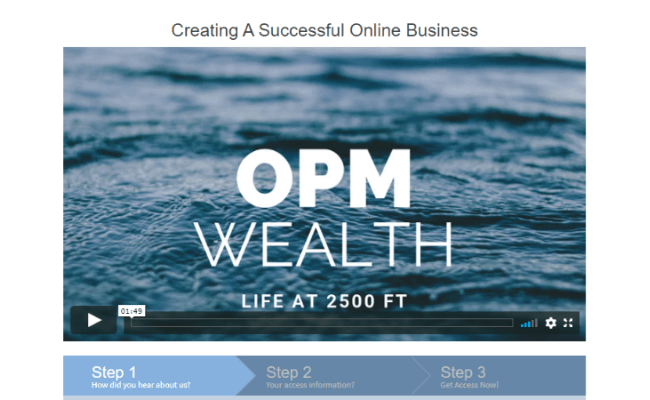 At one point, you'll have to schedule a call with a mentor and you'll be offered to start buying different packages to move through the scheme.
And since most people don't have the finances to start such an expensive (and risky!) feat, the company even offers some sort of credit assurance to help you.
I'm just not sure how pushing people into debt is helping them, but that's how it is.
Once you buy-in, you'll get access to the instructions and training where they will show you how to recruit others to earn commissions.
There are several packages, and the compensation plan is 2 tier system, which I'll break down later in the OPM Wealth review.
Let me introduce the owner before we move on to the products and packages section.
Who is Stefan Dessalines?
I can't be sure whether Stefan Dessalines is really the owner of OPM Wealth or just a spokesperson since no information could help with this.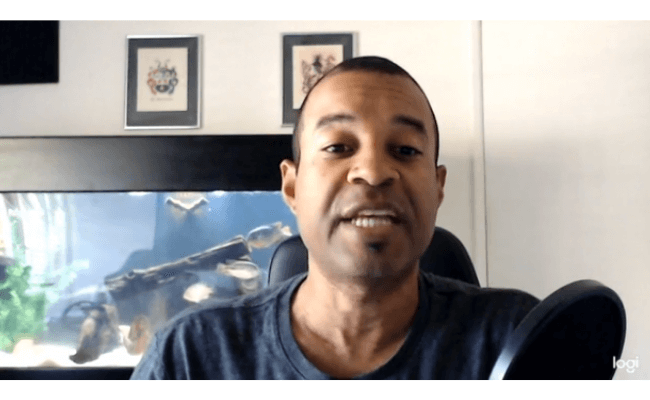 All we know is that Stefan appears in almost all videos and seems like he's the man in charge.
Before this experience, Stefan was an actor. But there is no information about his background in marketing.
In my opinion, this is very concerning. See, the man who is going to ask you to pay enormous sums of money is not the most trustworthy character around.
If I would be even considering joining OPM Wealth, I would want to know more about Stefan, and even get him on the phone.
So I did some research and found Stefan's group on Facebook. (see the image below)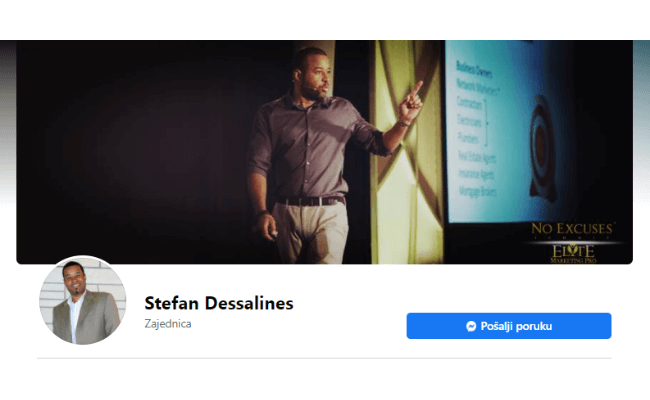 The weird thing is, Stefan's group counts only 231 members and hasn't been active since 2017!
I'm not saying that this is necessarily the worst thing. Maybe he's just got tired from social media. But still, I'm not confident that he's the right person to follow.
Now, let me show you how much Stefan is going to ask you to pay to start with the OPM Wealth scheme.
OMP Wealth Packages
Once you register for the free OPM Wealth account and finish watching the free videos, you'll have to either join or quit.
If you decide to join, here's what packages they will offer to you down the road.
Hermes – cost is $2,000
Apollo – cost is $5,000
Athena – cost is $8,500
Poseidon – cost is $14,500
Zeus – cost is $27,500
I have to say, they've been very creative with the names. Those are all Gods from Ancient Greek Mythology.
And as you can see, each new package (level) is going to cost you more and more money.
To earn with OPM Wealth, you'll have to buy each package to earn commissions, which is the next topic of my review.
Related: Six Figure Mentors Review
How Does OPM Wealth Work?
So as I was saying earlier in this OPM Wealth review, the scheme comes down to borrowing money from banks to finance the system and to recruit others.
Some might say this is a scam. Some will say it's a brilliant way to earn online.
However, I tend to pull on the side of those who will say that it is a scam best for those who run it.
In any case, the procedure is simple. All you have to do is watch three videos where Stefan is going to introduce the opportunity.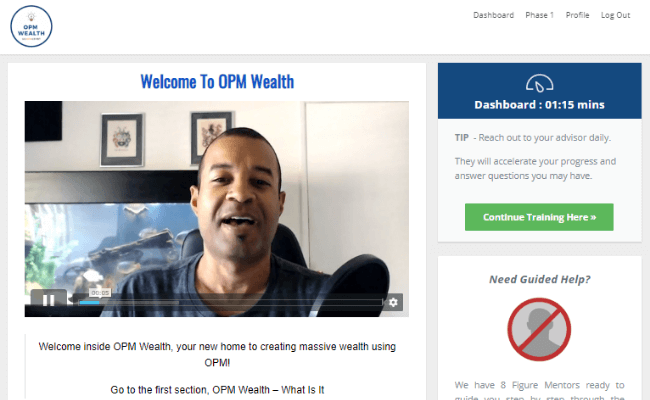 Once you buy the first package, you'll get some training that looks like this.
What Is It?
How It Works
How To Get Started
Digital Franchise
(OPM) Other Peoples Money
Great Credit
The Truth About Money
Time Management
Crypto Basics
Trading Cryptocurrency
Paradigm Shift
Power of Systems
Compensation
Laws of Life
Keep More Money
7 Steps to Financial Freedom
20 Rules of Money
The Power of Mindset
Financial Independence Pt/1
Financial Independence Pt/2
Before you can access the coaching sessions, you'll have to watch those free videos and schedule a coaching call with one of the team.
This is, of course, going to be a person appointed to encourage you to join the scheme.

Once you finish with the training, you have to keep taking action and start recruiting others to become members of OPM Wealth so you can earn commissions.
And of course, there will be extra costs down the road to keep running marketing campaigns and all.
Can You Earn With OPM Wealth?
Each time you recruit a person, and that person agrees to follow the same path, you earn a commission.
Your commission is based on your level. So if you are only on a Hermes level, you'll earn a commission when your referral takes the same package.
In case you stay on the same level and your referral upgrades, you won't earn any commissions on that upgrade.
Here's how the OPM Wealth Compensation plan looks like up close.
Compensation Plan
The compensation plan is based on 2 tier system, which means that you get paid commissions based on your referrals actions and based on the activities of their referrals too.
1st tier commission is 60%
2nd tier commission is 10%
For example, you can earn $1,200 for level one referrals and $200 each time level two referral upgrades to the Hermes package.
Then, $2000 for level two referrals and $500 each time level two referral upgrades to Apollo package.
The next level upgrade earns you $5,100 for the first level upgrade and $850 each time level two referral upgrades to the Athena package.
You earn $8,700 for the first level upgrade and $850 when level two referral upgrades to the Poseidon package.
Lastly, you could earn $16,500 for the level one upgrade and $2,750 when your level two referral upgrades to the Zeus package.
Take a look at the potential earnings below:
Hermes gets $1,200 commission on Level 1, $200 on Level 2
Apollo gets $3,000 commission on Level 1, $500 on Level 2
Athena gets $5,100 commission on Level 1, $850 on Level 2
Poseidon gets $8,700 commission on Level 1, $1,450 on Level 2
Zeus gets $16,500 commission on Level 1, $2,750 on Level 2
Now you can see why I consider OPM Wealth a pyramid scheme above all and probably a scam as well, but let's not rush with that.
There are no products to be sold or anything else that provides value, which is, by definition, precisely a pyramid scheme.
This also means that this business model is not sustainable, and at one point, it must collapse.

What I Like About OPM Wealth
Free to Join the Scheme
Earning Potential is There
Free to Join the Scheme
I'm always up for a freebie before handing over my money to random people on the internet. And not just on the internet.
If you're buying a car, you want to take it out on a test drive, right?
So I guess it's a good thing that you can join OPM Wealth for free to get a feeling and understand it a bit better before you decide to fork over $2000.
Earning Potential is There
I'm not a fan of any schemes that are designed in the way OPM Wealth is. It just does not feel right.
However, reasoning back at the structure, I can see an earning potential. It could be possible to earn an income with this.
That is, of course, if everything goes right and there are no surprises down the road (which is rarely the case).
Related: Newbies On Fire Review
OPM Wealth Scam Signals
It's Could Be a Pyramid Scheme!
It Asks You to Borrow Money!
It Could Collapse Easily
No Testimonials or Any Other Proof
Hidden Expenses
It's Could Be a Pyramid Scheme!
By definition, a pyramid scheme is a business model that recruits members via a promise of payments or services for enrolling others into the system, rather than supplying investments or sale of products.
Now, you can see why I say OPM Wealth fits the profile of a pyramid scheme.
And with this, it also comes a possibility that it is a scam since pyramid schemes are illegal in most counties in the world.
Lack of Valuable Training or Education
The video clips provided by OPM Wealth can all be accessed online as soon as you have become a paying member. However, these videos have no real-life value. And that's a red flag!
Basically, these videos have been thrown together to appear as some sort of education.
No Product or Service in Offer
An online firm needs to offer items with the actual worth in order to operate lawfully in the United States, even if they are sold at filled with air rates.
This guideline is not complied with by OPM Wealth, which is therefore disallowed from operating in any type of state.
OPM Is Based on Recruiting New Members
You can only generate income by hiring others to join OPM Wealth. Because of this, the company is a pyramid plan on the verge of a Ponzi scheme.
There is no lasting pyramid/Ponzi system. Moreover, it is just a matter of time before Stefan runs away and the whole thing collapses.
You see, pyramid schemes, necessarily, are organization designs that hire members based on a promise of payments or solutions in exchange for enrolling others in the system, instead of selling protections or items.
As a result of the fact that pyramid plans are illegal in the majority of countries on the planet, there is also a possibility that it is a scam.
And since this scheme is not sustainable, it must collapse.
They Ask You to Borrow Money!
Borrowing money to invest in a possible pyramid scheme is never a good idea!
You see, the OPM Wealth system is based upon getting a loan (other people's money) from a bank so you can start investing and the person that got you in could earn.
Then the same door of possibility opens to you as well.
In any case, I would never take a $27,000 loan to invest in some random scheme on the internet. Never!
OPM Wealth Could Collapse Easily
As recruiting multiplies, recruiting becomes quickly impossible, and most members are unable to profit; as such, pyramid schemes are unsustainable.
In other words, at one point or another, OPM Wealth is doomed to failure!
Would you still consider becoming a member now that you know that your money is not safe?
Does it feel comfortable knowing that you could waste $1000's and a lot of time on something that is doomed to fall apart?
I know my answers…
No Testimonials or Any Other Proof
Finally, the thing that tells me that OPM Wealth is a scam is the lack of testimonials or any other sort of proof that the scheme works for other people.
I haven't managed to find a single soul that could show me their results.
And even if I have found it, I would still overthink joining something like this.
Hidden Expenses
This scheme requires some excellent marketing skills and the ability to invest a lot of money into online ads.
These expenses could rise very quickly, and if the training is not adequate, you could lose a lot of money.
And not to mention, these extra expenses are not disclosed before joining.
You Won't Learn How To Build a Real Business
The commissions that can be earned by recruiting people are their sole focus.
Furthermore, OPM promised that investors would be available for your business, but this is not true.
Related: Too Damn Easy Review
Is OPM Wealth a Pyramid Scheme?
OPM Wealth is a high-ticket pyramid system. You can generate income with high-ticket systems like OPM Wealth. Nevertheless, it is not a good concept.
Initially, you're deceiving on your own right into signing up with a pyramid system. To recover your investment, you need to recruit others into the pyramid scheme.
It's true what they claim, you need to invest cash to earn money. However, $2000 to sign up with a ridiculous system to earn six-figure earnings in a year is a silly claim.
This is a scam in a manner, just like Perpetual Income 365 and 7K Metals.
On the other hand, with affiliate marketing, for example, you don't have to depend on recruiting people. You can promote any real and useful products to your audience to earn commissions.
See, free affiliate programs permit you to promote other people's products on your website or blog and gain a share of sales generated with your efforts.
Affiliate marketing is an outstanding resource of excellent, clean money. I know because thousands of individuals have actually made it their main source of income using this one system.
Furthermore, you do not need to pay $2,000 to get going with this training program or to start developing an affiliate website.
I will tell you more at the end of this OPM Wealth review.
Is OPM Wealth a Scam?
You could call OPM Wealth a scam if you wish because it has a lot of traits of something illegal.
I'm not going to say so because no proof could confirm such claims.
However, there are a few things that trouble me still.
You see, the company is not registered online on sites like Better Business Bureau, or any other third-party screening platform.
All I found while researching for this review were other reviews like mine that say the same things.
For example, you can take a look at the comment section below this review and read a few horrible experiences from people who fell for the OPM Wealth scam.
In other words, we are all united around the opinion that OPM Wealth is not safe nor a smart investment.
You could end up borrowing and spending $1000's on a scheme that has zero testimonials and by all standards seems to be illegal and could collapse easily in a few short months.
If that happens, you'll be left on your own.
Worst of all, your money would be gone, and you'll be in debt!
OPM Wealth Review – Conclusion
That is my review and opinion on OPM Wealth, guys. I hope you found it very useful.
So in conclusion OPM Wealth is a pyramid scheme that aims at recruiting people into joining the program. The main idea is to upgrade through different packages to unlock the commission level and recruit others to do the same.
To become successful with this scheme, you'll have to invest $50,000+ and convince other people to invest as well.
Technically speaking, OPM Wealth is not a scam per see, but it is a pyramid scheme, which boils down to the same thing because pyramid schemes are illegal.
All I can say is that I'm not going to be recommending this scheme to my readers. In my opinion, this is not the smartest thing you could do to earn an income online.
OPM Wealth Safe And Legitimate Alternative
If you are interested in making money online and want to try something safe, tested, and proven by 1000's regular people like you and me, you could check out my top-rated program, Wealthy Affiliate.
Unlike OPM Wealth, WA is not about promoting the same program to others to earn commissions. Instead, you get access to the best training, tools, and coaching and an opportunity to start a legitimate affiliate marketing business.
In my opinion affiliate marketing is one of the best ways to make money online. You see, with affiliate marketing, you don't have to buy expensive products and promote them to others.
You can join 1000's of 100% FREE and legitimate affiliate programs and get access to MILLIONS of other people's products and use a PROVEN course like Wealthy Affiliate to learn how to make money with affiliate marketing.
I joined WA a few years ago and thanks to these guys, I run a successful affiliate business. You can read my story by clicking the blue button below!
THE BEST WAY TO MAKE MONEY ONLINE IN 2022 >>
If you need any help or you have a question, feel free to contact me.
And don't forget to share this OPM Wealth review with your friends and family!
All the best, Ivan. Founder, and CEO @freeaffiliatemarketingbusiness.com