Welcome to my Print Profits review.
You and I have a ton of choices when it comes to making money online. One of those choices is eCommerce. But there are so many ways that you can go with eCommerce that it's hard to choose the right one for you.
According to Michael Shih, print on demand is one of the best ways to succeed with eCommerce and make money online. But it's easy to say so. Another thing is to prove it. That said, is this course even legit? Or is Print Profits a scam by Michael Shih? What can you expect from this course? How does it work? How much does it cost?
It's good to see you here because, in my Print Profits review, I will be showing you what you can expect from this course, how it works and will be sharing my unique opinion about whether Print Profits is a scam or a legit course, and more.
Print Profits Review – Overview
Product Type: eCommerce (Print on demand)
Product Price: $997/one-time or $397/three monthly payments
Product Owner: Michael Shih
Money-Back Guarantee: No
Recommended?: Not really…
Quick Overview: Print Profits is a legitimate training course that teaches people how to start a print on demand business from scratch. It was created by two legitimate online entrepreneurs and contains eight training modules where Michael Shih and Fred Lam show people how to leverage their system for making money online.
I'm not into print on demand and eCommerce that much so I don't recommend the Print Profits course, especially to beginners because it's too expensive and comes with a lot of hidden costs (more than $1000).
My #1 recommendation is a 100% legitimate program that helped me to go from being a complete newbie to making $100's per day with affiliate marketing! Click the button below to learn more!
THE BEST WAY TO MAKE MONEY ONLINE IN 2022 >>
What Is Print Profits?
Print Profits is an eCommerce course that is focused on a specific niche, namely, print on demand. The program was created by Michael Shih and Fred Lam, two eCommerce millionaires.
Print on demand is one of the most cost-effective lines of online business because it allows you to bypass all the things like shipping, inventory, creating products, etc. With print on demand, you work with a supplier to customize products like shirts, hats, bags, etc., with your own design.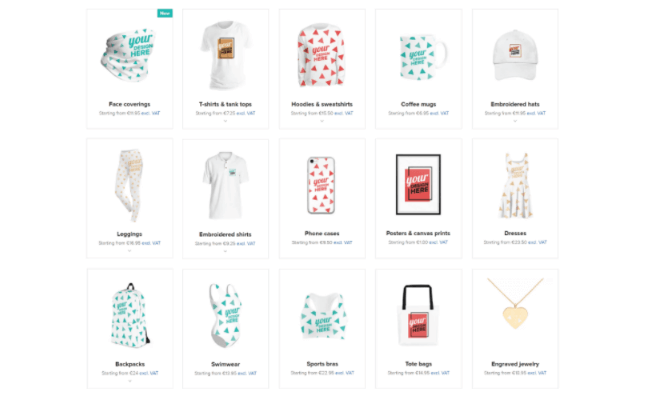 The idea is to sell these products on a pre-order basis under your own brand. In other words, you don't order a product from a supplier until you actually receive the order from your customer.
Print Profits program is designed to show you how to do this step-by-step from scratch using the Shopify platform and Michael's and Fred's system. The course was created in 2018 and consists of 8 training modules.
Who Are Michael Shih and Fred Lam?
Michael Shih is the co-creator of Print Profits. I first heard of Michael Shih through his YouTube channel. According to his own words, Micheal is a successful speaker, coach and online entrepreneur.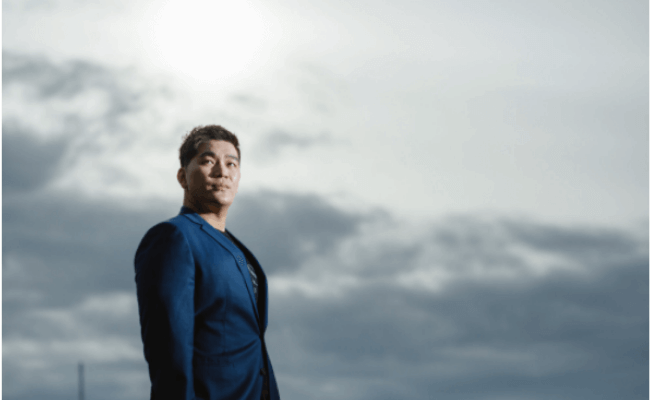 You can check out Michael's YouTube channel to grab some free info an insights before actually starting to work with him. His channel is pretty modest. It has only about 9K subscribers, which is not a lot for an allegedly super-successful entrepreneur.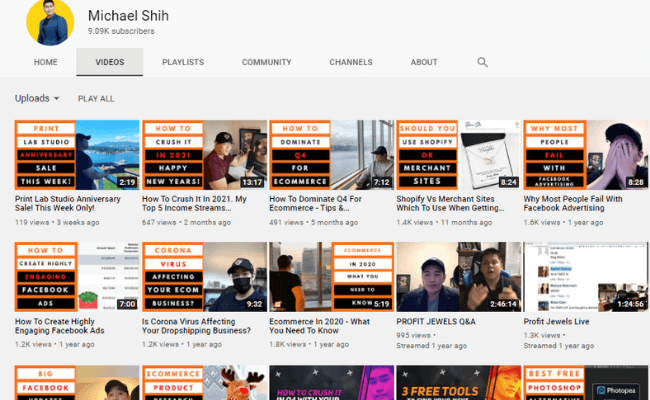 Today, he's teaching his skills and methods through the Print Profits course together with his friend Fred Lam.
Fred Lam shares a similar background to Michael. He is also a successful online entrepreneur, author and speaker. You may know Fred Lam from his Starting From Zero program and eBook.
All in all, both Fred and Michael seem to be legitimate online "gurus." However, I'm not all too impressed with their accomplishments so far. Like all other gurus, they seem to focus mostly on creating courses to make money. I wonder if they are really that successful with eCommerce as they claim…
How Does Print Profits Work?
As I said, the idea behind Print Profits is to show you how to start a print on demand business from scratch via the Shopify platform. The methods being used in this course are based on a workable and legitimate system, which is a good sign.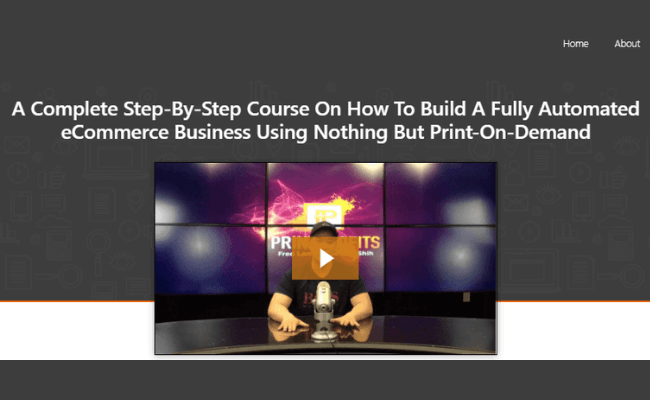 The course includes 8 training modules where Michael Shih introduces himself and leads you through the process of setting up your own print on demand business.
The first step of the process is to build your Shopify store (website). Then, you can learn how to design your site, choose a niche, run Facebook ads to get traffic, deliver products, scale and optimize your online business.
In my opinion, the course is pretty much basic which makes me think whether it is really worth that much money?
Before we give an answer to this question as well as the question of whether Print Profits is a scam or legit, let's go over those eight training modules first.
Module #1 – Build
The first module is about building your own Shopify store from scratch. Before Michael actually shows you how to build your store, you can learn some basic things such as picking the niche and doing the market research, planning your business and researching your competition.
Then, in the later phase of Print Profits module number one, Shih is going to be focusing on buying a domain name, creating a brand, building your website, finding print-on-demand services.
Module #2 – Design
The second module continues by showing you how to design your business from scratch or how to outsource all the work. You will be learning how to create your own brand and logo, design your website and its features, what images to use and what to avoid, and more.
This module of Print Profits is pretty much basic as well. I feel that most of the information can be found on YouTube in a matter of minutes. In other words, I don't see too much value so far.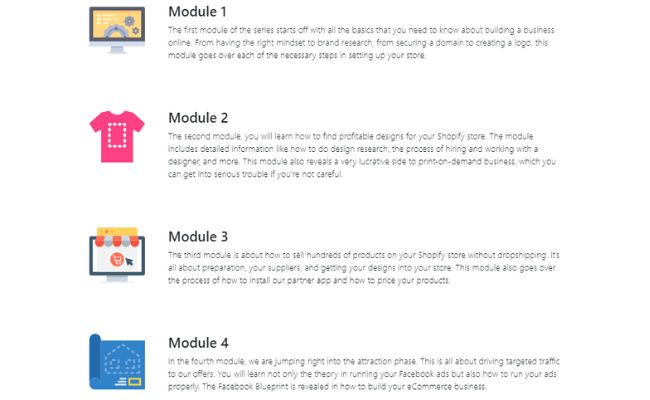 Module #3 – Preparation
In this module, Michael will go over a few print on demand suppliers once again and help you to choose the one for your business. The one that Shih promotes and recommend is the Printful app.
The Printful is basically a supplier that offers an all-in-one service such as printing, eCommerce, customer support, and has its own app that is easily integrated with Shopify. So in this module, you'll basically be learning about how to leverage Printful to start a print on demand business.
Module #4 – Attract
Once you have set up your store, have created your designs and brand, you can start attracting people to your website to start selling your items. In this module of Print Profits, Shih is showing how to do so using Facebook Ads.
This module is pretty much basic stuff. You can learn how to create your own targeted FB ads campaigns. You'll be shown stuff like researching your niche, creating ad copy, understanding your audience and more.
Module #5 – Optimization
Like many other eCommerce courses, Print Profits is heavily focused on Facebook ads. The previous module was about preparation. This module is about running and scaling your ads once they become active.
For example, he is going to be showing you how to A/B test your ads, refine your audience to get the most in return for your dollar, use strategies for scaling your ads and more. All in all, this is the part where you should know whether Print Profits is a scam or legit.
Module #6 – Delivery
If your Facebook ads campaigns are successful, you should be getting orders. So this module is focused on showing you how to actually fulfil those orders and deliver them timely. In other words, this is the part where you will be learning how to manage your eCommerce store properly.
The main idea of this module is to show you how to learn all those things on your own and then automate most of the tasks. How can you do so? By hiring freelancers. That's basically it.
Outsourcing is the key to long-term success. As a business owner, you should be focusing on unloading small tasks to freelancers so that you can focus on important things like conversions, ad optimization, scaling, etc.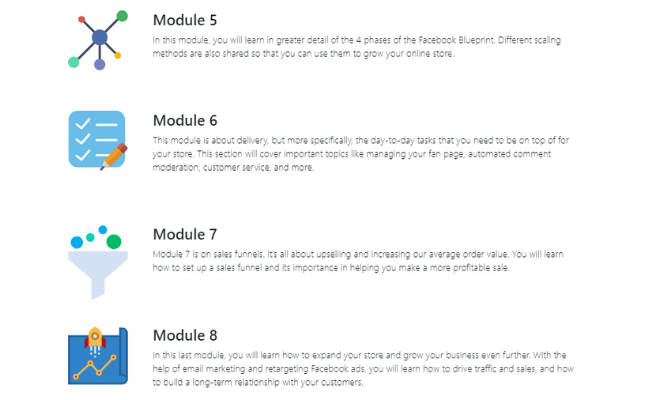 Module #7 – Scaling
One of the most popular ways to scale your online business is by creating funnels. So in this module of Print Profits, Michael will be showing how to leverage ClickFunnels to do so.
In a nutshell, he's going to be showing you how to build your own funnel from scratch. Also, you will learn how to connect your ClickFunnels with your Shopify store, how to drive the traffic (visitors) to where you want them, how to scale your sales with upsells and more.
Module #8 – Expansion
The main idea behind this module of Print Profits is to show you how to expand your business through email marketing and more Facebook ads. You can learn how to use both to retarget your visitors and keep them up to date with your offers.
For example, Michael shows how to set up a MailChimp autoresponder and campaigns. Also, you will get a chance to learn how to effectively retarget your ads to get the most ROI from your campaigns.
This is the last module where Michael and Fred will wrap things up and include some legal information such as General Data Protection Regulation, and such. By this time, you should be having a fully-functional print on demand business in your hands.
Related: My Business Venture Review
Is Print Profits A Scam?
After analyzing the owner's background and the content of the course, the conclusion is that Print Profits is not a scam. Michael Shih and Fred Lam are two legitimate eCommerce entrepreneurs and those eight modules of training really show how to start a print on demand business from scratch.
The course might not be the most comprehensive one that I've had a chance to review. However, the information given inside the course is 100% legitimate and if used properly, it could help you to achieve success online.
But it's also important to say that there are some complaints about the Print Profits course such as one found on dirtyscam.com where a user claims that he feels that this course is a scam and that he's been scammed by Michael Shih and Fred Lam after all.
It seems like this user was expecting a lot more from the course, and yet, he was extremely disappointed with the content and his results after applying Michael's and Fred's course. He also asked for a refund, but his request was denied because Print Profits does not offer one in the first place.
Have you had any experience with this course? What are your thoughts? Is Print Profits a scam or legit? Let us know your comments in the last section of this review.

Who Is Print Profits For?
In my opinion, Print Profits could be for online entrepreneurs who are interested in starting a print on demand business. The course seems to be suitable for both beginners and advanced entrepreneurs.
This eCommerce business model requires a lot of investment. You will have to buy tools, hosting, domain. Moreover, you'll have to pay for traffic as well. That said, it's best for those who are ready and able to invest a few $1000's to achieve success.
I would also say that it's not for people who are looking to get rich quick.
Michael and Fred claim that this is the fastest way to earning a 7-figure income online. However, those claims are purely promotional and it would be unreasonable to expect such results with Print Profits right from the start.
How Much Does Print Profits Cost?
If you're interested in getting a Print Profits course, you will have to shell out $997 one time. Also, you will have an option to split it into three separate monthly instalments of $397.
In my opinion, this is a lot of money for a training course. See, most of the information from this course is available in the public domain for free. I don't see any spectacular information here that is worth that much money.
But on the other hand, if used successfully, the information from this course could help to earn a lot more every month.
Extra Costs 
And as I said in the previous sections of the Print Profits review, if you decide to invest in Michael Shih's and Fred Lam's course, you will have to spend a lot more money on tools, ads, outsourcing, and all other things related to running a successful print on demand business.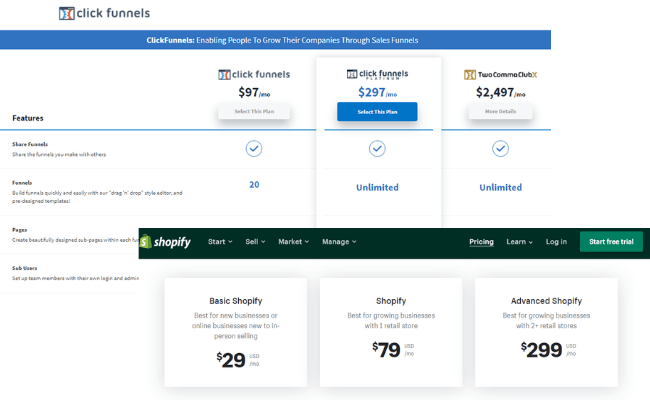 Refund Policy
Print Profits has no refund policy. Once you pay for the course, you have three days to cancel your order. After that, the price is final. There's no turning back.
Here's the official statement:
Print Profits has a NO-REFUND policy due to the training, community access, and support you receive upon enrolment. However, there is a 3-day cancellation policy in place if you want to cancel access to the program within 3-days of your purchase date. Simply email us at Support@PrintProfits.com and we will refund your money back in full. However, after the 3-day period, no refunds or cancellations will be processed. Should you have any questions about our No-Refund Policy, please reach out to Support@PrintProfits.com.
What Do You Get With This Program?
As mentioned, you will get access to eight training modules where you can learn how to start a print on demand business online. However, that's not all that is included with Print Profits.
In addition to the training course, you will get extra features such as:
Access To Private Community
Access To Live Training Sessions
Bonus Training Modules
Related: Search Find Buy Review
What I Like About Print Profits
The course is based on legitimate methods for starting an eCommerce business
Michael Shih and Fred Lam are well-known online entrepreneurs
The training is well-structured and in a step-by-step format
The program is suitable for newbies and advanced online entrepreneurs
What I Don't Like About It
Print Profits is an extremely expensive course on its own
The method includes a lot of extra costs that add $$$$ to the front-end price
The information inside the course is pretty much basic
Print Profits Review – Conclusion
At the end of this review, I have to say that Print Profits is not going at the top of my list of recommended programs.
Sure, it is legitimate and you're safe from a scam. However, I don't feel like this is the way to go if you're interested in making money online. There are much better and less expensive ways to do so (see the last section of my review).
My biggest problem with the Print Profits course by Michael Shih and Fred Lam is the price and extra costs.
Most people are not aware of these extra costs so they get shocked with them and give up after a while. In my opinion, Michael and Fred should let people know that they need to invest a lot more $$$$ into this program before they pay $997 to get access.
But if you like the idea of print on demand business and would like to give it a go, who am I to stop you? After all, it is a legitimate course based on working methods created by two eCommerce experts, so there are no reasons to say no.
Thanks for reading my Print Profits review. If you have any questions or would like to share your opinion, feel free to do so via the comment section below!
The Best Way Of Making Money Online
The best way of making money is the one that is beginner-friendly, cost-effective, and offers long-term possibilities. Is there such a way of making money online?
Yes! And it's called affiliate marketing.
I use affiliate marketing and this PROVEN SYSTEM to earn a consistent passive income online every month. I went from $0 to earning $100's per day all thanks to the program below!
THE BEST WAY TO MAKE MONEY ONLINE IN 2022 >>