Welcome to my Proven Amazon Course review. 
Are you interested in selling items on Amazon? Do you want to make money online? Are you worried that Proven Amazon Course might be a scam? Not sure who Jim Cockrum is?
There are many eCommerce courses out there that could teach you how to make money. Some will cost you an arm and leg. On the other hand, some others are pretty affordable such as Proven Amazon Course.
So is Jim's course worth it? Or is it a scam?
Hi, I'm Ivan! I'm an online marketer who went from waiting tables to earning a five-figure income online with affiliate marketing.
I have also evaluated 500+ schemes, scams, and courses to find the best method to make money online. Simply put, I'm passionate about earning money online and assisting you to follow in my footsteps!
A few weeks ago, I discovered the Proven Amazon Course. I was following this program online and Jim Cockrum online and decided to find out more about it.
In this Proven Amazon Course review, I will answer all your questions. This article will offer you a clear understanding of this online program and help you to see if it is worth your time and cash.
Proven Amazon Course Review – Overview
Product: Proven Amazon Course
Type: Amazon FBA
Price: $29 a month/$499 one-time
Owner: Jim Cockrum
Money-Back Guarantee: 30 days
Recommended?: Legit
Overview: Proven Amazon Course is a step-by-step course for starting with the Amazon FBA business. The good thing about PAC is that it was created by a legitimate online business expert – Jim Cockrum.
Moreover, the course is relatively affordable, which makes it stand out from competitors such as Amazing Selling Machine, for example. Also, it offers a 30-day no-questions-asked money-back guarantee.
I personally believe that the Proven Amazon Course is legit. In fact, there is no proof to say that it isn't. However, I don't recommend it simply because FBA is a risky, costly, and hard business model to execute.
If you don't share my opinion, feel free to read the rest of my unbiased Proven Amazon Course review. I'm not associated with Jim, so there are no affiliate links in my review.
What Is Proven Amazon Course?
The Proven Amazon Course is a detailed Amazon FBA course that will teach you everything you require to understand when it comes to how to sell items effectively on Amazon.
PAC stands out from the remainder of the Amazon courses since it covers multiple methods for selling and making money on Amazon. Below are the 17 most important mini-courses found inside the PAC program:
Amazon 101 Course
Private Label
Proven Q4 Plan
Proven Performance Inventory
Wholesale Sourcing
Proven Online Sourcing Strategies
Product Sourcing Masterclass
Buy Local Sell to the World
Promotional Company Sourcing
Proven Product Partnering
eBay to Amazon Arbitrage
Proven Bundling Course
Proven Book Sourcing
Coffee Masterclass
Proven Merch Course
Proven Team Building
AZ Refund Guide
With this course, they reveal to you how to find products, list them for sale, and enhance your listings so they rank higher in search engine results. Moreover, they supply in-depth instructions on how to use Fulfillment by Amazon aka FBA so your products can be kept at the storage facility and delivered rapidly when orders can be found in.
Proven Amazon Course was developed by Jim Cockrum who boasts an excellent performance history in the digital world. Jim's course includes a broad choice of video tutorials, PDFs, webinar recordings, and other curated resources.
According to Jim, you do not need any prior experience or technical knowledge of eCommerce platforms like Shopify or WooCommerce for this course. Simply follow along with a step-by-step program, trust the process, and quickly enough, you'll be running your own Amazon FBA business.
The Proven Amazon Course has actually helped over 73,000 business owners all around the world start their own lucrative businesses by offering through FBA on Amazon.
Related: How To Start With Affiliate Marketing Business
Who Is Jim Cockrum?
Throughout my research before writing this review of Jim Cockrum and Proven Amazon Course, I found much more praise than negative reviews of the training and its creator. This is always a great sign.
According to my research, Jim Cockrum's eBay and other online stores have actually earned him countless dollars in services and items. Moreover, he has helped thousands of others start and grow successful services online considering that he has started way back in 2000.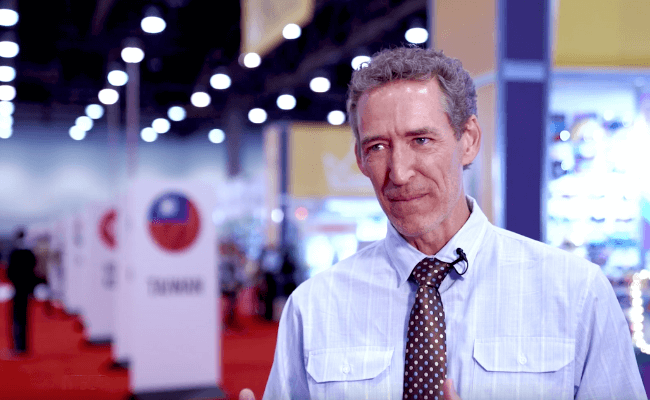 In addition to appearing in the Wall Street Journal, Men's Health Publication, Entrepreneur Magazine, and eBay radio, he hosts a weekly radio program called "Creative Web Earnings Techniques.".
All in all, Jim Cockrum seems like a legitimate FBA expert. This is good because you don't want to learn from someone who doesn't know how this business works. Speaking of which, let's see the next section of my Proven Amazon Course review.
How Does Proven Amazon Course Work?
The main idea behind Proven Amazon Course is to teach you how to start a lucrative Amazon FBA business. Proven Amazon Course t00akes you through all stages from product research to finding a niche, listing your products, and selling them to your customers.
But exactly what is Amazon's FBA program about?
Amazon is the world's largest online merchant with more than 100 million active users and over 50 billion dollars in yearly earnings. This makes it an appealing place to sell your items. Not just is it the largest online retailer in the world, it's one of the greatest online search engines in the world!
That said, one of the main benefits of selling via the FBA program is access to the huge customer database.
When offering on Amazon through FBA, they take care of the client service, shipping logistics, etc. Basically, they do everything other than make the item! This indicates if there are any issues with a delivery or order, it is up to them to manage it so consumers do not start grumbling about how difficult it is for them to contact the seller.
Moreover, Amazon's storage facility personnel will deal with logistics and customer care so that all you need to do is make the item and ship it off in a box or more. That's why they call it Fulfillment By Amazon.
So where and how you can start with FBA?
Well, Proven Amazon Course will give all the information required if you're looking for a to get begun offering on Amazon. It's been created by a proven expert – Jim Cockrum. Moreover, it's got positive feedback from users.
Related: Marketplace SuperHeroes Review
What Can You Learn From Proven Amazon Course?
Overall, the Proven Amazon Course has more than 22 various courses covering every element of beginning an FBA company. In this review, I will be covering the 17 most important courses.
For example, there's even a whole course dedicated to finding lucrative products, and another just for deciding on your FBA specific niche. That said, we will keep things simple here.
The Proven Amazon Course starts with the essentials of sales and service technique, then moves into discovering lucrative products to sell. The course will then teach you how Fulfillment by Amazon works, how different types of Amazon clients work, and how to build your Amazon FBA organization.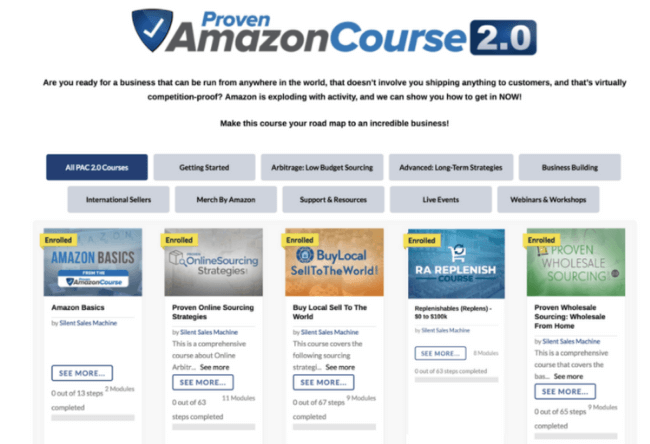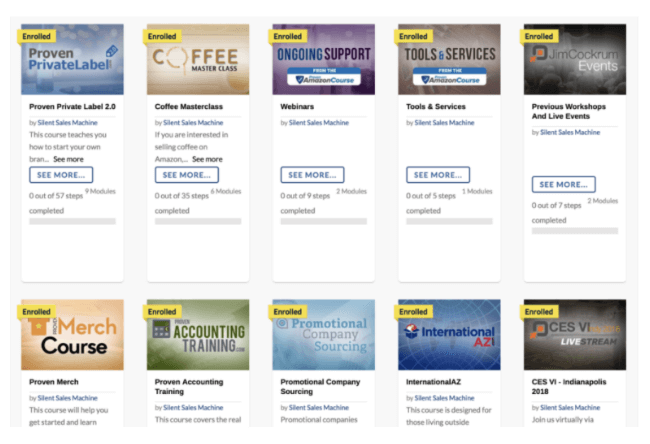 Amazon 101 
This course lays the structures for building your Amazon organization. It describes how to make money from Amazon selling– fast and simple.
Private Label
The personal label venture can be complicated, but this course will take you through the step-by-step process of owning your own items and all the nitty-gritty, from advancement through sourcing to launch.
Proven Q4 Plan
Proven Q4 Strategy is a virtual boot camp that just takes place in the 4th quarter of the year (the boot camp actually doesn't begin up until September).
The holiday season and festivities make Q4 a rewarding season. As an outcome, this boot camp aims to teach participants how to make many of this and prepare for the brand-new year.
It provides you access to older content from the last couple of years of the Bootcamp.
Proven Performance Stock
You will discover how to discover high-margin, low-competition niches utilizing Proven Efficiency Stock.
These items are called "golden gaps" by Amazon specialist Brett Bartlett. He will teach you where to find these gaps if you attend this webinar.
Wholesale Sourcing
Four leading Amazon specialists will share their most valuable suggestions for finding wholesale deals worldwide.
Also included are videos from previous Proven Conference live events that explain why and how wholesalers seek out companies like yours. Videos are from past Proven Conference live events.
Proven Online Sourcing Strategies
Consisting of arbitrage, source types, budgeting, and tracking, this 7-hour course covers the most reliable methods of sourcing lucrative products online to sell on Amazon and eBay.
Item Sourcing Masterclass
You will learn more than 30 item sourcing strategies to boost your Amazon and eBay service with Item Sourcing Masterclass.
Buy Local Sell to the World
A big number of Amazon FBA companies contract out products from abroad. That's not the case in this training.
Buying local products and selling them globally for substantial earnings is one of the bottom lines of Buy Regional Sell to the World.
Promotional Business Sourcing
Throughout this course, you will discover how to produce unique Amazon bundles using a promotional business and launch a personal label product within a few weeks.
Proven Product Partnering
The Proven Item Partnering program teaches you how to find brand name owners and popular products that aren't on Amazon, so they can get on board.
eBay to Amazon Arbitrage Guide
eBay remains a cash cow of brand-new and undiscovered products. The eBay to Amazon Arbitrage Guide is the course for anyone looking to source items at huge discounts and list them on Amazon for earnings.
Proven Bundling Course
The Proven Bundling Course will teach you how to develop clever, creative packages that will leave your competition rushing. The course is developed to produce high-demand, high-profit, and tough to duplicate listings without losing capital.
Proven Book Sourcing
The Proven Book Sourcing course teaches you how to determine promising yet underappreciated books or books that have yet to be released by mainstream publishers and offer them on Amazon.
Coffee Masterclass
Among the most popular online items to sell is coffee. The Coffee Masterclass is the initial step on the path to constructing a successful coffee brand name
Proven Merch Course
It's simple to produce and sell custom-made t-shirts on Amazon without any upfront costs or minimum print requirements. The Proven Merch Course will show you how to do it.
Proven Team Building
You should focus on its most important aspects if you are scaling your organization. Organizational success frequently lies in the group. This typically means investing in individuals.
The Proven Team Structure course reveals to you how to bring your eCommerce company to the next level.
AZ Refund Guide
Refunds on Amazon, and eCommerce in basic, are typical things. This Amazon Refund Guide will reveal to you ten various techniques to get repaid for refunds that might have slipped through the fractures.
Who Is Proven Amazon Course For?
I believe the Proven Amazon Course is best suited for anybody who wishes to get into eCommerce but isn't sure where to start. As you can see from my review, there is a lot to learn from this course.
That said, PAC provides you a good introduction of several methods to offer on Amazon, so you can get a feel for each and dive much deeper as required.
Usually, Amazon courses are pricey, which puts them out of reach from people on a budget. Since it's relatively affordable, it is also for people who are considering spending as little as possible while building an Amazon online business.
How Much Does Proven Amazon Course Cost?
Proven Amazon Course costs $29 per month. Alternatively, you can pay a one-time cost of $499 for lifetime access to Jim's course. These are extremely competitive rates compared to a few of the other Amazon courses I've evaluated.
For example, Blue Sky Amazon is priced at $5000. However, when compared to PAC, it falls short in terms of quality and quantity of information provided with the course.
However, it's critical to understand that you will have to invest more money into these methods. To follow much of the Amazon selling strategies taught in the course, you will require some extra money to invest in things like software tools, stock, advertising, and so on.
According to my research, you ought to anticipate investing a minimum of $5000. This includes costs like creating and launching a product on Amazon, advertising costs, etc.

What I Like About Proven Amazon Course
Jim Cockrum seems like a real deal
No overhyped promises or misleading marketing
Lots of student reviews and success stories
Proven Amazon Course is an in-depth FBA training
Active and helpful private community
Proven Amazon Course is affordable
30-day "no questions asked" refund policy
What I Don't Like About Proven Amazon Course
FBA requires a lot of time and effort to start earning
Proven Amazon Course lack of traffic strategies
FBA Business model is complex
Proven Amazon Course is not suitable for beginners
Amazon FBA requires a large upfront investment
Proven Amazon Course doesn't include tech support
Content is outdated and some say poorly executed
Is Proven Amazon Course a Scam?
There is no proof or any red flags indicating a scam. Therefore, I can't state Proven Amazon Course is a scam. Quite honestly, you can discover a lot about Amazon FBA from this course.
One of the things that reinforced the statement from above is the fact that the owner is legit. Jim Cockrum has revealed a lot about his career and previous projects. Of course, we can never be 100% sure, but he seems like a legitimate FBA expert.
It's true, however, that he has switched his focus from FBA to promoting his Proven Amazon Course, which could mean that the techniques in this course are not the most current.
On the bright side, people who joined the Proven Amazon Course claim that it is legit, and even post their results. In other words, if it were a scam, there would hardly be any evidence from the users.
Moreover, Jim Cockrum offers a 30-day money-back guarantee to all customers. The refund policy is no-questions-asked, which means that you can get a refund for ANY reason. This is another proof that it is not a scam but legit.
However, there are some problems with this course. For example, some users have complained that the Proven Amazon Course is outdated and poorly executed. Instead of screencast videos, you learn from PowerPoint presentations.
Another complaint was that Jim doesn't cover traffic generation in depth. We all know that traffic means income. So if this course lacks in this area, that could create a lot of problems for users.
THE BEST WAY TO MAKE MONEY ONLINE IN 2023 >>
Do I Recommend Proven Amazon Course?
The course is legit, but I do not recommend purchasing the Proven Amazon Course due to the fact that it's not the best course for starting an FBA business. And Amazon FBA is not my cup of tea, honestly.
Amazon FBA is a risky and costly business. Most likely, you will lose a great deal of cash at the end of the day if you don't know what you are doing. Jim Cockrum's course could help, of course, but there are no guarantees that you will be successful whatsoever.
Rather, I have a better recommendation for you, which has actually allowed me to quit my dead-end job and start a full-time income online.
This option is a lot easier and does not need huge initial capital to begin. Moreover, you don't need any skills or experience to get started. You can build a digital asset that can produce passive income for you while you are sleeping.
For more information, scroll to the bottom of this review.
Proven Amazon Course Review – Conclusion
The Proven Amazon Course will teach you everything from A-Z so there's no uncertainty included. If you're new to eCommerce and interested in selling on Amazon, PAC is a good option.
Access to the training is economical, especially with the month-to-month membership, and the 30-day warranty looks strong. Therefore, there are no reasons, once again, to say that Proven Amazon Course is a scam. Jim Cockrum has created a good and affordable course.
However, as I said earlier, I don't recommend it because there are better and less expensive ways to make money by promoting other people's products from Amazon!
Related: Freedom Ticket Review
Is There a Better Way To Make Money Online?
I know how hard it is to trust websites these days.
There are too many scams out there, especially in the make-money-online world.
I know, because I reviewed over 700+ sites so far!
Why did I review so many sites? Well, I wanted to find the best (and cost-effective) way for a beginner to start income online.
While searching for this information, I bumped into affiliate marketing.
Thanks to a decision to learn more, I went from waiting tables in restaurants to earning a full-time passive income online.
And today, I like helping people as you follow in my footsteps,
Keep reading…
How I Make Money With Affiliate Marketing
I earn online by creating simple affiliate websites that I use to connect people with products they are already looking for.
It requires no special skills or previous experience, which makes it the best way to start online.
The best thing about affiliate marketing is that it is passive in terms of results and income.
In other words, you could be earning an income from your affiliate website for years and years to come, even when you sleep.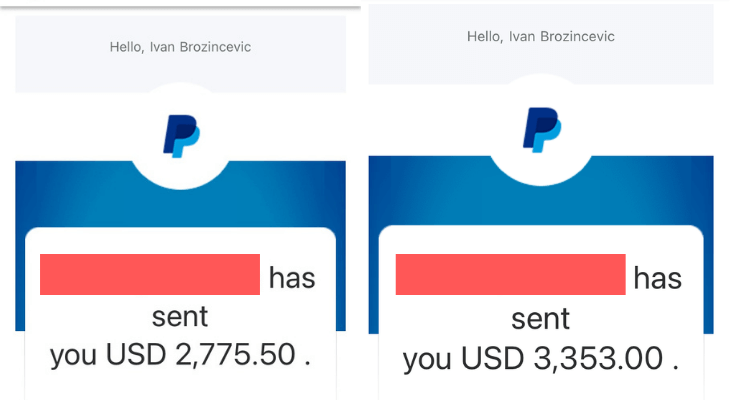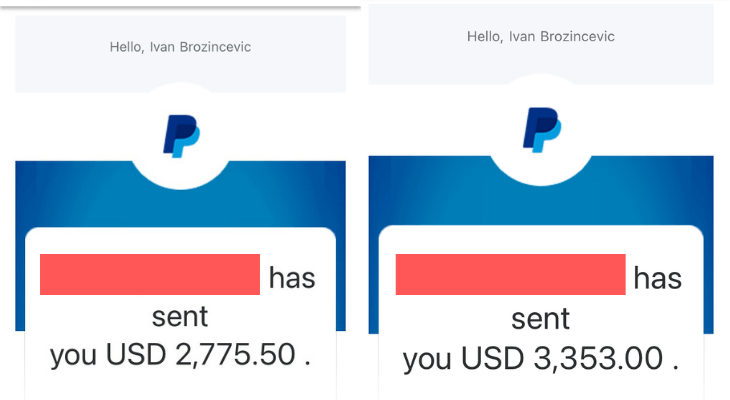 If you want to learn more about how you can start making money online with affiliate marketing, click the button below!
After evaluating over 700+ programs on the web, my conclusion is straightforward. This is the best way to start earning passive income online.
And if you're looking for the very same, I'll see you on the next page…
THE BEST WAY TO MAKE MONEY ONLINE IN 2023 >>
And don't forget to share this Proven Amazon Course review with your friends and family!
All the best, Ivan. Founder, and CEO @freeaffiliatemarketingbusiness.com
Related: AMZDFY Review