It's getting more and more popular to do all sorts of online jobs to make a few bucks here and there.
Proofreading, copywriting, blogging, affiliate marketing, spokesperson services, branding, editing, web design, you name it!
I mean, who would not want to sit in a chair at home and make money, right?
Today, I want to review a program that promises 1000's per day working as a voice-over artist.
During the overhyped and misleading sales presentation, Jenny Lewis claims that she can show you how to become a voice-over pro.
Her program is designed to help people to understand the basics of the voice-over industry and, of course, to find gigs that pay cash.
After all, making money should be the end product.
So the main question is, can Jenny Lewis help you to become a voice-over pro and get paid or is it a scam?
By the way, congratulations on researching before giving away your hard-earned cash.
If you are looking for a legitimate way to make money online, check out my #1 recommendation for making money online.
In this VO Genesis review, you get an opportunity to see what's behind marketing video.
Also, you'll get my unique opinion about the content of the program.
Lastly' well discuss the price and legitimacy of this make-money-online opportunity.
If you are in a rush, make sure to read a quick summary below 🙂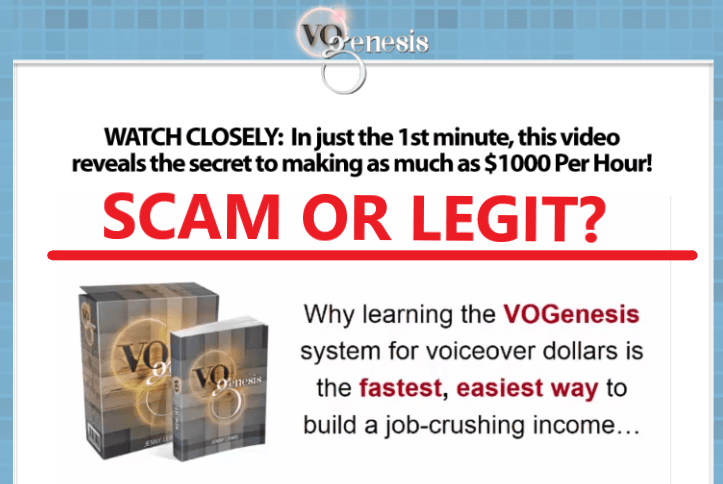 Product Name: VO Genesis
Product Type: Voice Over Artist Training
Owner: Jenny Lewis (fake name)
Price: $39,95 + Upsells
Rating: 1/5
Recommended: No! Read Why Below!
Quick Summary: VO Genesis program is a generic piece of info that you can find all over the net for free. The content explains how to become a voice-over artist, but the quality of the content is questionable. In my opinion, it's just another overhyped and expensive marketing funnel designed to make money for the owner. The voice-over industry is very competitive. It's going to take a lot of time and hard work to become highly paid. This program could help to understand the basics, but to start making money as promised by the video is going to take a lot of time and hard work.
If you are tired of scams, half-baked courses, and 'get rich quick' schemes, check out the button below!
CLICK HERE TO DISCOVER THE BEST WAY TO EARN AN INCOME ONLINE >>
What is VO Genesis?
According to Jenny, the spokesperson from the sales presentation, VO Genesis is your opportunity to cash in your vocal abilities.
In her own words, it's the income-generating blueprint that reveals how to make a full or part-time income using nothing but your voice.
Jenny claims that if you follow the steps inside the program, there's simply no way you can fail.
That's a pretty bold statement, but there are the proofs? We'll talk about this later.
You see, I've heard this speech already, but it was for another CB program called Voice Cash Pro
The video you just watched, actually the voice you've been listening is an example of a voice over artist's work.
And the sales presentation for this program is nothing but hyped-up marketing, so don't it take seriously.
I've inspected the product. Just like every other ClickBank product, this one is nothing special.
It's too good to be the true opportunity where they tell you that you can make thousands fast.
Voice-over is a lucrative industry. It's true that these professionals are in high demand.
But according to my research, you are going to need so much more than this little program to make it happen. The competition is fierce, and it'll take a lot of time to start making serious money.
What's Inside of VO Genesis?
As it's the case with every other ClickBank product, VO Geneses is a set of generic videos and PDF's that talk about the voice-over industry.
The sales video and the content of the program are far away from each other.
There's no real coaching here. Products like this contain general information about the business they promote.
Let's take a look at what's inside.
If you ever buy this product, you'll get a set of a few training videos. These videos are brief. They barely touch the topic, which is only enough to get a basic understanding of how it works.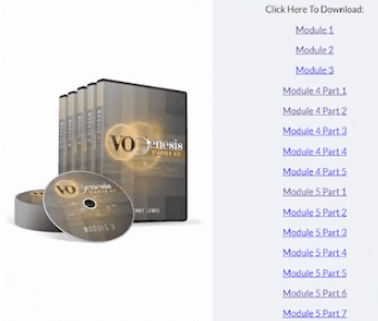 The content could help you to:
set up a cheap home studio
record and edit your voice-overs
find a few gigs
You get 15 videos that are between 3 and 10 minutes long, That's roughly around one hour of coaching, guys!
Together with the training, you get an Ebook that talks about the same topic. The book contains the same information that you can find all over the net for free.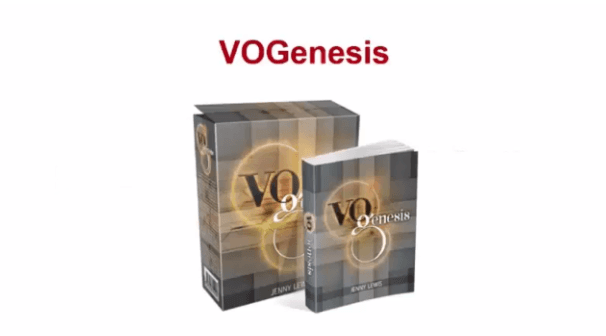 In my opinion, this is a very shallow training program. It could help to understand how the business works, but I wouldn't call it an in-depth training that can help you to become a pro.
Can You Make Money As Voice Over Artist?
As I've said at the top of this review, voice-over artists are in high demand. It's true what Jenny says. There are some big bucks in this industry.
Earning a part-time or maybe even a full-time income is a reality, of course.
However, it's a fact that overnight success is impossible.
Don't fall for the hype that's created around the VO Genesis program.
Like with every other profession, you need a certain level of talent and passion for this kind of work.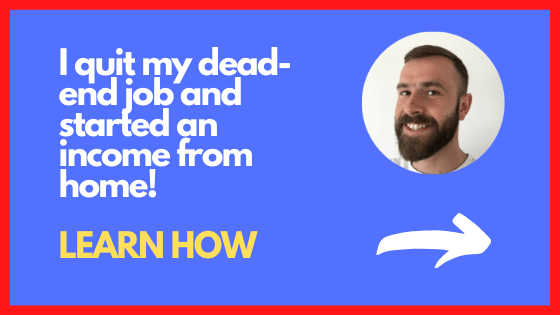 Not to mention, a set of headphones and a computer is not going to be enough the make it. I could get you started though, but there's a lot more needed to become successful.
Also, this industry is dominated by professionals.
I believe in the adage that every professional was at first only an amateur. However, do not trust people like Jenny that are telling you that his/her program can get you there instantly.
Theoretically speaking, you can make money as a voice-over artist.
But, if you think that this is your pair of shoes, understand it takes a lot of hard work and dedication to become a pro that makes $1000 per hour. That's all.
Who is VO Genesis for?
In my opinion, VO Genesis is for people who are looking to understand the basics of the voice-over industry.
In other words, it's for beginners who have an interest in this line of business.
It's a set of general pieces of information about what voice-over freelancing is, how it works, and how to get started.
It could be a useful read for folks that are interested in learning more about how to become a freelance voice-over artist.
What's the Price of VO Genesis?
As advertised, the full price of this course is $97. However, you get an immediate $57 off discount, meaning, it costs $39.95.
Products like VO Genesis come with a set of upsells.
Voiceover Insider's Guide – $37
Multiple Streams of Income – $47
Quick Cash Machines – $47

These are not mandatory, and you can decline them if you want. Sometimes it can be hard to find the 'No, thanks' button, so be careful.
Also, the are a few bonuses included in the price of the course.  The value of the bonus material is $214, but you get it for free if you buy the program.
How to Tripple Your Voiceover Fees Even if You Have Negotiating
How to Get More Voiceover Gigs Than You Can Handle
What's Good About VO Genesis?
I'm not a fan of ClickBank digital products and rarely do I find something useful while reviewing them. Judging by everything that I've seen here, VO Genesis is no exception.
However, there are a few things that could count as a pro in my book.
It Can Help to Get Started In Voice-Over Industry
As I've said, it's a crash course that covers basic topics. You can learn how to get started as a voice-over artist, where to find gigs, what tools you need, and other beginner stuff.
It could be useful material for those who are looking to learn a thing or two about voice-over freelancing.
Risk-Free 60-Day Money-Back Guarantee
VO Genesis is a product from the ClickBank marketplace. If you are not satisfied with the program, ClickBank gives you an option to ask for your money back. You have 60 days to make your decision.
In most cases, the refund is issued immediately although the vendor could sometimes make it hard for you to get your money back.
What's Wrong With VO Genesis?
As I've said, I'm not a fan of these overhyped products. Here are my reasons.
Unethical Marketing
The truth is that the VO Genesis sales video is full of getting rich quick BS. They trigger your emotions by flashing images of luxuries.
Moreover, they play on your financial situation to sell you this seemingly once in a lifetime opportunity.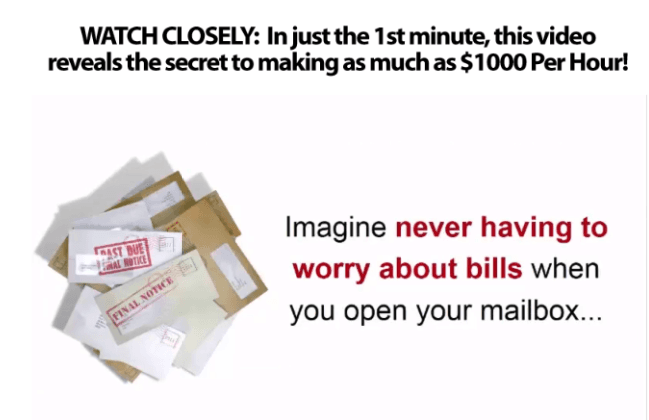 While in reality, all you get is a small course on a selected topic.
In my eyes, that's dirty marketing that corrupts the minds of the people who are looking for an honest opportunity to make some money online.
No Details About Jenny Lewis
The character of Jenny Lewis is probably fake. There is no way to prove that she is a real person who has a sincere desire to help you. I couldn't find anything that would convince me that Jenny is real.
She does not share too much about herself, not even a social media profile. That's a warning sign for me.
The only Jenny Lewis I could find was the American singer/songwriter. Could it be that she owns this course? Who knows.
No Ways to Prove Those Testimonials are Real Either
During the sales presentation, Jenny mentions a few random people. You can see some of them on the sales page as well. These guys managed to turn this little program into profit. However, there's no way to prove this either.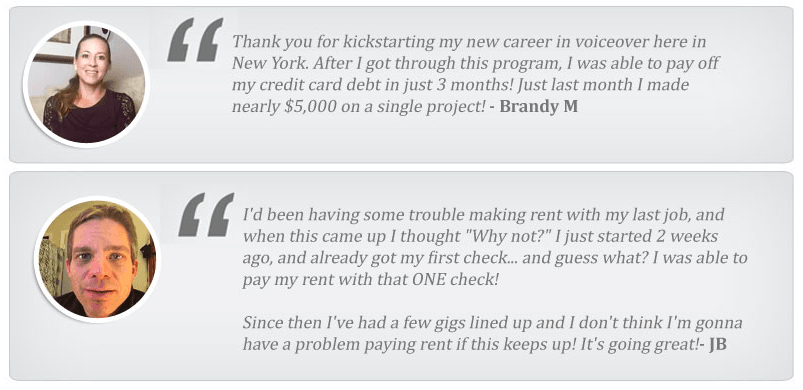 I've been (and still am) a member of a few online courses that boast with happy earners. The difference between those and the VO Genesis is that I could quickly get in touch with them and ask them for advice.
Hidden Upsells
As I've said on the top of this review, the program comes with upsells. You don't have to take them if you don't want. But it can be a hard task to decline them. Also, they come with another overhyped video that pushes you into a buying mode.
When you add everything together, the price jumps from $40 to $150! That's a lot of money for a set of PDF's and a few videos.
Is VO Genesis a Scam?
Whether or not VO Genesis is a scam is totally up to you.
I think it's a scam that has little to no real-life value.
Some people claim in their reviews that it's a great course that can help you make thousands like it's advertised. But their intention is something else.
You see, they are affiliates. They want to sell you the course.
Meaning, a lot of people will write overhyped reviews to make commissions after the sale. However, none of them has taken the material and tried to make some cash. Because if they were, there would be some evidence.
There is no real-life proof that this course can help you make thousands of dollars as it's advertised.
VO Genesis is an overhyped funnel that is designed to pull you through a cycle of upsells. Then if your wallet is lucky to survive, you can access the main course to realize that you can learn the same thing for free.
The course is not as valuable as advertised and contains a lot of outdated information.
As I've said, I don't approve or recommend crash courses and half-baked programs. In my opinion, VO Genesis is just another scam that talks a lot but delivers very little.
Make sure to avoid these time and money waster too:
If you want to learn how to become a freelance voice-over artist, you can find the same material on YouTube and Google. And guess what?
No one is going to charge you for it! Here's an example from homebrewaudio.com
How I Earn a Passive Income From Home
Thanks for reading my VO Genesis review. I hope this post was useful.
If you have any questions about this website or maybe you can offer an experience, feel free to leave them in the comment box below.
Before I let you go, let me show you how I earn an income online from home, which has enabled me even to quit my lousy job.
I wouldn't have succeeded without help from the marketing platform that I recommend above all other.
Make sure to check it out!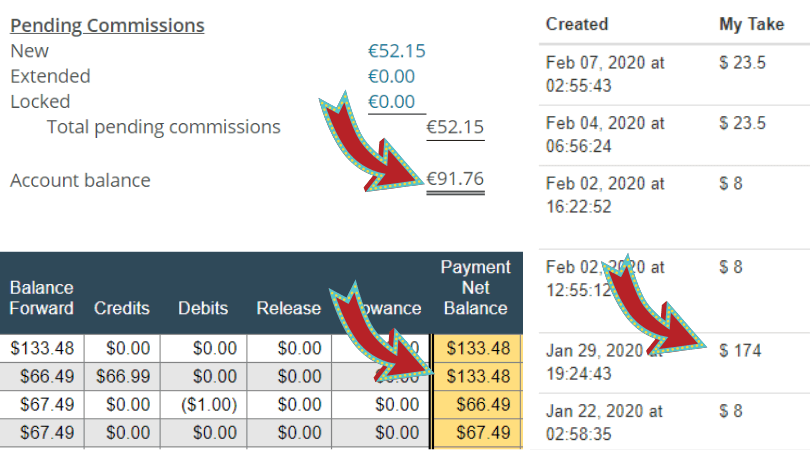 ==>Click HERE for My #1 Recommendation<==
If you need any help or you have a question, feel free to contact me.
All the best, Ivan. Founder, and CEO @freeaffiliatemarketingbusiness.com