Welcome to my AWOL Academy review. (UPDATED FOR 2022.)
What level of affiliate marketing are you? You see, affiliate marketing is a business like every other.
It doesn't matter what level you are at. It requires a lot of effort on your part.
Many people tend to make a mistake thinking that it's a get rich quick scheme.
The truth is that this business has many layers.
And, if you want to succeed at affiliate marketing, you'll have to be ready to spend a lot of time digging through those layers.
You need to learn how to build a website. Then there's content creation and blogging. Before you start even writing your first letter, you need to understand the keyword research, and so on.
But don't let this scare you!
You can make it. I know this may sound like a broken record, but IF I CAN MAKE IT SO CAN YOU!
And if you have been struggling so far, you see, the problem is not in you, my friend, no…
You are probably a victim to numerous gurus that talk about affiliate marketing like a child's game.
They throw dust in your face with one hand and pull out bills from your wallet with the other one.
Sounds familiar?
Yup, we all been there and I know what the lump in your through feels like.
So is Keala Kanae's AWOL Academy different? Let's see…
You see AWOL Academy, a company by Keala Kanae and Kameron George, is a high-ticket scheme in disguise.
These guys have a reputation to lead you slowly but safely into spending $100's and even $1000's without being honest and upfront about it, which forces many people to say that it is a scam.
In a nutshell, AWOL Academy is a series of courses about affiliate marketing based on PPC and Facebook ads, Click Funnels, email marketing, content marketing, and more.
It starts with a basic (read: cheap) course…
And each new course that comes to the table raises the price for a few $100's and even $1000's!
Before going further with this AWOL Academy review, I have only one question.
Is this course worth that much or is it a scam?
Let's take a look beyond the price tag and discover the truth.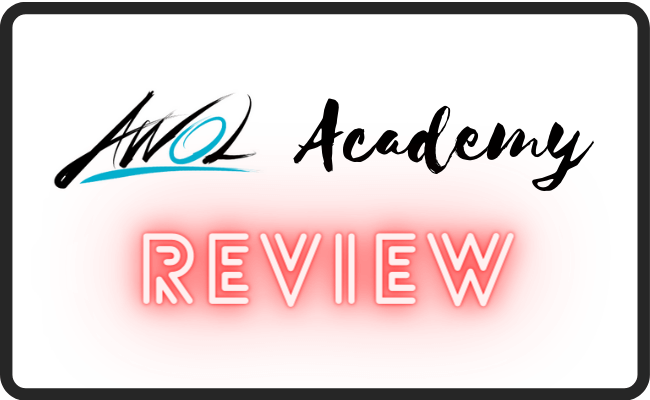 AWOL Academy Review – Overview
Product Type: Affiliate Marketing
Product Owners: Keala Kanae and Kameron George
Price: $99+ High-Ticket Upsells
Money-Back Guarantee: 30 days
Recommended: See below
Awol Academy is a high-ticket affiliate marketing training program that was supposed to be helping you to make money online by promoting other people's products.
The initial course is $99. Seem ok, right?
A hundred bucks is a decent price for an affiliate marketing course that is allegedly going to show you how to make 1000's, right?
However, what you probably don't know is that the whole AWOL Academy package is going to cost you around $10.000!
Yes, you've read that right!
You see, the initial course (emphasis on the "initial") called Pro Academy is nothing more but a few basic lessons about the world of affiliate marketing.
And it's fair to say that you will NOT be able to build a fully-functional business with the initial course.
And that's where the fun begins…
After buying into the Pro Academy, guys will serve you a few more courses, each time bringing more advanced lessons to the table.
So to finish your business with AWOL Academy, you'll have to pay around $10K!
I've seen and reviewed a lot of MMO courses and programs, but this one is most definitely the most expensive one I've ever seen.
Moreover, the company has got extremely negative reviews, which means that the people have spoken!
I'm sure, just like many others out there, that AWOL is a high-ticket player that's charging you bit by bit until they bleed your wallet dry.
So if you feel like this is the way you (and your wallet) want to be treated, be my guest and go for it.
However, if you think that continuous upselling and this game of "cat and mouse" is not for you, make sure to check out my top-rated course below!
Update 2022: AWOL Academy has closed its doors for the public.
This is something we've all been expecting. And just as expected, Keala Kanae has created a new platform where he, more or less, does the same thing as with AWOL.
It's called FullStaq Marketer in case you're interested.
Alternative: Make sure to check out my #1 recommendation too. This exact system has helped me to go from zero it earning $100's per day promoting products I don't even own!
Click the button below to learn more (7-day free trial available)!
THE BEST WAY TO MAKE MONEY ONLINE IN 2023 >>
What is AWOL Academy?
AWOL Academy, the company created by Kanae and George specialized in teaching affiliate marketing. They are focused on teaching affiliate marketing using paid advertisements.
The main idea behind AWOL Academy is to create affiliate funnels, drive traffic to the same, and convert visitors into buyers.
Keala Kanae and Kameron George focus on leveraging paid traffic (PPC) to do so.
As you know, funnels are the name of the game these days. Some marketers, like me for example, have a website that is one big funnel.
However, I focus on content marketing and SEO, which means that I reach my visitors through organic search engine results.
In other words, I focus on free traffic.
Why is free better than paid?
It's a stupid question, I know. I'm a fan of SEO, even though I like both ways of reaching out to prospects.
Yes, it takes a lot of time to create funnels this way, but the traffic that comes from leveraging search engines is free, evergreen, and self-sustainable.
Moreover, the revenue stream becomes passive after you establish authority with search engines.
The paid advertisement method that guys from AWOL Academy teach has its excitements, I admit.
However, the trouble with paid ads is they are a pain in the arse.
No one can guarantee that you'll get a satisfactory ROI. You can even lose money as it's not so uncommon to see with beginners at PPC.
In the end, if you fail, companies like AWOL Academy will gladly welcome you with another course that will get you there this time.
Sounds familiar?
You see, many training companies apply the system of upsalles to earn more revenue.
One might say that (ups, I did earlier in the review) AWOL Academy is just an MLM designed to make cash for the owners.
I've been through this kind of scenario already. And frankly, I don't like it.
Based on my research, the guys from AWOL Academy sell you an introductory course which is nothing but an initial stage.
Then, you realize that you're f***ed and pretty soon you give up or accept the more expensive offer. In my mind, this system is manipulative.
It raises a lot of questions about the legitimacy of AWOL Academy.
Who is AWOL Academy for?
First of all, AWOL Academy is for the people who are willing to invest a substantial sum to get started.
The price of the whole package, which is probably going to be necessary if you want to work by their model, is spicy.
When you draw the line, the whole system comes to about $10.886,00.
The whole set is for people who are interested in learning about the business world of paid advertisement.
Also, I believe that people with zero computer knowledge and without marketing skills can start and succeed in this line of work as well.
But only if they have the proper coaching and all the best tools.
One last thing, AWOL Academy is for people who are serious about starting and finishing what they've started.
Otherwise, this training system is going to cost you a lot of money if you don't commit to following through.
They call it academy for a reason.
But there is one more question to be answered. Is it a scam or legit?
Is AWOL Academy a Scam or Legit?
Many people out there claim that AWOL Academy is a scam. On the other hand, some people say it's the best thing that's happened to their online business.
Me? Well, I don't think it's a scam. From what I've seen, they teach legitimate methods for making money online.
However, and this is a big problem, I do not like the way they sell their courses, which is going to reveal later in this review.
You see, AWOL Academy has got tons of complaints from customers who say that they've been ripped off by Keala Kanae and Kameron George.
It seems that these guys are charging ridiculous sums and even scamming people for their hard-earned cash.
Don't get me wrong. I don't think that it is a 100% scam, but there are some shady things that put me off.
However, to get an unbiased answer, let's take a closer look into features, products, etc.
Features
Despite many repulsive AWOL Academy reviews out there, this company has something good to offer in exchange for all that cash.
Yes, it's true that they use questionable methods to make you spend more.
However, the whole picture, when observed from a bird's eye perspective has a lot of sense in my mind.

The company looks like an elegant structure. They offer a training service, live community, and support.
The guys who have created this affiliate marketing training set are not just anyone.
However, and this one is a biggie, they have got TONS OF COMPLAINTS from people who have taken serious action with the course and its features.
I'm not going to expand this topic here, but you can read these complaints later in the AWOL Academy review, and my advice is to do so!
If you want to give someone $10K to teach you how to earn online, you don't want to see any complaints, right?
Speaking of giving money to people, let's see who are the guys behind AWOL Academy?
Who Are Keala Kanae & Kameron George?
Keala Kanae and Kameron George have been around for many years.
They know how to start from zero and create something great.
By the way, AWOL stands for 'Another Way Of Living' implying on the internet lifestyle and these two guys are the owners and creators.

I recently reviewed another turbo-expensive MLM scheme called Affiliate Institute and found Kameron George there as well.
In a nutshell, it's a scheme where they recruit you to sell some fancy water machines.
The whole thing is shaky and I'm not sure that it's a completely legitimate program for making money online.
Read my Affiliate Institute review if you want to learn more.
In any case, let's continue with this AWOL Academy review to learn more about the company.
AWOL Academy Company Info
So the good thing is that guys behind AWOL Academy are real folks. You wouldn't believe how many fake owners are out there.
But what about the company itself? How does it stand?
First of all, according to CrunchBase.com AWOL Academy was founded in January 2015, which makes it six years old company by the time of writing this review.
The company is registered as a profit organization with headquarters in Wester US; Las Vegas, Nevada and employs between 51-100 people.
It was registered under digital marketing and education and those two are listed as products.
Speaking of which, let's look at the next section of the review to learn what those products are.
AWOL Product Line
Within this AWOL Academy review so far, we've discovered what is the product about and who stands behind it.
Also, you've just learned how it works and had seen some complaints that confirm the weak sides of the system.
Also, now you know that if you want to learn from Kanae and George, you'll have to prepare a substantial sum to invest.
Now, let's take a closer look and see what's behind each course individually.
PRO ACADEMY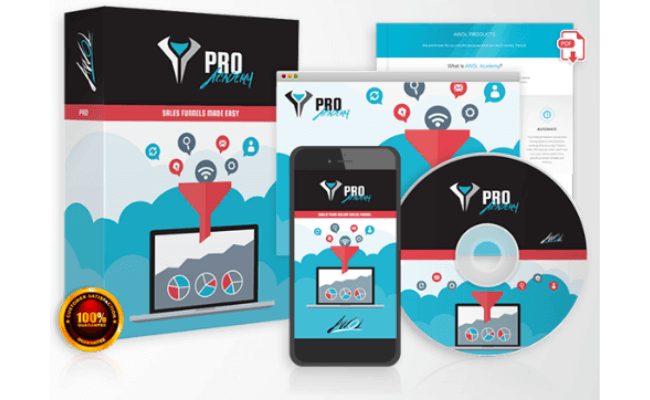 The initial course by AWOL Academy is ideal for those who want to start their first online business.
This course is going to teach you the basics of the business model the guys from AWOL apply.
You can learn how to buy and register a website domain. The training will show you how to install WordPress and build your website as well.
Also, the guys will teach you how to create your first sales funnel.
You can get introduced to knowledge about how to drive traffic to your site, get leads, and convert those leads to customers.
Internet Income Explained
AWOL Academy offers this course to all who are interested in learning basic information about digital marketing.
They introduce their business model and show how it works. Within the course, four video modules will cover everything in more depth.
INBOX ACADEMY
The money is on the list. Many experienced marketers have said so.
Moreover, every online marketer claims that creating a business model based on email marketing is the best decision one marketer can make. It brings security and long term success.
Inbox Academy is a second stage course that comes after the initial, Pro Academy.
Within this course, the guys share their secrets on how to maximize your potential so you can make more sales.
The training is based on the strategies that Kanae and George apply daily to get better results every time.
CONVERSION ACADEMY
Affiliate marketing is, as I've said many times before, a business with many layers.
To become a successful marketer online, you'll have to know more than just basic technical knowledge.
You see, you'll have to know how to write a good piece of content that will convert your subscribers into buyers.
AWOL Academy's Conversion course teaches conversion. The guys show the secret behind hypnotic language, the skill of persuasive copywriting, and more.
It's all about asking people to take action.
TRAFFIC ACADEMY
Now, once you learn how to set up the business model, build your list of subscribers, and create a killer piece of content, you'll have to use that potential to make some real money.
Every online marketer knows that there's always more to add on to their traffic count. More traffic means only one thing, more conversions.
Traffic Academy is a course that teaches how to target ideal customers through Facebook advertisements.
The guys will show how to hand-pick your audience.
MASTERS ACADEMY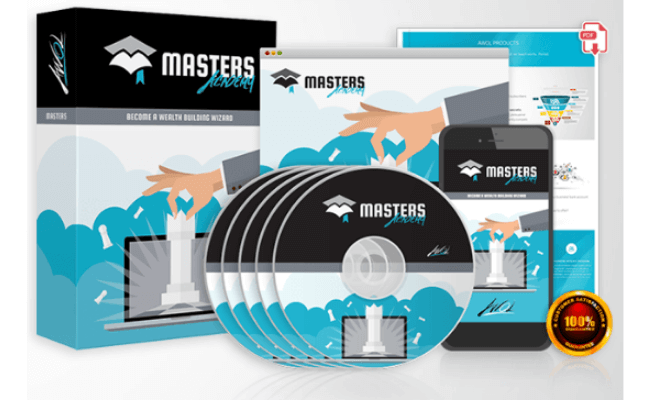 Within this course, you can get introduced to some of the greatest minds in the internet business world.
They will discuss money management, tax planning, investing, etc.
This course is a good move from AWOL Academy that shows what to do after (if) you succeed with their business model.
AWOL ELITE LITE
Elite is an ongoing mentoring program that entitles the customer to 1 year of weekly training webinars where they can bring their entire sales funnel along with the data and analytics and owners help them to interpret and improve the data.
AWOL ELITE
This last upsell includes everything from the lite version plus a ticket to the Elite Summit and Awaken event.
So with all these courses explained, let's learn about the affiliate program.
AWOL Academy Affiliate Program
All these courses are designed to show you or any other user how to start with internet marketing and make money online.
But they also have another purpose. In other words, you can market them to earn commissions via AWOL Academy Affiliate Program.
Here are the commission rates:
PRO Academy $99/ 60% commission
AWOL Community $59.95 annually/ 30% commission
Inbox Academy $447/ 30% commission
Conversion Academy $1,797/ 30% commission
Traffic Academy $2,997/ 30% commissioon
Masters Academy $5,497/ 30% commission
AWOL Elite Lite $11,997/ 30% commission
AWOL Elite $17,997/30% commission
Indeed a very lucrative affiliate program, but not the one that I would promote.
It's not all about money. It's about helping people to start and succeed without having to sell out $1000's on hidden upsells.
This actually brings me to the first question, is AWOL Academy a scam or legit?
What would you say if you were invited to join a course that costs $99 one time and then discovers that you can succeed unless you buy all those upsells?
Would you say that it is a scam?
In my opinion, it could be easily that AWOL Academy is a scam because of this way of doing business.
But from the objective point of view, it's a legitimate affiliate marketing company.
Speaking of which, let me actually show/explain how it works in real life and then I'll season it with some complaints.
How Does AWOL Academy Work?
To get started, you need to join AWOL Academy's initial program AWOL 101 Coaching.
They will show you what to expect, explain to you the process of digital marketing, help you to create a proper mindset, and offer you to start with them.
Plus, you'll get access to the Pro Academy course.
The beginner's course Pro Academy is where you will learn how to put the knowledge into practice.
There's nothing much to learn about the actual process of earning an income. It's more like an overview of what you'll be creating.
The course is more about the mindset, which I agree, is an important aspect of entrepreneurship.
It's probably not going to be enough to start making money, but you'll have a solid technical foundation if you follow the training.
Now, this is the moment where companies like AWOL start to offer you their upsalles.
You see after you learn the basic setup the first roadblock will be getting traffic to your website.
You might have an excellent funnel prepared, but if no one is going through, it's going to collect the dust.
This is the moment where Inbox Academy comes to the rescue.
Now, you'll probably have problems with conversions at one stage of your development.
AWOL Academy can offer to assist in helping you to convert those visitors into subscribers, and subscribers into buyers. Conversion Academy is the course that deals with the process.
However, I'll talk about his one in more detail later in my review of AWOL Academy.
At one point, you'll probably want to drive more traffic to your site, but the old Inbox Academy isn't going to cut it.
Unlike the organic traffic that comes from good old SEO, paid traffic can have its ups and downs.
I think it's unstable and can cause you a lot of headaches. People experiment with Facebook daily to find a new way to get better results because Facebook is always changing the rules.
That's why it's pain in the arse.
Maybe the guys from AWOL can help with Traffic Academy.
In the end, the whole package looks nice when you put them one next to another.
The company even offers master's coaching when it comes to money investment and taxes.
However, I would like to add a 'but' thought to my statement from the top of this headline.
If you take a look at AWOL Academy, you'll see that there is a bigger picture that can be fit into one course that can show you the whole shebang at once.
There would be no need for the upsalles system.
You see, I like the straight approach to business more than going through funnels and upsalles.
How about you? Do you like to be pulled by your nose or do you like transparency?
Which of those two is going to bring you a long term business relationship?
I think this course has the potential and would have got a much better reputation if Keala and George would sell it for a fixed one-time fee.
That's just my opinion…
In any case, I've shown you how AWOL Academy works so now you know what to expect if you ever decide to step inside.
Also, I promised you earlier in review to show some complaints from people who have done so.
Here they are…
Some Complaints That Can't Be Neglected
Let's take a look at some nasty complaints that AWOL Academy has got from some angry customers.
I don't know about you, but to me, this shows that something is not right.
So there we have a set of pretty serious complaints on the work of AWOL Academy.
All those people are united under one thought. That is, the company is charging a lot of money for trivial information that does not help to make money online.
As one guy said, AWOL Academy is more like a motivational event than it's a learning platform for starting an affiliate marketing business.
If I were paying $10,000 for a training course, I would be expecting to get the utmost attention from the coach.
I mean, some "gurus" will charge this much for a couple of hours of 1 on 1 coaching, but they will take care that you apply the information and achieve success.
You can read more complaints on the Better Business Bureau website.
On the other hand, some of those complaints about AWOL Academy could be taken with a grain of salt.
A lot of people tend to expect things on a silver player after they pay the fee to join the program.
They forget that they have to be coachable and work their buts off to become successful with affiliate marketing.
Nonetheless, I trust those complaints are genuine and they are good enough for me.
Related: Legendary Marketer Review
AWOL Academy Pros:
In-depth training on affiliate marketing
BBB Accredited Company
AWOL Academy teach affiliate marketing
Money-Back Guarantee
AWOL Academy Cons:
Too many upsalles – You'll probably have to purchase all of them to succeed with this training
The prices are not for everyone's
Hidden costs such as tools and traffic (paid ads)
No free trial is available
AWOL Academy has got a lot of nasty complaints from users!!!
Related: The Super Affiliate Network Review
Is AWOL Academy Worth That Much?
When I take a closer look at AWOL Academy, all I can see is a well structured upsalles system. Training courses are linked to each other creating one big funnel.
Yes, you can learn a lot from the information covered. The classes are not empty, and they have value.
However, I believe that this course is overpriced. When you add all modules together, AWOL Academy education is going to cost you more than $10K.
That's a lot of money for my taste.
Besides, you can find even better affiliate marketing training for far less cash. Just a thought.
AWOL Academy Review – Conclusion
First of all, I care about your pocket. 10K is a lot of cash that can find better use.
I don't like to overpay the training like AWOL Academy when I can find the same product for less money.
Secondly, I believe that no one likes to be manipulated to buy more.
AWOL Academy applies a rigorous upsalles system that is fully disclosed, but still, it's too much for my taste.
A lot of information that guys teach can be found online for free.
The only difference is that here it is well organized.
So as one of the last things I want to say is that I don't recommend AWOL Academy.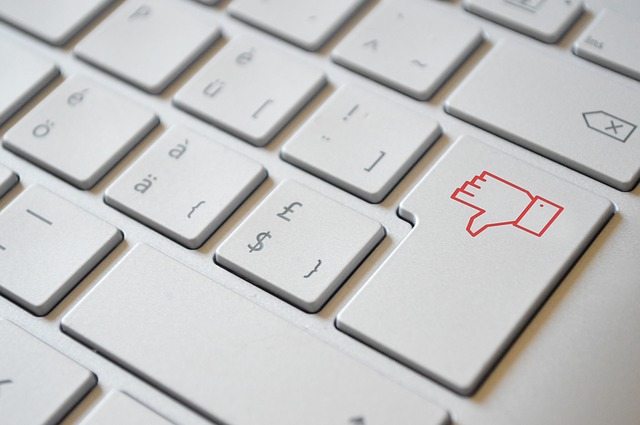 As I've said one the top of this review, affiliate marketing is a business with many layers.
And the truth is, you can learn a lot from AWOL Academy.
However, the company deals business in a repulsive way making you buy more expensive products as you go through training.
To start with affiliate marketing, you'll have to build a website first. The site is going to be your place of business.
You can turn it into a blog, funnel or review site. To make money, all you have to do is place an affiliate link within your content.
Sounds simple?
Well, in an ideal world it would be a simple task. But in reality, it takes a lot of time and work.
Even Keala Kanae says it took him years of trial and error to get satisfactory results.
Therefore, whichever training course you decide to purchase, AWOL Academy or any of its competitors, you'll have to arm yourself with a lot of nerves.
Building a website is easy. I can teach you how to make one in less than five minutes.
But then what?
You can have a site. You can have the best funnel prepared as well. But if you don't know how to drive traffic to your site, the website becomes worthless.
Almost every affiliate marketing training course will show you how to make the site and create content.
Many people are making a fine living out of sharing this knowledge.
However, all of them have secrets to getting traffic which they share if you are willing to pay more money.
You can take AWOL Academy as a perfect example.
Also, 90% of those academies and training courses teach you how to drive paid traffic to your site.
I don't mind paying for traffic but only if money comes from the revenue created out of organic traffic.
It means that your website is already established, you have a solid foundation and the site is ranked in search engines from where you have a stream of free traffic.
A smart thing to do then is to take a part of the revenue and reinvest it in PPC to double it up.
Otherwise, if you run directly to paid traffic methods, you might end up losing a lot of money.
Thanks for coming to the end of this AWOL Academy review.
AWOL Academy Alternative Option
If you are interested in learning how to start an affiliate marketing business and make money online, I've got something great here for you!
The program that I recommend is a much better alternative to AWOL Academy.
And the methods this training teaches are proven by thousands of online marketers all over the globe.
You are looking at the one right now. 🙂
Here is the process in a nutshell.
Firstly, you'll be choosing a niche. A niche in affiliate marketing is an area of interest.
For example, my niche is affiliate marketing training courses. Yours can be anything you want.
If you like golfing, then golfing equipment can be your niche.
Secondly, you'll be building a website. A website is not too hard to build.
All you have to do is choose the name, pick one of the preset themes, and the rest is done in less than five minutes!
Thirdly, you'll be attracting visitors to your site. The first roadblock in this business is finding the right source of traffic.
With AWOL Academy you can pay for it. Or you can learn well-kept secrets to unlimited FREE TRAFFIC from the internet.
However, you'll have to work to get it. This is not a 'get-rich-quick' scheme!
Fourthly, you'll be selling products of your choice to your visitors! You'll learn how to use affiliate links and Google Adsense to monetize your site.
Once again, this is not a 'get-rich-quick' scheme. It's a process that works, but it takes time to make it happen.
So if you have time and desire to learn, click the button below!
THE BEST WAY TO MAKE MONEY ONLINE IN 2023 >>
If you need any help or you have a question, feel free to contact me.
And don't forget to share this AWOL Academy review with your friends and family!
All the best, Ivan. Founder, and CEO @freeaffiliatemarketingbusiness.com